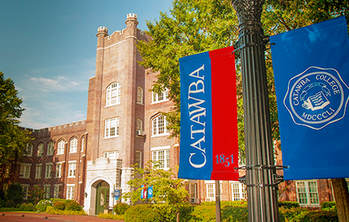 SALISBURY – A total of 399 students have been named to the Dean's List for the Spring 2021 semester at Catawba College, according to Dr. Constance Rogers-Lowery, Provost of the College.
Students named to the Dean's List have achieved a 3.5 grade point average in 15 or more semester hours.
China Grove – Janiya Downs, Vonni Gilmore, Victoria Hunter, Ronda Kirkman, Kaley Knight, Haley Sloop, Ryan Street.
Concord – Jacob Aiton, Hannah Dunn, Addam Flynn, William Gardner, Bailey Hicks, Destiny Hunter, Benjamin LaFevers, Kayla Pedersen, Marshall Raper, Tatiana Rivers, Cameron Shaffner, Riley Smith.
Davidson – Kasey Hahn, Arilyn Lynch, William Roque.
Harrisburg – Ryan Frick, Kasey Rowden.
Kannapolis –Allison Baker, Faith Benton, Sara Duplisea, Patrick Fongemy, Aliya Foster, Keirsten Morgan, Martin Solano Munoz.
Mooresville – Nicholas Alberse, Ashley Bartolac, Carlee Brawley, Madeline Cabe, Jackson Chapin, Brooke Freeman, Jenna Harris, Andrew Hummel, Julia Lambe, Andrew Martin, Luke Maxson, Alopi Modi, Arlington Owensby, Lilliana Rebilas, Julia Vero, Anna Willis, Eric Wisniowski.
Mount Pleasant – Alana Cooper.
Rockwell – Sandra Abbey, Rebekah Cale, Larry Harvey, Madison Holshouser, Madison Hunter, Gracelyn Thomason.
Salisbury – Richard Ajwang, Casaundra Allen, Katie Beck, Irma Begic. Kimberly Betancourt, Abigail Birkhead, Bailey Birkhead, Camryn Bost, Gemma Brown, Sarah Burke, Jenifer Castillo Pacas, Chase Clayton, Carolina Correia, Cade Cranford, Maria Curiel, Ashlyn Fleming, Andrea Garrido Lecca, Trey Germano, Jordan Goodine, Sarah Grooms, Zachary Harper, Kira Harwood, Caylinn Helm, Garrett Jennings, Katelyn Jones, Benjamin King, Andrew Kisamore, Shavla Lackey, Emily Latta, Henderson Lentz, Clayton Lewis, Bernard Malloy, Chandler McClamrock, Thomas McClinton, T'awna Miller, Zack Miller, Haleigh Mitchell, Tyler Oelling, Michaela Patterson, Cortarius Polk, Jackson Price, Kristina Rabon, Robert Ring, Merritt Robinson, Alexander Rodriguez, Joshua Savage, Angela Smith, Kayla Smith, Matthew Smith, Michaelyn Smith, Naomi Stinson, Meredith Swaim, Stephania Tavira, Rachael Taylor, Lauren Wilsey, Olivia Wilsey.