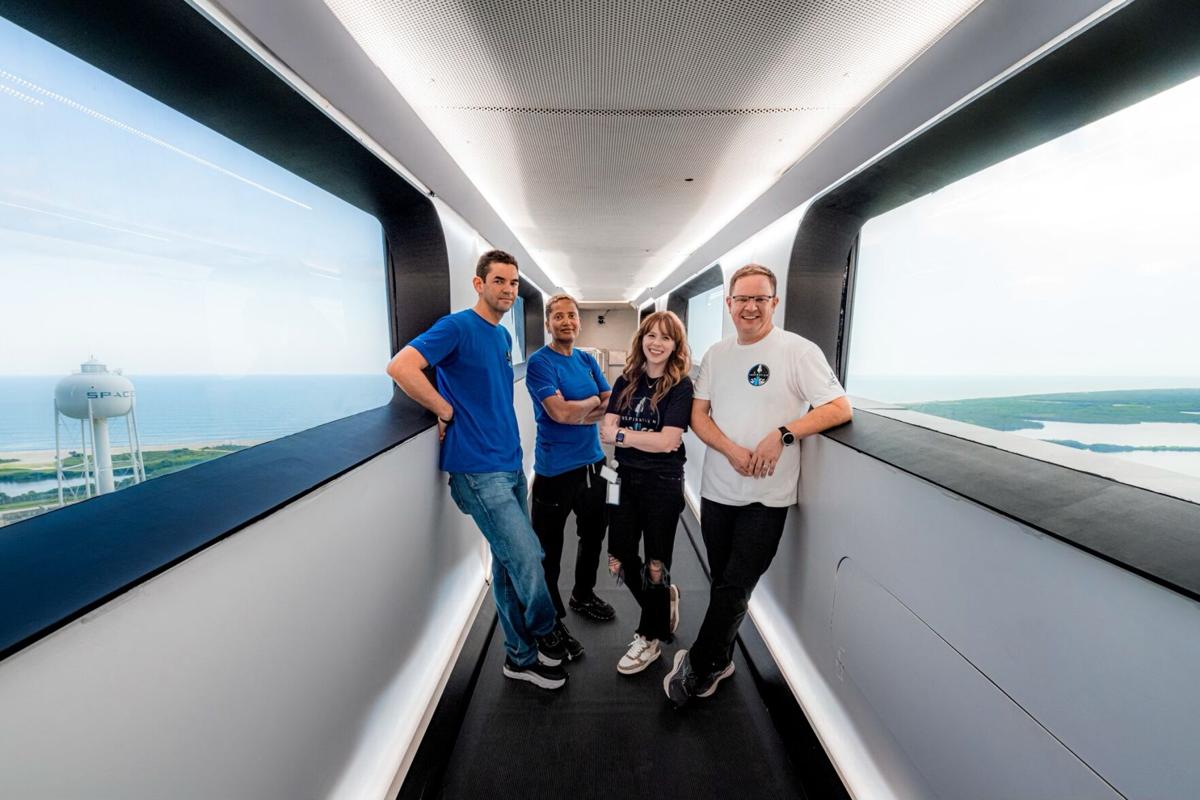 KANNAPOLIS — When SpaceX launches its Crew Dragon Resilience carrying the Inspiration4 mission crew, a former A.L. Brown student will be aboard and his parents still residing in North Carolina will be there to see it.
Chris Sembroski attended A.L. Brown High School as a sophomore and his parents, Steve and Gwen, still live in Kannapolis . Sembroski will be part of SpaceX's Inspiration4 crew which will carry the first all-civilian crew into orbit up to a height of 355 miles on a three-day orbit around the planet.
The flight will be captained by billionaire founder and CEO of Shift4 Payments Jared Isaacman. The three other crew members obtained their seats through various ways including one spot going to a St. Jude employee as the mission hopes to raise $200 million for the organization. Another earned a spot through a simple lottery, and the final seat going to the winner of an online competition.
Hayley Arceneaux, 29, was selected as the St. Jude crew member, Sian Proctor, 51, won the online competition, and Sembroski was the lottery winner, though he wasn't actually the first one. Chris's friend won the original lottery drawing but he was unable to go due to other commitments so Sembroski was ultimately given the seat. His father Steve was stunned to hear the news when Chris told him.
"I'm still in awe of it. Awe and shock," Steve said in a phone interview Friday. "I just love the fact that he's getting an opportunity to have an adventure of his lifetime."
After attending A.L. Brown High School during his sophomore year when his family moved to Kannapolis because his mother got a job in the Charlotte area, Sembroski went on to attend the North Carolina School of Science and Mathematics in Durham for his junior and senior years.
He went on to join the Air Force after high school maintaining a fleet of Minuteman III intercontinental ballistic missiles and deploying for service in Iraq before leaving active duty in 2007. Following his education with the Air Force, Sembroski earned a bachelor's degree in professional aeronautics from Embry-Riddle Aeronautical University and is now a data engineer at Lockheed Martin in Washington.
During his time at Embry-Riddle, he worked as a U.S. Space Camp Counselor and eventually volunteered with ProSpace, a grassroots lobbying effort that promoted legislation in Washington, D.C., to help open space travel and allow companies like SpaceX to exist. Chris has always had a passion for space often stargazing from the roof of his high school. Steve always hoped his son would get a chance to have an opportunity like this one.
"He's an amazing young man," Steve said. "Well, I wouldn't say young anymore, he's 41, but all his life he's been interested in getting more and more people excited about science, more and more people excited about space and so (now he gets to experience it firsthand for himself.)"
The launching of the SpaceX Mission is scheduled for Sept. 15. The flight could take off later than that but no earlier. Time Life has been following the crew throughout the leadup to the mission, and Netflix will be releasing a four-part series starting Sept. 6 documenting their training. The first two episodes of the show will air Sept. 6 and the final two will be available Sept. 13. If the launch schedule holds at Sept. 15, Netflix plans to air a full-length feature finale by the end of the month.
Chris told "The Bobby Bones Show" in May he has all the confidence in both his crew and the members of SpaceX leading up to September's launch. It helps that he has the support of his family as well.
"My wife and kids are very supportive and my kids are super excited," Chris said. "You talk about traveling on a SpaceX rocket it's probably not as risky as it feels like or as a lot of people think it might be. So there are a lot of other things you could do that are definitely riskier like racing your cars down the street or whatnot, but with all of the people I've met and everything like that I've got no worries or concerns about what's going on and how the training is or what they're going to strap me into."
Steve isn't worried either.
"Chris had mentioned at the very onset of this adventure that he's not worried at all," Steve said. "He said space travel has come a long way even since the space shuttle…We've overcome a lot of the barriers of what works and what doesn't work in space and how to build things better and safer and it just keeps getting better and better. And the rocket they're using has been flight worthy for several times."
He continued: "He says the people at SpaceX are amazing and that they have an incredible enthusiasm, a professionalism about them and so they're going to do everything they can to do things right. There is an inherent risk of course but so is driving down the highway."
Both men know things can go wrong with launches such as this, but Chris is sure he will be prepared for what he could have to deal with.
"They are not telling me it's completely safe, but I'm not nervous," Chris told "The Bobby Bones Show." "I think that's why you go through all this training because you're trying to prepare for everything that they can think of that could possibly go wrong. We've had a lot of great advice from experts and astronauts so far that have flown before and you really plan for the best and you work toward that, but keeping in mind that you're always looking out for how things could fail or change and how you can adapt and get yourself out of a sticky situation if need be."
September's launch will be entirely remote-control operated by SpaceX throughout the trip. The crew is currently going through its final preparations as the day gets closer and closer. Meanwhile the crew's families are also preparing to make their way to Cape Canaveral to see the event.
Chris is undoubtedly excited but his family might be just as thrilled for him.
"Gwen and I are extremely proud of him," Steve said, "and happy for him that he has this amazing opportunity to fulfill a childhood dream of going into space."