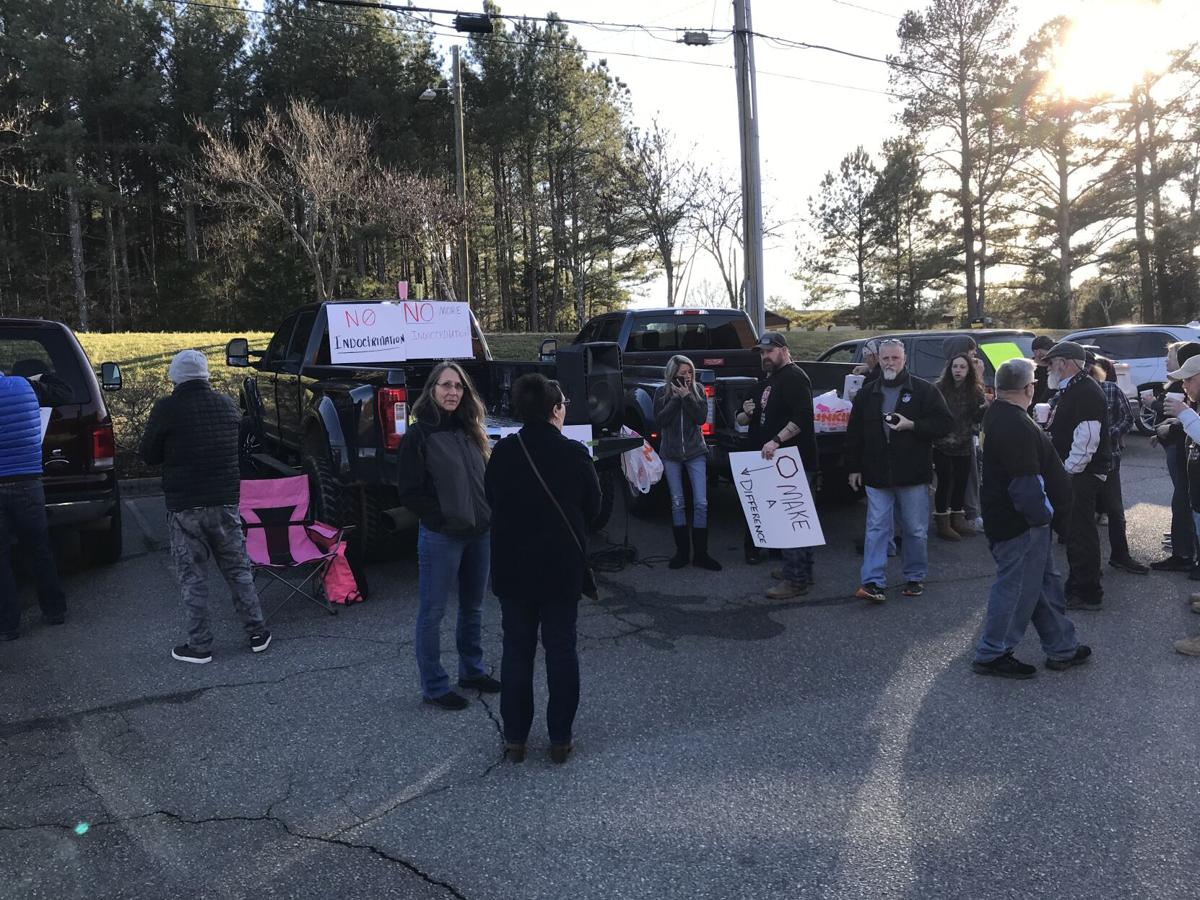 A group of residents and parents gathered Monday outside the Education Center to call for the resignation of Cabarrus County Schools Superintendent Chris Lowder and a group of teachers.
The group arrived at the Education Center at 2:30 p.m. and stood outside the building demonstrating before Monday's Board of Education business meeting after they say several instances have come about in classrooms in which political conversations have worked their way into the curriculum.
Kenny Wortman is the father of a 10th-grade student at Central Cabarrus High School. He started a petition on Change.org that has garnered more than 760 signatures calling for Lowder's resignation as well as the removal of several teachers.
"We're here to protest and demand action against (these teachers) and Superintendent Lowder, and all the rest of the teachers that are bad apples," Wortman said Monday. "They're not all bad apples, a lot of them are good, but unfortunately, the bad voices drown out the good ones."
Wortman spoke to WBT Radio last week about incidents in classrooms in which he points to conversations turning political.
In one incident caught on audio, a teacher said, "Your individual freedom never supersedes the interest of the whole, meaning your personal freedom does not matter when we're talking about protecting 300 million people."
He said this is not the type of conversation that should be taking place inside a classroom. For more of the audio, go to https://bit.ly/3a5v10K.
"Whatever they grow up to be, it doesn't matter," he said. "And I broke it up in the interview for simplistic reasons: Democrat, Republican … that's the big push right now. It doesn't matter if it falls up on Republican, if it falls up on Democrat, if it falls up in the middle … it doesn't matter.
"Those kids should be given the opportunity to form their own opinions."
He added that there have been some Facebook posts where teachers have disparaged students during the pandemic.
Wortman planned to speak during Monday's Board of Education public comment portion. He said he would ask for what his petition was calling for at that time.
Brian Leepard is a father of three, two of whom attended Cabarrus County Schools before the start of the pandemic. He moved his children to a private school in Rowan County when he found out they were not going to be in the classroom to start the year, but he plans to bring them back to CCS when they are eventually allowed to come back in Plan A.
He supports Wortman's stance and is calling for the School Board to hold those accountable for their actions.
"We're here to No. 1 hold the School Board responsible for the superintendent not doing his job," he said. "The superintendent needs to hold these teachers responsible when they start pushing their left-wing ideology on our children, or any ideology regardless of which side it is.
"The children need to be presented with the facts and allow them to make their own decisions from there. These teachers do not need to be pushing that stuff."
Both Leepard and Wortman added they don't feel every teacher in Cabarrus County is bad. They believe most of them do a great job, but they do want to see those who are overstepping their boundaries see some consequences.
"There's a lot of good teachers out there," Wortman said. "They are being bullied by the same teachers that we are addressing tonight.
"They are scared to speak up to lose their job. We want the good teachers. We are here to support the good teachers, and we need them to stand. The bad ones are standing, and they're drowning out the good ones. We want the good teachers that do their job.
"Yeah, they need to be paid more. Everyone would probably agree with that and a lot of them love their kids, and they need to stand and let it be known that their voices matter, too, and we are here for them."