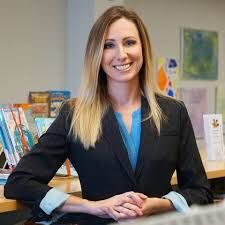 EDITOR'S NOTE: There is a word in this story that many readers will find offensive, but it is included because it is critical to the story.
Cabarrus County Schools Board of Education member Laura Blackwell has apologized for using hurtful language during Monday's called meeting.
Blackwell was heard during the meeting's recess, which was broadcast on YouTube, expressing her frustration with fellow board member Barry Shoemaker.
"I am so done with that," she can be heard saying off camera. "He is (unclear) d—."
She continued: "He didn't respect me. Not one single bit when he's flailing his hands up and down like that."
"You've got to give him the benefit of the doubt," Board Chair Rob Walter responded.
"I don't give him the benefit of crap," Blackwell said. "This is the most retarded thing I've ever seen. We have done so much detriment to these kids."
Blackwell was speaking in reference to Monday's meeting, in which the board was discussing bringing students back to school after having buildings closed as educational institutions since March.
Gov. Roy Cooper announced in a news conference Thursday that elementary school students can come back under Plan A starting Oct. 5.
The Board of Education had been discussing bringing students back under Plan B at the start of the second nine weeks in recent meetings, but nothing was decided before Monday's session.
During Monday's meeting, Blackwell and fellow Board member Holly Grimsley were in support of getting students back on campus — including elementary school students in Plan A — while Shoemaker and Cindy Fertenbaugh were vocal about waiting to make the move to Plan A a little later.
Shoemaker was vocal in his frustration with the way the meeting was going shortly before the break.
He also held up his hands to signify his hand being raised before making his comments.
"My hand's been up, and I'm tired of waiting," Shoemaker said.
"You're on," Walter said. "You're on."
"Thank you," Shoemaker said. "I'm tired of listening to all of this. No one has been respectful, and Rob, I'm sorry, but you're losing control of this meeting; this is astounding.
"David's had his hand up; Carolyn's had her hand up; and we've had other board members that have just walked all over this meeting."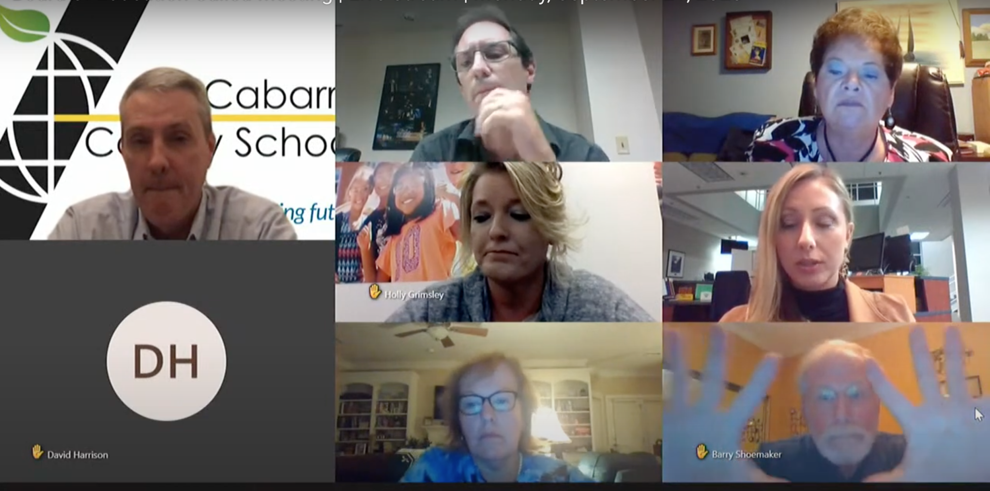 A few minutes later the board went into recess, which was when Blackwell made her comments. She apologized afterward.
The board addressed the incident as well.
"I was disappointed that the incident happened and that emotions got heated to where a board member would use hurtful language to express frustrations outside of the meeting," Walter, who is the board chair and the spokesman for the board, said in an email to the Independent Tribune. "This is not typical behavior, and Ms. Blackwell did apologize for her actions during the meeting."
Blackwell's initial comments have been removed from the livestream and the board is discussing its next move.
"We, as a board, need to review our board policies and discuss further with our board attorney," Walter said. "If any additional actions are required or needed as the school board, we will address those at our next board meeting."
The school district released a statement as well.
"The comments made by a board member during a recess at the Sep. 21st called meeting of the Cabarrus County Board of Education were inappropriate and unacceptable," the statement reads. "As a community of educators, Cabarrus County Schools works to ensure that our students understand that it is never acceptable to use disparaging or demeaning words. We place these same expectations of civility and decorum on the adults associated with our district and do not condone what transpired during the recess.
"Additionally, Board of Education Policy 2120 outlines the Code of Ethics for the Board of Education. The board is responsible for setting policies that ensure the smooth and efficient operations of the district as well as policies that govern the conduct of employees and board members."
Blackwell's comments have not gone over well with the public, as several replies on the YouTube video have expressed dissatisfaction with them, while others have responded on other forms of social media.
One teachers assistant who works in a centralized classroom called the remarks "unacceptable" and said both Blackwell and Walter should resign for their actions — first, for Blackwell making the comments, and second, for Walter not calling her on them.
The Young Democrats of Cabarrus County also released a statement calling for Blackwell's resignation.
"We condemn in the strongest possible terms, the comments made by Cabarrus County School Board Member Laura Blackwell," the statement reads. "We teach our friends, colleagues and children not to say that word because of the hurt it cases people with intellectual disabilities.
"Laura Blackwell should remove that word from her vocabulary and remove herself from the school board."
The Independent Tribune reached out to Blackwell on Tuesday, but she had not returned a request for comment by press time.
The Board of Education voted 4-3 in favor of bringing back elementary students in kindergarten through third grade under the governor's Plan A, and those in grades four through 12 under Plan B starting Oct. 19.
All schools in Cabarrus County are currently operating under Plan C.