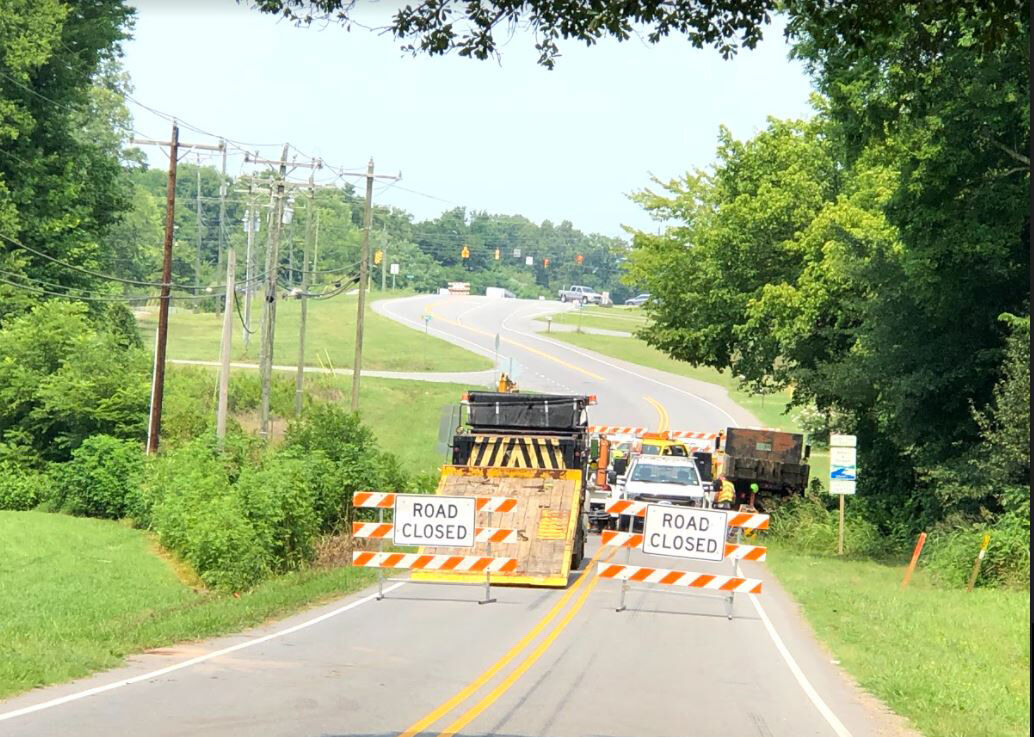 Change, change, change – everywhere. I have been driving around Cabarrus County the past few days and noticed a few things.
That confounded bridge on Stough Road. It was closed again Thursday morning and a host of NCDOT workers were there making repairs.
"Apparently, a tractor trailer hit the bridge overnight, damaging the rail and bridge bulkhead," said Jen Thompson, communications officer with the N.C. Department of Transportation. "Since it's relatively narrow, our crews opted to close the bridge for safety reasons and more room to work."
The work was completed by early afternoon and the bridge reopened.
The bridge has been a thorn in the side of residents and travelers in that area for years. Any time there is a heavy rain the bridge is often under water.
Big trucks, which often travel to the businesses out toward N.C. 49, take their toll. Sometimes a truck or even a car clips the side rails.
We have good news and bad news and maybe wasteful news.
The little bridge over Wolf Meadow Branch is likely to be replaced soon.
"There is a project in development to build a wider, two-lane bridge," Thompson said. "It should be advertised for bids in spring 2022, with construction starting around that time, and completion in spring 2023."
In my mind it would make more sense to replace the bridge when the George Liles Parkway is completed all the way to N.C. 49. But it looks like that might be a long way off.
"The last section of George Liles Parkway will be later – the current schedule has right of way acquisition starting in 2029 and construction following 2030," Thompson said.
We all know how long these projects take – so I guess the parkway won't be complete for at least a decade.
It is really needed now. There are a lot of businesses on Stough Road and I am sure it would be helpful to have a better direct route to I-85 and U.S. 29.
Road work coming to Tuckaseegee Road. N.C. Department of Transportation contract crews will close Tuckaseegee Road between Plum Road and Pagemount Road on Monday morning, Aug. 2, weather permitting.
The closure is necessary for crews to replace a triple barrel culvert under the road at Mill Creek. The road is scheduled to reopen by mid - December.
Drivers can follow a posted detour along Pagemount Road and Mooresville Road (N.C. 3), returning to Tuckaseegee Road. Access to areas within the closure will be maintained.
NCDOT has a new travel information website. The agency recently changed its travel information site to drivenc.gov The site gives you real time traffic updates, such as a street that might show yellow the map if traffic is slow. No problem and the street shows green. If there are other issues such as lane closures, those are noted too.
Currently it shows three projects in Cabarrus County, including the Tuckaseegee project mentioned above, work on Derita Road near the airport and the rail crossing on Kannapolis Highway. I guess there is still some work being done at Cook's Crossing, but crossing at Winecoff School Road to Ridge Avenue has been closed for some time.
We've still got some pending reader questions about traffic including about backup and signals in Harrisburg. We hope to have some answers on those soon.
Lots of new businesses and companies. If you're like me, there are a lot of companies out there that I have never heard of. In future Friday Fives, I hope to start giving you a few snippets about some of these companies.
The Reserves Network, a leading staffing provider for the office, industrial, professional and technical markets, opened an office Monday at 1096 Concord Pkwy N. in Concord.
"We have been serving the staffing needs of Greater Charlotte since 1998," said Justin James, the manager of the company's Charlotte operations and who will oversee the Concord office. "We were looking to expand our presence in the market and opening the new office in Concord was a natural fit. This puts us in an even stronger position to grow our relationships with employers and employees."
Sherrie Holiday is the staffing supervisor.
The Reserves Network will celebrate the grand opening of the company's Concord office with a ribbon cutting ceremony on Tuesday, Aug. 3 from 3 p.m. to 5 p.m.
I noticed that Prime Beverage, with that big location over off Kannapolis Parkway, now also has some space leased in one of the buildings off International Boulevard (near Poplar Tent Road).
It looks like Cabarrus County is becoming a beverage hub. We've got Pepsi is Harrisburg and Prime Beverage in Kannapolis and now Red Bull coming. I still wonder what drinks Prime Beverage cans.
A few housekeeping issues. As most of you know the Independent Tribune no longer has an office. Please don't drop things off at our old location on Church Street. The landlord there has been very good about trying to get things to us, but it is unfair for them to keep having to deal with our stuff.
We are having trouble with deliveries. I appreciate those of you who have let me know so that we can try to get things fixed. Sometimes the calls to our customer service center in Tulsa, Oklahoma don't solve the issues. If I can get the problem location to someone locally we have a better chance of correcting the problem.
I am told that a new contractor is in the works for most our delivery routes. Thank you for your patience and for being readers and subscribers.
Also reader Danny Singleton said the Friday Five is getting boring and wants me to take poll on whether to continue. Let me know. My feelings won't be too bad hurt.