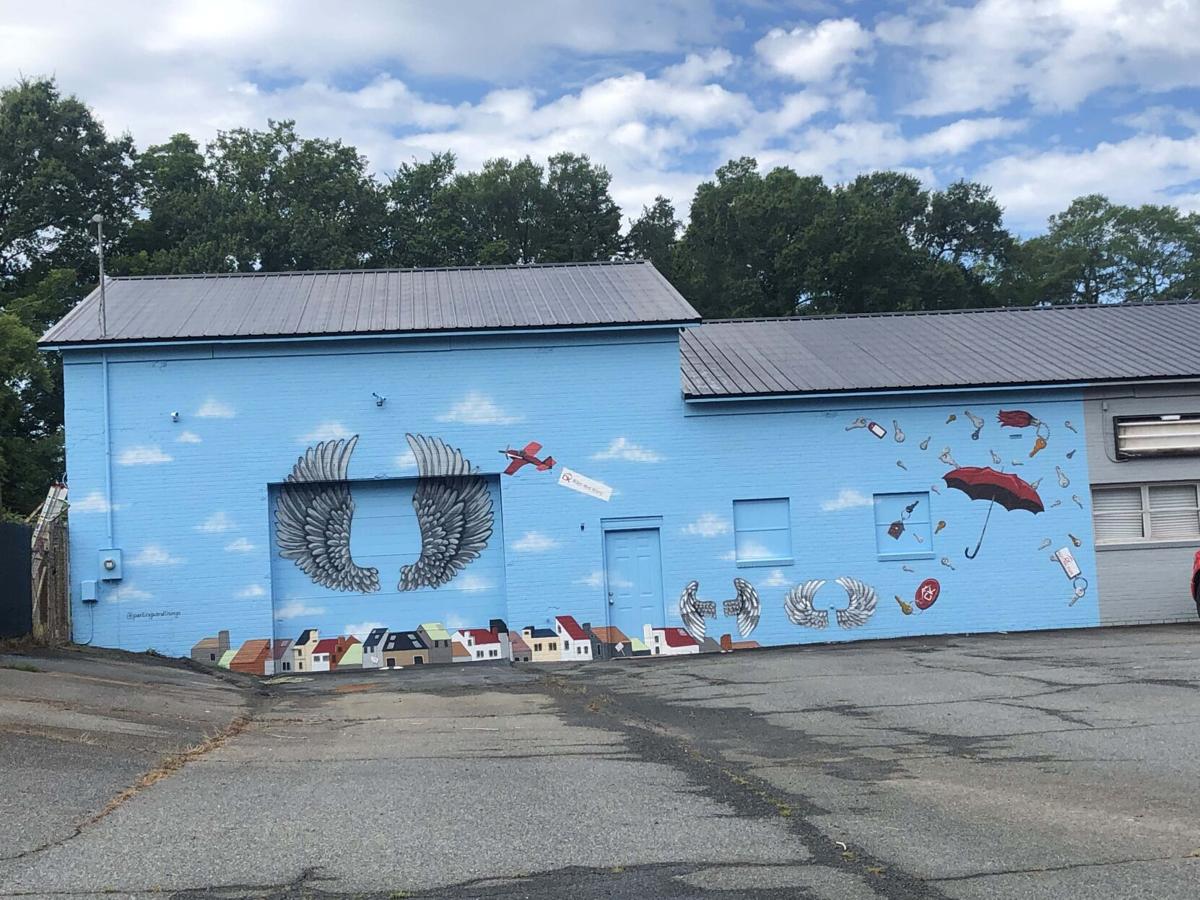 Despite the pandemic, it is hard to keep up with all that is going on in your community. Let's dive right in.
No. 1
Creative paint job. CK Select Real Estate at 142 Cabarrus Ave. E., Concord, had an artist paint a mural on part of the company's exterior wall. It's a pretty neat idea that has popped up at several businesses in the Charlotte region.
The mural features wings of various sizes and heights and an umbrella. The idea is to have an area where visitors can stand and have a picture taken. At the correct angle, it looks like you have wings or that you are holding an umbrella over your shoulder.
The wall has also keys, houses and a CK Select key chain.
Carla Garrison-Mattos of Painting & Things by Carla painted the mural.
Some of you may have seen her work. There's a large mural outside Pharr Mill Brewing in Harrisburg. It's of "Harry," a bigfoot/yeti, like the character in the movie "Harry and the Hendersons."
No. 2
Beer, art and redevelopment. Art, artists and creative thinking seem to be one of the things that helps bring fresh life to aging neighborhoods as they redevelop. CK Select and its mural fit the bill exactly.
Commercial redevelopment has crept down Cabarrus Avenue and into surrounding neighborhoods. A new office building was built a few years ago just below the Windstream (The Concord Telephone Co.) office.
Several of the buildings along Cabarrus Avenue have been renovated in the last few years. There is a two-story house at the corner of Reed Street and Cabarrus that was taken down to the studs and now has been completely rebuilt into a duplex.
Down Reed Street, at the corner of Brumley, is Southern Strain Brewing Co., which is helping pump new life into the area. Carolina Interiors is in the same old industrial building. It's over on the Shamrock side of the building. Hot Box Next Level Kitchen is inside Southern Strain.
Hopefully when the pandemic passes, we will have a chance to visit more often.
This is not far from the Concord park on Wilson Street that is being developed as a "fairy park." Kids and adults all will enjoy it when the Parks & Recreation Department gets it completed.
I almost forgot to mention there is an artist gallery/studio on Mona Avenue. There is a big black bird carved from a tree in the front yard. We'll look into telling you more about it in a future story.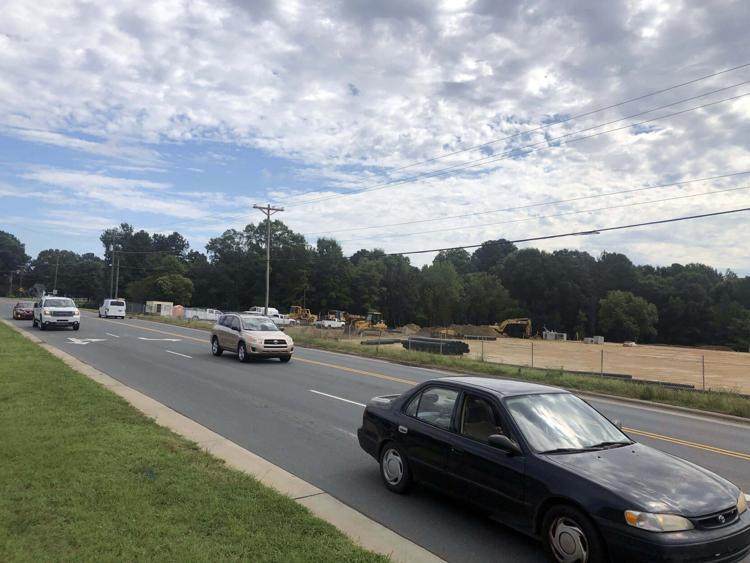 No. 3
"How many more do we need?" Last week, I mentioned apartments and the question of how many more we need. A reader asked me the same question about a new mini-storage complex that is under construction down Union Street beside Little Buck convenience store and across the street from CVS Pharmacy.
The land has been cleared and construction crews were at the site Wednesday when I stopped by.
My best guess is that more people equals more junk, and they need somewhere to keep the junk that won't fit in their houses/apartments.
I fall into that category, and I keep telling myself I am going to do something about it.
A few years ago, I moved my broadcast company (Radio Free Cabarrus/485 Sports) out of an office and studio. I needed a place to store some stuff, so I rented a unit off South Ridge Avenue for $64 a month.
No problem. It was worth it at the time. Now, every year the cost goes up. I am up to $168 a month. I could easily make the payment on a large outbuilding to be built at my house. I want kick myself that I have waited so long. Those dusty desks, file cabinets and audio cables aren't worth $168 a month.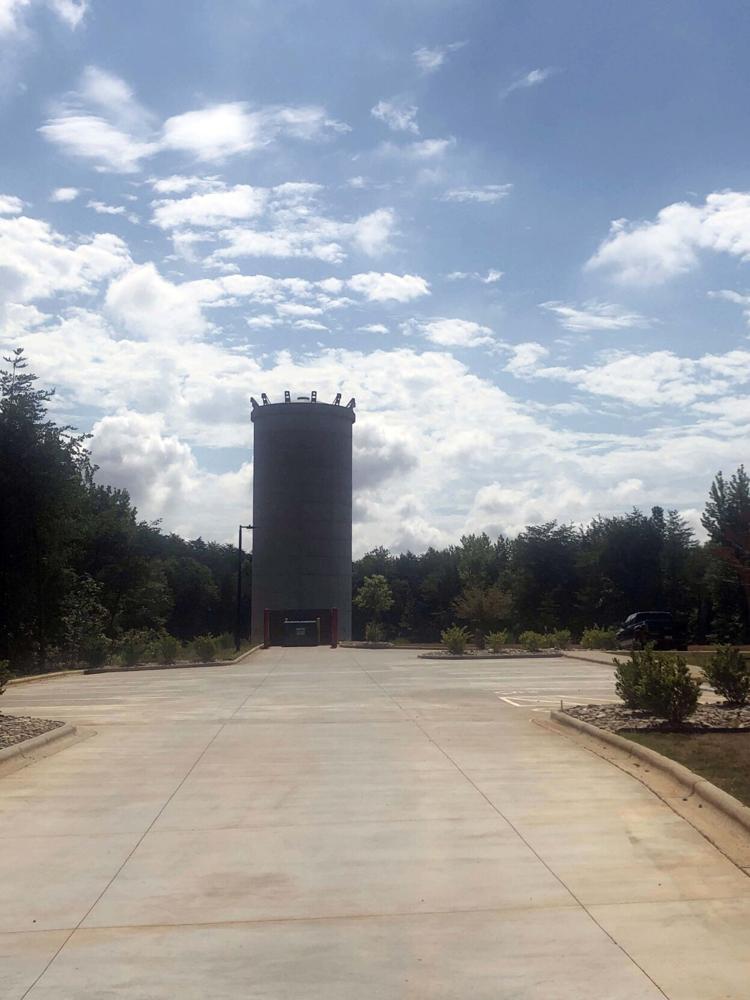 No. 4
More from the email bag. That big concrete tower under construction behind the new Harrisburg Fire Station No. 2 is for a water tank. With all those new houses out in the 'Burg, I'm sure this will help with their water pressure. The town of Harrisburg is building it. By the way, I got lots of comments about my Yankee remarks in the last two Friday Fives.
I'm told the Yankees like our much lower taxes in North Carolina and other places across the South. The weather is probably better, too (the last two weeks might have them rethinking that point).
No. 5
More smoothies on the way. Smoothie King will open its new Concord location Aug. 10. The new store, at 3050 Derita Road, Suite 60, is owned and operated by Chris Magno and Brian Augustine.
The location is across the street from Concord Mills Mall in the same strip center with Super Cuts, Pizza Twist and Cinnaholic (just up the hill from Kohl's at Christenbury Corners).
Magno was introduced to Smoothie King when he lived in New Orleans with his family. Both his parents were diagnosed with cancer, and they loved the Hulk smoothie from Smoothie King, which they drank regularly. Magno's mother won her battle against cancer and his father lived longer than doctors had estimated. Magno and his family attribute this to the Hulk smoothie from Smoothie King. He believed in the brand so much that he wanted to open his own store in hopes of making a positive impact on others. Magno moved to North Carolina in 2003 to open his first Smoothie King. Since joining forces with Augustine in 2011, they have opened 10 stores, with this being their 11th location.
As part of its vision to be an integral part of every health and fitness journey, Smoothie King's diverse menu features 70 purposefully-blended smoothies tailored to each guest's needs — all of which fit into one of four categories: Fitness, Slim, Wellness and Break Time.
Smoothie King implemented its Clean Blends™ promise last year as part of its mission to be more transparent about what ingredients are used in each smoothie.
"We love Smoothie King's devotion to help others live a healthier, more active lifestyle," said Magno. "We're excited to provide the Concord community with an opportunity to experience the Smoothie King difference with our variety of fresh, delicious smoothies."
The store will offer drive-thru service, pickup and delivery options. Their hours of operation will be Monday through Friday from 7 a.m. to 9 p.m., Saturday from 8 a.m. to 9 p.m. and Sunday from 10 a.m. to 8 p.m.
All this smoothie talk is making me thirsty. I still haven't answered all your questions and suggestions, but we'll continue to try.
Get local news delivered to your inbox!
Subscribe to our Daily Headlines newsletter.