A local artist hopes her recent sculpture, made from repurposed mill glass, will get Concord talking about public art.
Katlyn Cornelius, also known as TuxedoKat, is no stranger to glass or using repurposed materials. Not only has she been working with glass since 2008, she used to go dumpster-diving for art materials.
So when Southern Strain Brewing Co. offered to give Cornelius broken glass from a mill the brewery was renovating, the artist was ecstatic. The glass is thick and textured with a vibrant indigo blue color. It took almost a month for Cornelius and her husband to haul all the glass home to wash. After it was cleaned, Cornelius said she was stunned by its quality.
"I can't believe that when they renovate these mills that they just throw it away," she said.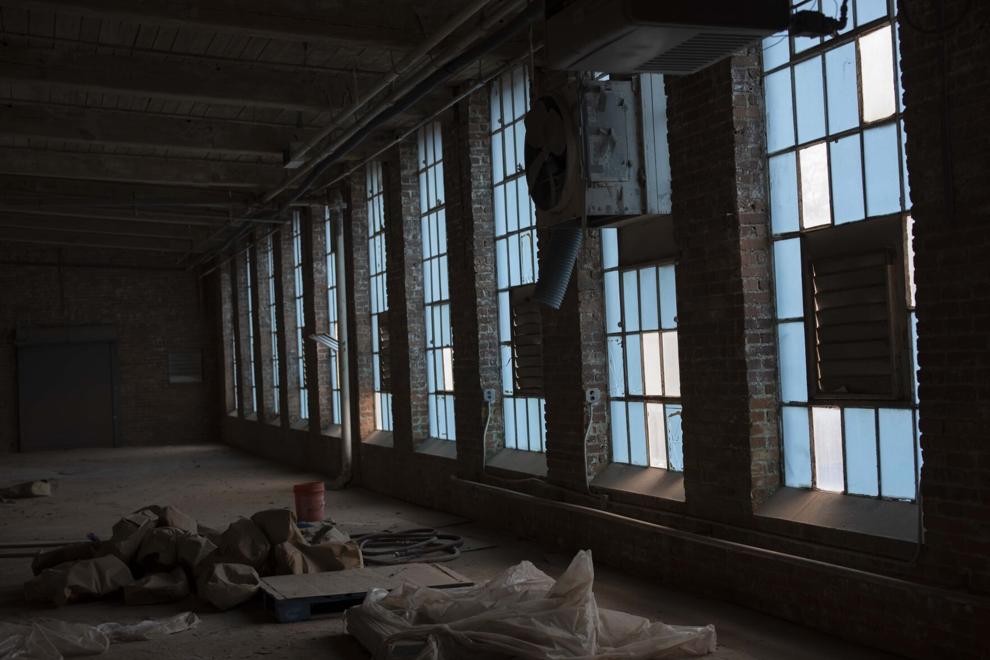 Southern Strain Brewing Co. has also repurposed some of the glass by incorporating it into the bar.
Cornelius set to work planning the sculpture and made a mini prototype, which is what she used to pitch the idea to homeowner Richard Milan. Milan lives in the historic district of Concord and recently had a tree cut down in his front yard. Cornelius brought the prototype over one day and asked if she could temporarily display her sculpture on the stump in his yard. He said yes.
"It is just a good corner to have something like that displayed," Milan said.
He also gave Cornelius the idea to illuminate the sculpture. Once she was able to place the two-layer-thick glass panes on the steel structure, Cornelius used industrial-grade LED lights to form a helix inside the sculpture, using a remote to control the color. She chose a helix to mimic a DNA strand to represent the research park in Kannapolis, incorporating another part of Cabarrus County into the sculpture. She named the finished product the Bookmark.
Now that the Bookmark is displayed, Cornelius said she hopes it inspires the city to create more art. She and her art partner, Doyle Bussey, have pitched the idea of a sculpture walking trail to the Concord Public Art Committee. Both said that with the coming streetscape plans for downtown, they think public art would add to the city's vision.
The city of Salisbury already has a similar sculpture walk where visitors and residents can explore the city while viewing the art. Cornelius said a similar idea could work in Concord.
"The sculptures would rotate every year with fresh sculptures to entertain a wide variety of artists to put out their work," she explained. "It helps artists, helps the city, and it would give the city culture and more life."
One of the neighboring homeowners with a clear view of the Bookmark sculpture said she would love to have more public art in the area.
"I can see it from my front parlor window, and I love it. I think there is room for all kinds of expression here, and you're going to see that," the neighbor said. "The fact that other places like Salisbury and Statesville have these kind of things and we don't, and it is my understanding that we do have some money allocated for public art of this kind, I think there has got to be some recognition. If you want to be the kind of downtown that attracts people to come and spend time and spend money, you need to embrace things that people want to go see."
Cornelius and Bussey said they expect to speak with the Public Art Committee in the future to continue the conversation on public art.