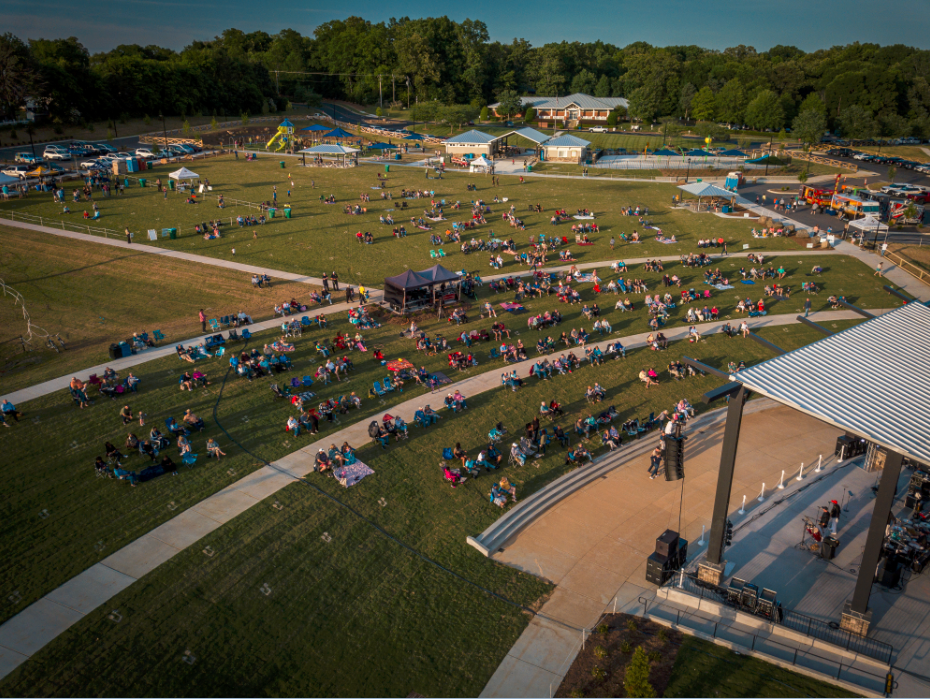 The new Harrisburg Park is open, and the annual Rockin' the Burg concert series is back on and even better at the park's new amphitheater.
The long-anticipated park officially opened March 30, and it hosted the first concert May 8 in the Rockin' the Burg community concert series — a free, family-friendly outdoor event on the second Saturday in May, June, August, September and October.
5 multipurpose soccer fields
A full-service concession stand
5 shelters available for rent
Shawn Marble, recreation programs manager, said the shelters have been a huge hit and have been utilized heavily since the park opened. The shelters are opened for rent, and the town's Parks and Recreation Department has received requests to rent out a shelter almost daily, if not multiple times a day.
But the park also has an abundance of open space, and that, Marble said, is her favorite thing.
"There is so much open space out there," she said. "It is a great place to go for a picnic or ride bikes with the family."
She also said that the over half a mile of walking trails is a good way to stretch legs after eating.
The park features multiple ball fields that have been used for the spring youth soccer and will be used again in the fall for youth athletics.
The Splash Pad, which opened May 21, has also been a huge hit for kids and opened just in time for the hot months. That, combined with the shelters, has allowed for several birthday parties to be held at the park, Marble said.
But the best thing about the park so far, Marble said, is what it has brought to the Rockin' the Burg series. The new amphitheater offers a better venue for musicians, and the back screen gives attendees a better experience.
"The product itself is so much better with the amphitheater stage and the back wall," she said. "It is almost like being at a professional concert."
The first concert was held May 8 with The Embers featuring Craig Woolard playing. The concert had at least 500 people in attendance.
Another fun part of the series is the beer garden, which was also a major hit at the May 8 concert.
The next concert at the park will be held June 12 with Mike Alicke as the opening act at 7 p.m. followed by The Charlotte Symphony at 8 p.m. The beer garden will be open again with wine from the Concord Dover Vineyards. Guests are required to drink their beverages in the beer garden. And while attendees were asked to pre-register in May, guests do not have to register for the June concert.
Seating is first-come, first-serve so attendees are encouraged to bring blankets and chairs.
Parking is available at the park, but overflow parking is also offered at the ZMax off Highway 49 on ZMax Boulevard.