CONCORD — A new Blessing Box has been dedicated in the county.
On Thursday, a group gathered for a ribbon-cutting for the sixth Blessing Box in Cabarrus County at the Rotary Square (111 Union St. S.) in Concord, and there was no shortage of big names in attendance.
Concord Mayor Bill Dusch spoke to those gathered, all of whom were wearing masks and social distancing according to COVID-19 guidelines. Other community leaders also spoke.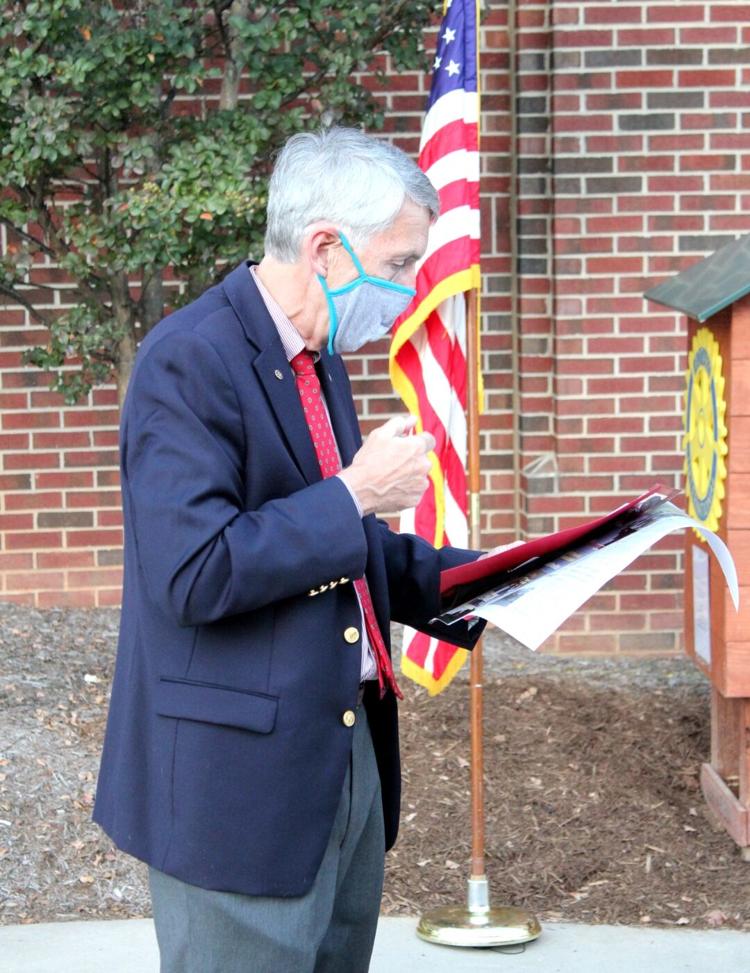 "On behalf of myself and City Council, we are proud of what you're doing," Dusch said.
This is the sixth Blessing Box in the county and the third offered in association with the Boy Scouts of America.
The box was built by Gabe Perry of Troop 221, who will earn an Eagle Scout Award for the project.
Getting the Eagle Scout Award requires a lot of work, including obtaining 21 merit badges. Thirteen badges specifically are required: first aid;  citizenship in the community; citizenship in the nation; citizenship in the world; communication; cooking; personal fitness; emergency preparedness or lifesaving; environmental science or sustainability; personal management; swimming or hiking or cycling; camping; and family life.
That is in addition to the extensive service project that must be done which, for Perry, was the sixth Cabarrus Blessing Box.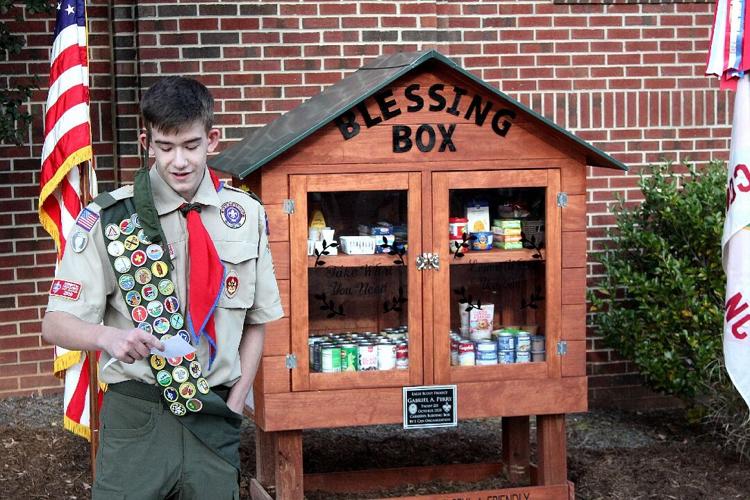 Perry said that he initially planned to do a project at the church where his Troop meets, but with the amount of food insecurity in the area that has come with the COVID-19 pandemic, the Blessing Box seemed like a more timely service.
"It just makes me feel amazing," Perry said. "Being able to help people like this. This is a really good project, and I hope I'm going to be able to help people with this."
That was the goal of the Blessing Boxes in Cabarrus County, which were started by Sheryl Kluge in 2019.
The Blessing Boxes have been helping county residents since then, but in the last 65 days alone, in the midst of the pandemic, 4,500 items have been taken from the boxes, while organizers estimate another 1,000 were replaced by the community and then taken as well. An estimated 1,200 families have been helped in that time.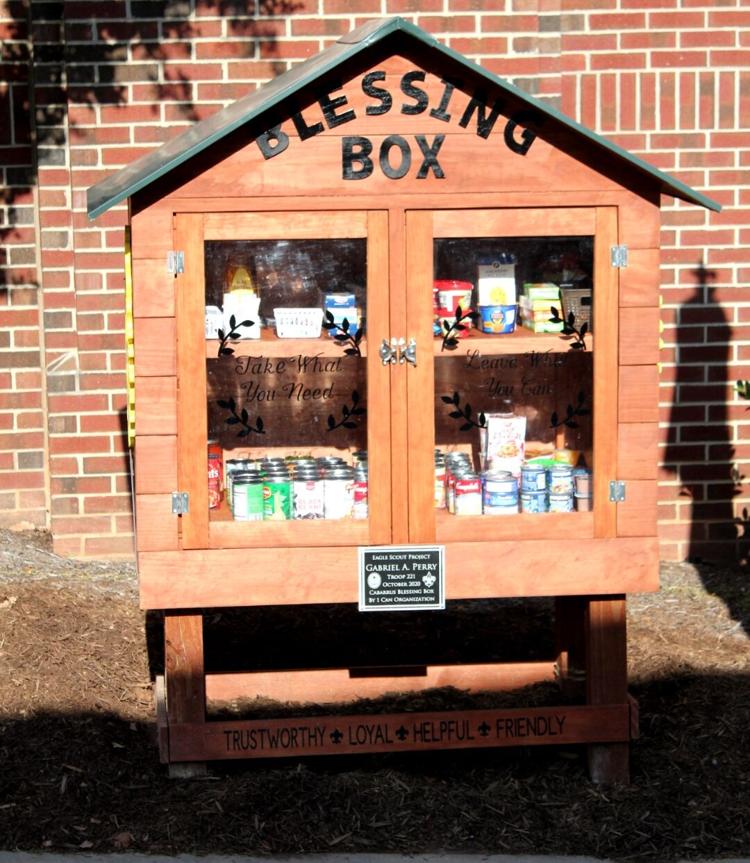 At the Rotary Square site — which officially was completed and opened Oct. 11 — more than 250 items have already been taken.
"This was where we wanted to do our first box — this is our sixth — so it's very well needed," Kluge said. "We know the downtown area definitely has this need, and it was a pleasure to be the third project done with a Boy Scout."
It takes years to earn an Eagle Scout Award, and it is a rare achievement. Fewer than 2% of those who enter Boy Scouts earn it.
This year in the Central North Carolina Council, 58 have earned an Eagle Scout Award. That is out of nearly 7,000 young people who have participated in Boy Scouts.
"With the pandemic and everything that's happened with COVID, obviously with schools being shut down, with youth activities and so on," said Stuart A. Williams, Central North Carolina Scout executive and CEO, "being able to maintain focus, still show leadership and make a project like this where you have to coordinate multiple entities and still come through, is amazing."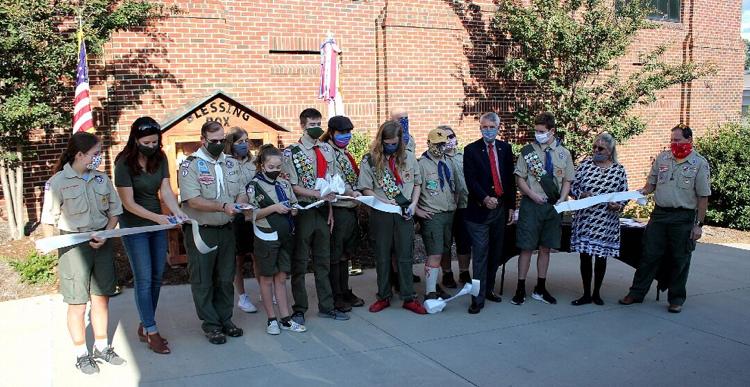 The sixth Blessing Box was entirely built by Perry and received unanimous approval from the Cabarrus County Board of Commissioners to be put in place at the Rotary Square.
But the Blessing Boxes are more than just a symbol of help. Organizers need assistance in keeping them up as well as filling them with items.
The onus then falls on the community to help. Several others have taken it upon themselves to assist as well. One Life Church sponsored a box and keeps one full, but several others also work on their own.
Seven-year-old Skylar Yarborough, the USA National Miss Tar Heel State Junior Princess, helped Teen Miss North Carolina Haley Crowe with a food drive.
Yarborough actually sold her stuffed animals to earn money to buy food to put in the boxes.
"My room was too full of stuffed animals," Skylar said.
Addison Williams was named USA National Miss Virginia Junior Teen earlier this year. She moved with her family to Cabarrus County in recent months and has been helping to fill a box.
Thank you to Addison for delivering. Health and safety kits to all 5 Cabarrus Blessing Boxes yesterday. This is great wat to help those in need stay safe during this Pandemic.

Posted by Cabarrus Blessing Boxes on Tuesday, July 28, 2020
She also has helped fill the boxes with pandemic needs, dropping off masks and hand sanitizer when she can.
"It's so cool because I never realized how much I could do down here," she said. "It's been a great time because of the Blessing Boxes and everything I've been able to do."
McKenzie Cox, Miss Statesville's Outstanding Teen, and Carolina Princess Emmerson Perry, who is Gabe Perry's sister, have also helped take care of Blessing Boxes in the county.
Anyone who wants to help with the Cabarrus Blessing Boxes can make donations anytime at one of the six locations: Fire Stations No. 4 (1165 Warren C. Coleman Blvd., Concord) and No. 5 (Pitts School Road); Cabarrus Health Alliance in Kannapolis (300 Mooresville Road); One Life Church in Concord (1030 Central Drive NW); zMAX Dragway in Concord (6570 Bruton Smith Blvd.); and the new location at Rotary Square (120 Union St. S., Concord).
Get local news delivered to your inbox!
Subscribe to our Daily Headlines newsletter.