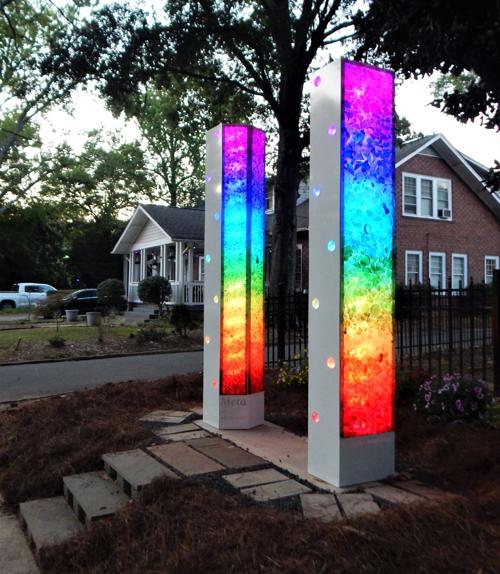 Almost four months after placing her first illuminated glass sculpture in downtown Concord, local artist Katlyn "Kat" Cornelius is back at it with a bigger and brighter sculpture.
In February, Cornelius debuted The Bookmark on a private property off Union Street and Buffalo Avenue Northwest in hopes of prompting residents to talk about bringing more art to the area.
A local artist hopes her recent sculpture, made from repurposed mill glass, will get Concord…
The Meta sculpture is another opportunity for Cornelius to get the community talking about art in Concord.
"When The Bookmark went up, we had a lot of people ask what it was and get excited about it," she said. "They started to think about what it would look like to have more public art here."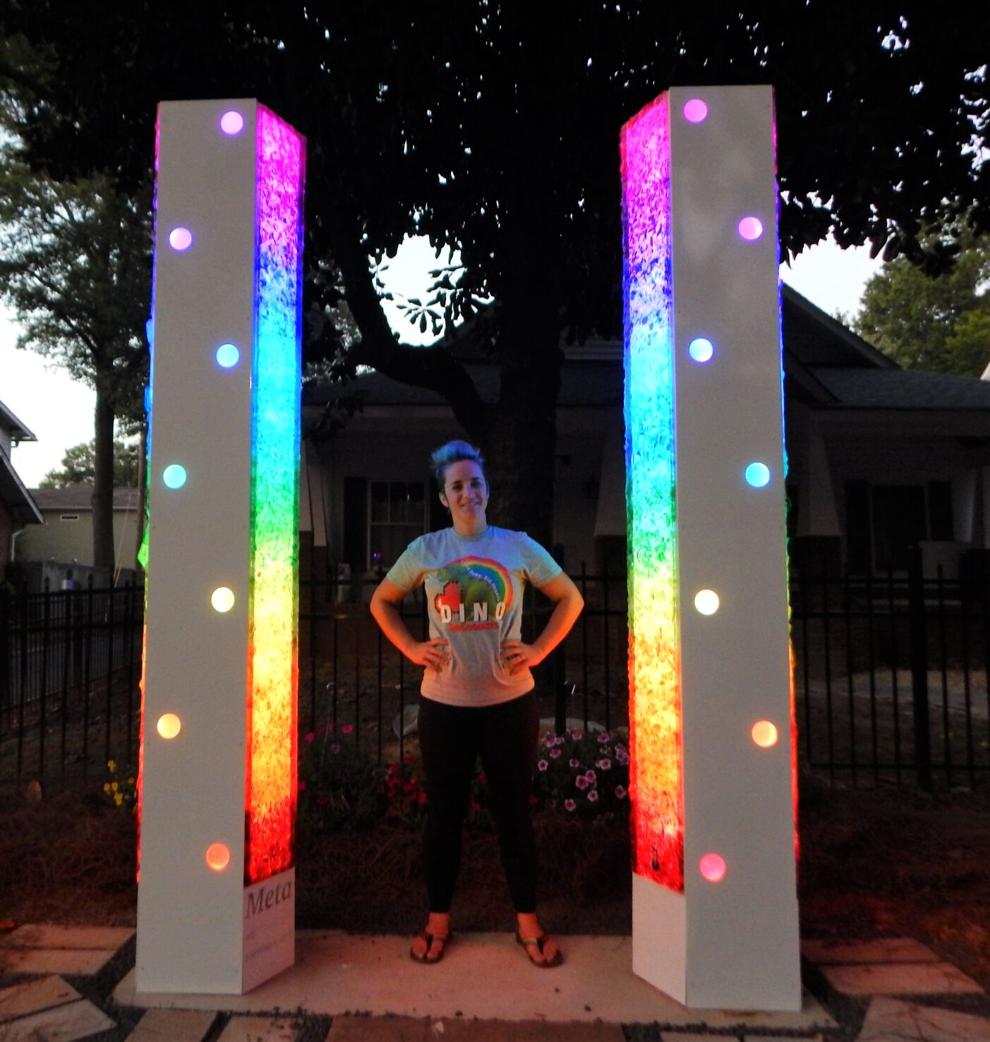 As a vocal advocate for public art in the city, Cornelius said she loves seeing the murals going up around town. But she wants to see interactive art, perhaps a sculpture walk in Concord like the one in Salisbury, that can help showcase local artists.
At the June Concord City Council meeting, it was announced that the arts council wants to create a master plan for the city to get public input on what types of art should be in the city and what would be a good fit downtown.
To showcase her art, Cornelius works with local property owners to temporarily house her work. She and the homeowners have received a lot of positive feedback.
After seeing The Bookmark, a homeowner off Union Street North and Marsh Avenue Northwest asked Cornelius if she would consider creating a piece to go out front on his lawn. She agreed, and he ended up being a major part of the conceptual process, suggesting Cornelius play with the idea of chakra colors.
This go-around, Cornelius wanted the Meta sculpture to be more interactive for residents, with more texture and color.
The Meta sculpture contains two 9-foot columns with glass cast in resin to make a rainbow up the columns. And, like The Bookmark, there are internal LED lights that dance.
The Bookmark was placed on an old tree stump in a private yard behind a fence. But Cornelius made sure this sculpture was accessible to the public, even adding steps for people to reach its platform.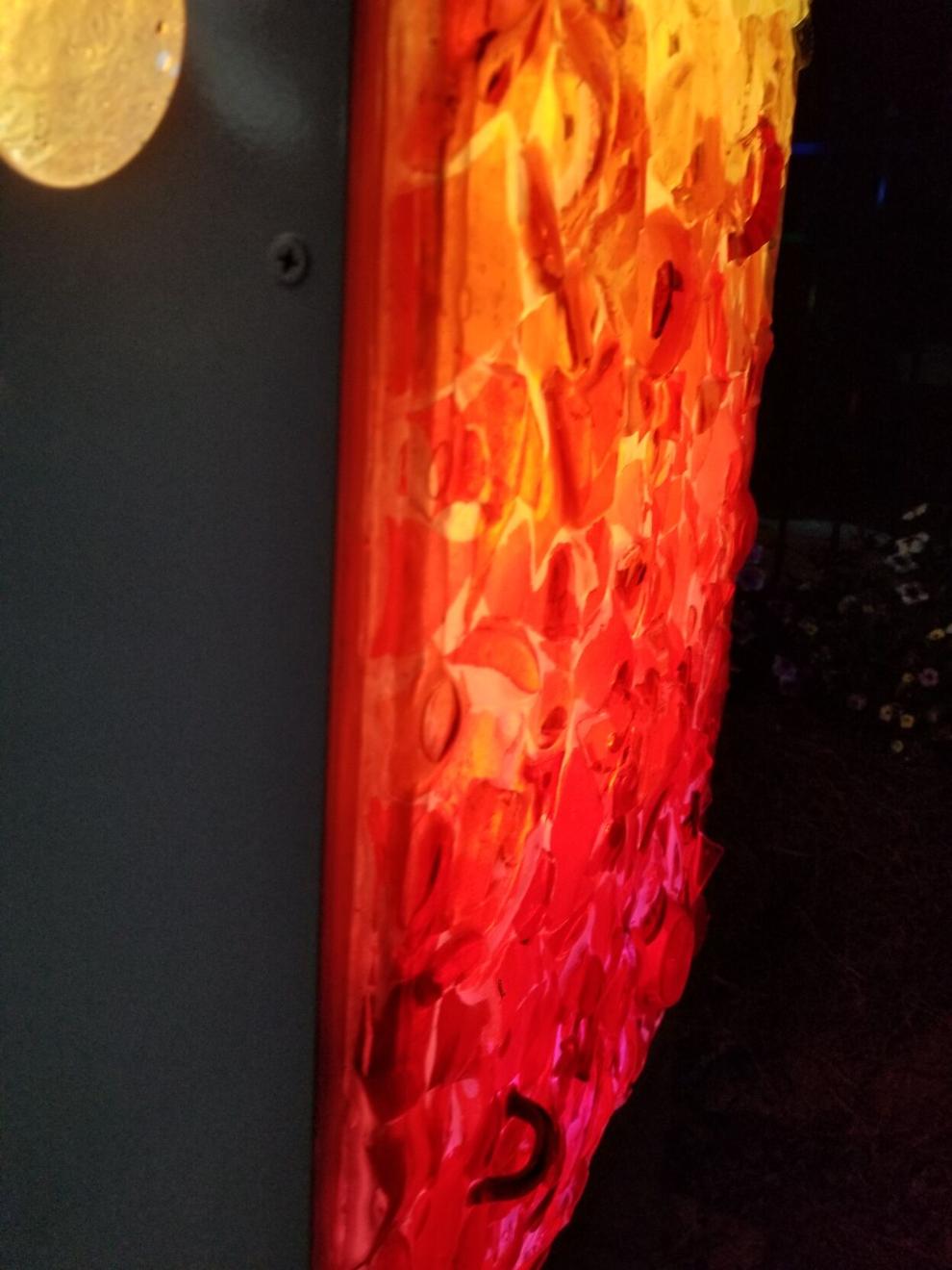 And Cornelius wants people to be hands-on with the piece. She has been working with glass as a medium for over a decade, so she and her husband scavenged for glass at second-hand stores across the Concord and Charlotte area. She broke the glass before placing pieces in panes. To give the sculpture a tactile element, she decided to keep larger glass shards in the outer panes, leaving some of the original texture like handles, bottlenecks and etching. For safety, the pieces have been rounded.
And, yes, she is aware the sculpture has gone up during Pride Month. And while it was not made specifically for Pride, Cornelius said she was glad its debut coincided.
"When we started getting into fabrication, I was hoping to get it here in time for June," she said.
Viewers are able to stand between the columns. When the lights are on, it is an optical show. Not only is the glass layered in a rainbow, but there are clear orbs dotting the front of both columns that reflect the light from the LEDs in multiple directions and give differing views of the lights depending on where people are standing.
When asked why she chose the name "Meta" for the sculpture, Cornelius said that it's a word that covers every aspect of the piece.
"I liked meta when I looked up the definition," she said. "Meta refers to something that refers to itself, like a painter painting a portrait of themselves painting a painting."
This sculpture also felt more personal to Cornelius.
"The fact that you could take something that was to be thrown away and give it new meaning and purpose, that is what I see here, and that is the reflection I have of myself — to take something that was lost and broken and make something cool out of it," she said.
She included the name of the sculpture and its definition on the piece because she wants people to experience the sculpture but also take a moment to reflect on how it makes them feel.
"I wanted people to know what it's called," she explained. "It's fun to know that anyone that thinks anything about this, it really reflects on themselves."
Like The Bookmark, the Meta sculpture will only be up temporarily before it finds another home. There is a possibility that fans could view The Bookmark at Southern Strain Brewery in the future.
But while Cornelius is just coming off placing her second sculpture, she plans to keep going with her temporary art displays until more art is brought downtown.
"This starts the discussion," Cornelius explained. "You have art inspiring them. Concord is a blank canvas. There is so much potential for public art here."