CONCORD — Markeisha Douglas thought she was simply finishing up some paperwork on the closing of her new home Tuesday morning. What she got was a greeting from Warrick Dunn.
Douglas, who has worked for Kannapolis City Schools as a bus driver for the last three years, has been a part of Habitat for Humanity Cabarrus County for two years.
During that time, she has been raising her son, Jonquez, while staying with her grandparents.
She was thrilled to get a chance at homeownership from Habitat, but she wasn't expecting all the pomp and circumstance when she pulled up to her new home.
"What is going on? Why are all these people here?" Markeisha said, recounting her reaction to pulling up to her street and finding news cameras and people crowding her driveway. "I thought we were just coming to walk through the house.
"I didn't know all these people that were going to be here, what was going on, they tricked me. But it's OK."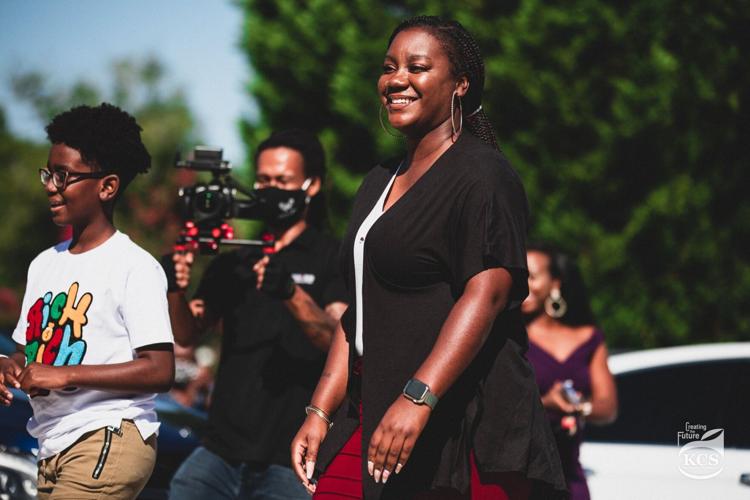 The second Douglas drove up, she was greeted at her car door by none other than former Buccaneers and Falcons running back Warrick Dunn.
A veteran of 12 NFL seasons and the 23rd leading rusher in NFL history, Dunn and his charity have furnished 181 homes across the nation, including a childhood home of now-Houston Texans quarterback Deshaun Watson. He was happy to be in the Carolinas again Tuesday to help out.
"I think it's important that we continue to grow as an organization and expand our footprint, but the life-changing moment, I think all of you guys saw it," he said, addressing the cameras in front of the home. "That's what it's about — really helping people that are trying to help themselves.
"You can see someone who's been committed to providing and putting her family in a better situation long-term, making that stability; that's what it's about."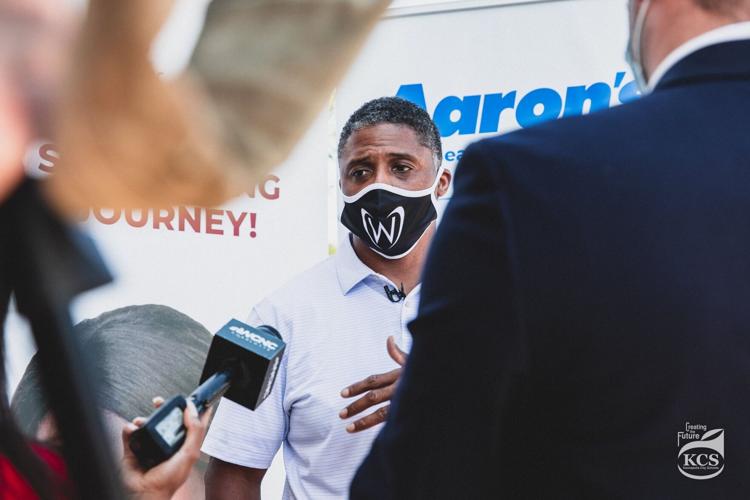 On Tuesday, he was there to surprise Douglas and her son with a fully furnished home as well as $5,000 in downpayment assistance.
Dunn started his charity work as a rookie in 1997 when he was with the Tampa Bay Buccaneers. His mother was a police officer who was killed in the line of duty. As a tribute to her, he established Homes for the Holidays in 1997 to help make home ownership a dream come true for single-parent families.
Douglas' dream came true Tuesday.
"I want to thank all of the donors and the support we're relying on, thank you. I want to thank all of Habitat. I want to thank my family," she said,  pausing for a moment to hold back tears. "I want to thank my family and my friends; I want to thank my job, everybody that's supported since I started.
"It's been a long road, but I'm here, and that's all that matters."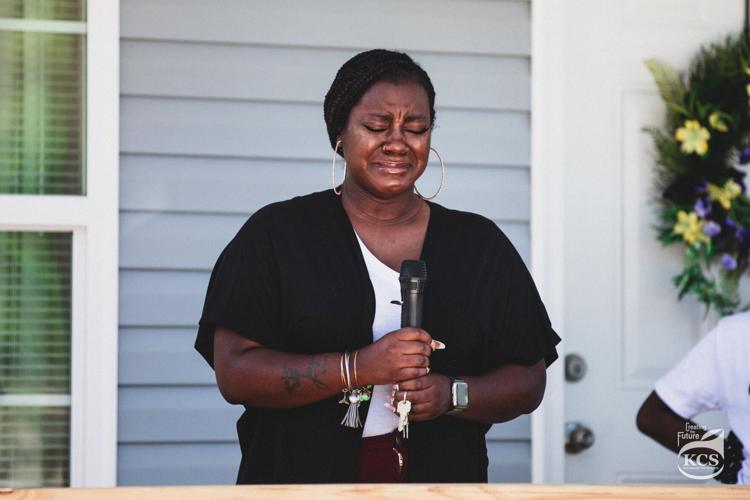 Douglas is a single mother who receives no assistance from the father of her now 11-year-old son. She has been living in the same room and sleeping in the same bed with him for the last several years while sharing one bathroom between five people in the home.
Now, as she returns to work as a bus driver while carrying the stress of knowing COVID-19 remains active in the state, she does have one less thing to worry about — her son has his own fully furnished room.
He will now have a stable environment to do his work in his own room as he started school Monday working fully virtually.
Douglas put in more than 250 sweat-equity hours, helping tidy others' homes or working at the Habitat ReStore in Cabarrus County, and now she is a homeowner.
"(I'm) blessed, very blessed," she said.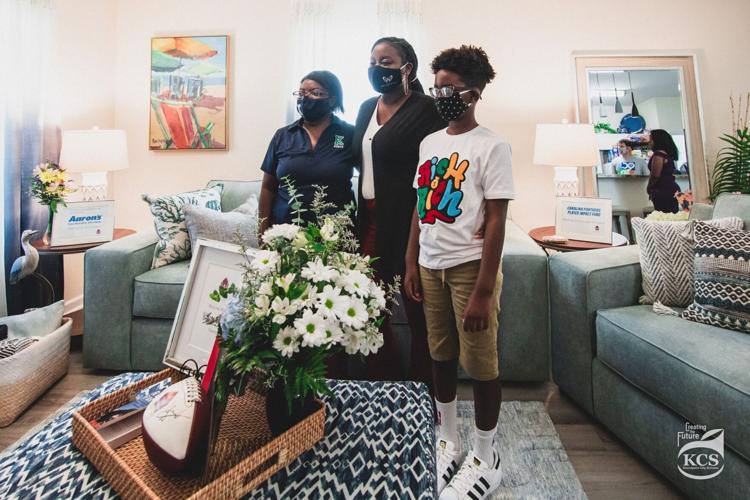 Douglas' home was fully furnished with the donation from Warrick Dunn Charities, in addition to a $10,000 donation from Aaron's.
"We're happy to be a part of this," a spokesman for Aaron's said. "It's a great opportunity to give back to the community."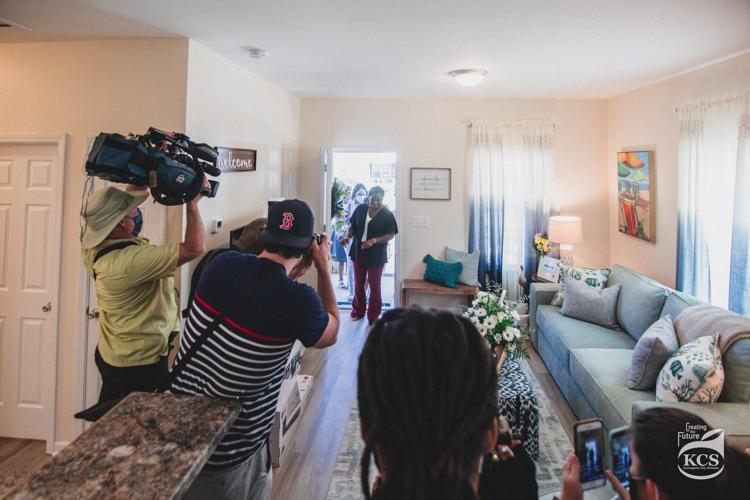 The home came fully stocked with groceries, appliances, kitchen gadgets and even a few other surprises for Jonquez. All of it was made possible by Aaron's and the Carolina Panthers Player Impact Committee.
"We know this home will be a firm foundation on which you can build memories for life," said Chris Manhertz, Panthers tight end and Player Impact Committee member in a recorded video for the family. "Congratulations and welcome home."
Markeisha and Jonquez will move into the house in the next few days. She still has to work this week before getting some time to move everything in.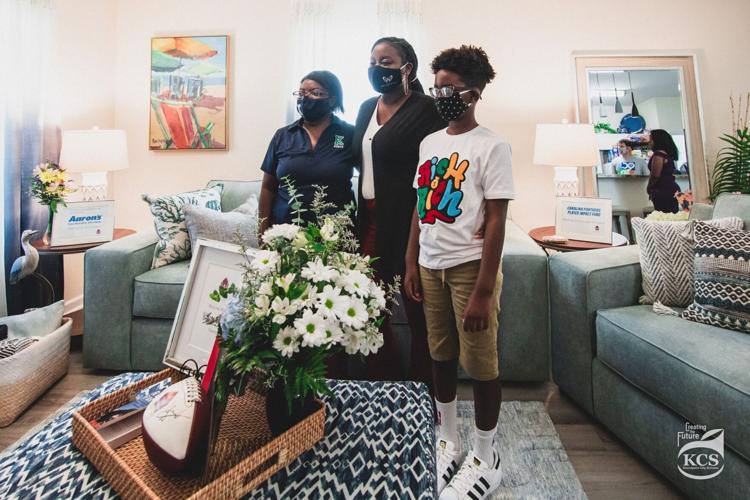 Douglas had to work hard to get to this point while raising a son on her own. But she hopes her story will help others like her have the faith that good things will come to them, too.
"There's a lot of single moms out here that are doing everything by themselves," she said. "I've been doing it myself about the whole time."
She continued: "They always say, 'What you do always comes back to you,' and I've always been that type of person. I always help everybody, whoever needs help, I'll always help, and now it's coming back to me."