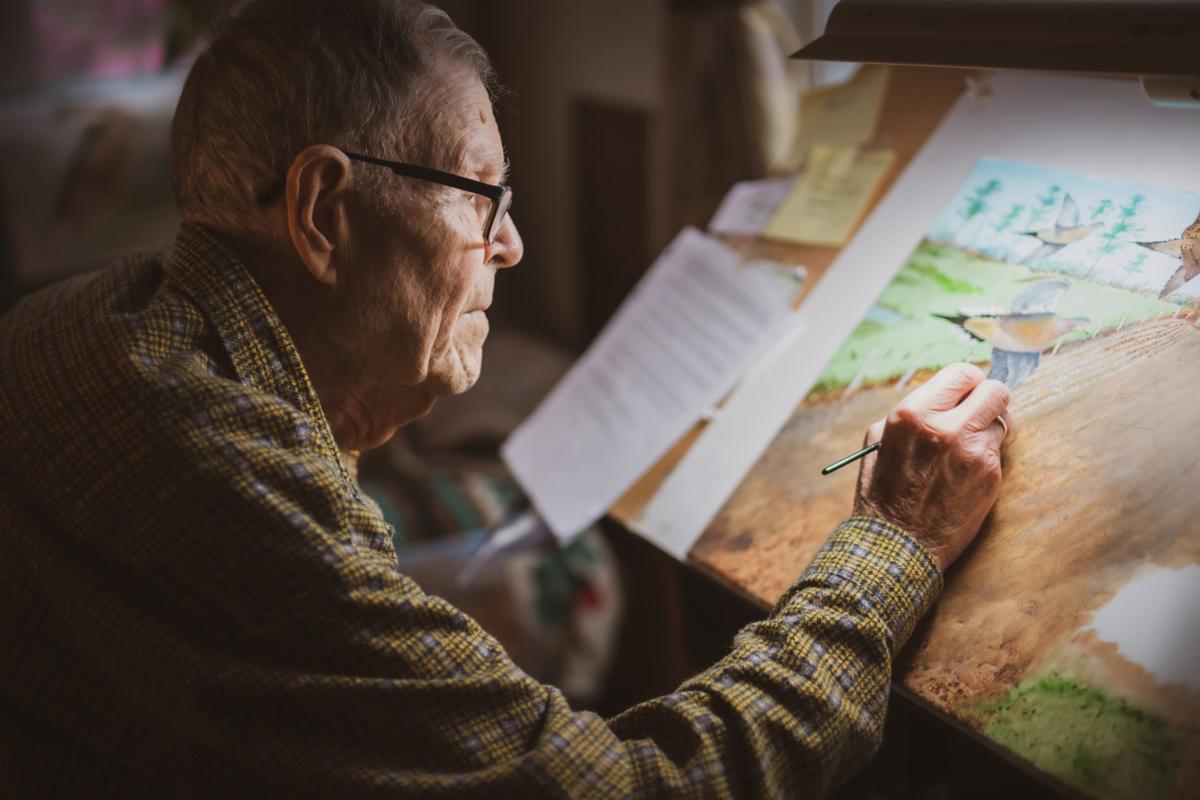 Several years ago, I ran across an elderly gentleman at the North Carolina fairgrounds. When I heard his name, I knew it was familiar, but couldn't quite place where I knew it from. I talked with him a bit as he led me to his booth that was set up in the Village of Yesteryear. Once there, I immediately realized who he was.
Since the age of 12, Duane Raver has painted wildlife. He primarily dealt with fish species, and early on, he knew he had a talent that others didn't. He recalled a story from an art class in school when he was drawing trees and decided to help a classmate. As he looked over his classmate's artwork, he scanned the room and took quick glances at everyone's work. The art did not come close to matching what he was doing.
There are some people who are gifted at certain things, and Raver is definitely one. His work, especially fish-related, is the absolute top of the game. His attention to detail, with meticulous observance to scales, fin spines, and even colors, down to the gradual shading from scale to scale, made him the go-to person for wildlife organizations and biologists in both creating a standard as well as identification of species.
The remarkable thing is that attention and steady brush has carried on to his current age. Yes, for an astounding 80 years, Raver has applied brush to paint and then to paper. He has a book that is now ending its third printing, detailing the art and characteristics of 150 species of fish. He told me while visiting with him last week that the publisher informed him there were just a handful of that third printing currently left.
If you were to scan websites such as the North Carolina Wildlife Resource Commission's, you will find his artwork throughout, including any citation-sized fish or special-catch certificates decorated with Raver's art. Even the International Game Fish Association has his art as the identifiers for all to see.
He once shared a studio with his daughter, who is a taxidermist. He expanded into drawing and painting various species brought to his daughter until he determined his old age prohibited him from making the 100-yard walk uphill to his daughter's house and studio. Now, he has a spare bedroom in his own home that has been converted into his art studio.
The room has boxes and shelves full of prints of his artwork. Two wooden paddles rest against one wall, one with a bream painted on it, the other with a crappie. The bream is so perfect that when I showed my wife a photo, she asked why he had a real fish laying on it.
To the side of his art table rests a canvas depicting a black bear in the woods. Each hair on the body could be seen when viewing close up, and looking from a few feet away, the blackness of the fur all blended in a smooth-looking coat.
On his table, he had a mostly completed commissioned piece of mourning dove flying over farmland. The buyer requested having dove sitting on a wooden fence in the background. His fence was perfect, and the dove on the fence were perfect as well. Of course, the main draw were the two birds flying in the foreground with the sky behind. All were neatly and perfectly placed.