CONCORD – Emmanuel Konneh was waiting.
It was a frigid late November night, and Konneh and his Concord boys soccer teammates had just experienced their most heartbreaking defeat of the 2019 season, a 3-0 stunner to Charlotte Catholic in the Class 3A state semifinals.
The Spiders had just been shut out for the first time all season. Their season was over. And clad in shorts in the sub-40-degree temperature, Konneh was hanging around Charlotte Catholic's emptied-out stadium until I finished talking to his coach and a few teammates so I could interview him at the end.
Because I'd asked him to.
I felt badly, because I was freezing, too, and I hated to have this kid on stand-by for such a long time to talk about what probably was the toughest loss of his life.
I finished up my other interviews and then made my way over to Konneh and prepared to apologize. And then …
… a grin that could've lit up any stadium in the darkest of night.
"How you doing, Mr. Horton? Nice to meet you!" Konneh said giddily with a deep African accent.
It was a voice, a tone that put me at ease. This wasn't some impatient kid who was just ready to get out of Dodge instead of talking about losing in the cold, although he had every right to be. He was humbling, he was welcoming, and he was engaging.
We finished our two-minute interview, and as we departed, he said, "Thank you for interviewing me, Mr. Horton."
I hobbled away that night thinking, "What a nice kid! Wow!"
Little did I know – little did any of us know – that nine months later, he would be gone.
This past Sunday, Konneh drowned after going swimming with three friends at Balfour Quarry in Salisbury. The boys who accompanied him have a pending court date, as the quarry was private property with a locked gate and several postings against trespassing.
But that's not the story.
Konneh, who graduated this past June, leaves behind a father, a mother, a stepmother and a little brother who loved him beyond measure. But folks in the Spider community and beyond loved him, too. They are crestfallen and confused.
But from what I got to know about Konneh in just two, short minutes, and from what others who really know him had to say, memories of the soft-hearted Konneh will eventually help soothe their sorrow.
Just like he always did in his 19 short years on this earth.
Konneh and his family moved to Concord about three years ago from their native Liberia. Konneh was in 10th grade, and while getting accustomed to his new surroundings, he was quiet and a bit shy. Concord High Resource Officer Michael Quinn noticed the 6-foot-2, well-developed young man all alone in the cafeteria one day and went to make him feel welcomed.
"Officer Quinn saw how big he was and asked him if he played sports, and he said, 'I play football,'" said Concord soccer coach Todd Tinsley. "(Quinn) said Emmanuel just kept saying, 'I just need to get boots.' I guess that was his first cultural misunderstanding."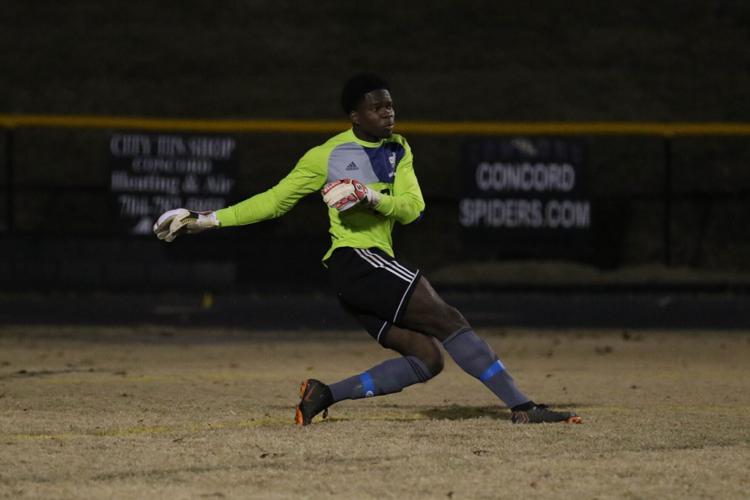 Quinn initially assumed Konneh meant American football but quickly learned he was referring to soccer.
"Quinn came down and told me, 'You've got to meet this kid!'" Tinsley recalled.
The coach was smitten with the new kid, although it wasn't just because of soccer; it was because he was Emmanuel Konneh.
That same voice, tone and personality that put me at ease on that November night had instantly done the same to Tinsley.  
"To meet this kid with this beautiful African accent, he comes in, and he was just so positive," Tinsley said. "He just had so much hope. It was just something that I needed. I went right to my wife (Jacquie) and said, 'I've got this kid from Liberia, and he says he's a soccer player.' And she said, 'Well, is he?' And said, 'I don't care because he's, like, the coolest kid in the world.'"
Tinsley became a mentor to Konneh, and Konneh had the ability to make Tinsley laugh out loud the way few kids could. To help make Konneh's transition to America smooth, Tinsley talked to one of his most trusted captains about taking him under his wing and helping him make friends.
"Tinsley came up to me at school one day and told me, 'We're getting this 6-foot-2 Liberian kid, and he loves soccer!'" said Carson Trott, who graduated alongside Konneh. "I was like, 'A kid that's not from the States that loves soccer like this could be awesome for our team. I'll be happy to help him.'"
But Konneh was a doer; he didn't like to ask for help, even under the toughest of circumstances. He took help if it was offered, but he was independent and driven. He took action to make his dreams come true, whatever it took.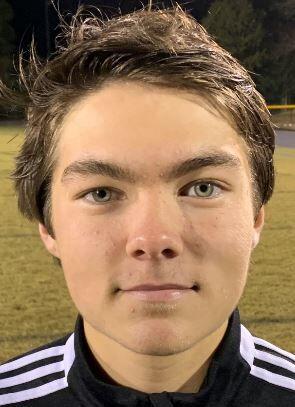 Still, Trott and his brother, Cameron, who was also on the soccer team, volunteered to drive Konneh back and forth to Spiders practices the following year whenever they could.
"He would walk to practice," Trott recalled, still amazed years later. "And he lived near S&D Coffee (more than 5 miles from the school). It was a walk. That just shows how dedicated of a person he was. It was crazy."
Konneh played on the junior varsity during his 11th-grade year and spent most of his time working to be a goal scorer as a striker. He showed great skills, but the season wasn't going so well for him – at first.
One day, the JV goalkeeper got injured, and Tinsley asked Konneh to fill in.
"He had never played goalie, but he just did it because that's just who he is," Tinsley said. "He was like, 'I'll do it!'"
It was as if he was born to be a keeper. He had size, speed, instincts and he was fearless, all great accoutrements for the job. At times, he could be awe-inspiring.
"In one game, he caught a ball and threw it to the outside midfielder, and I'd say it went to the 45-, 50-yard-line – in the air, to his (teammate's) foot," Tinsley recalled. "We were like, 'What in the world did we just see? What just happened?'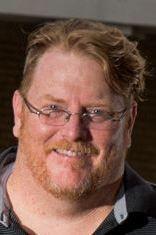 "A little while later, he gets the ball and punts it, and I mean it pretty much goes to the other team's box. And we're like, 'What is going on?!'"
Tinsley had found his new goalie. But it wasn't that simple.
Konneh wanted to maintain a spot in the field and be in on the action for every play, rather than waiting for the ball to periodically come his way at the other end of the pitch. But he also wanted a spot on the varsity for his senior season the following year.
Tinsley informed him that his best chance of that would be playing between the pipes. That's all it took to get Konneh to go after the goalkeeping job with gusto.
"In the first workout of the next year, he was working so hard to get every ball that came his way," Tinsley said. "He was diving everywhere. He was determined not to let anything get past him.
"The way he played goalkeeper was the way his life was: He gave you everything. He was going to keep fighting for every bit of positivity that he could. From that point on, he was our goalkeeper."
It was a game-changer for the Spiders.
Concord's team was laden with talent, with Steven Lozano, Trott and Carlos Alvarez top scorers and tough-minded defense behind them. And Konneh in goal was a key ingredient to it all.
The Spiders played their way to a South Piedmont 3A Conference crown, going 14-1 in the league. They were dominant through the first stages of the postseason and wound up winning 16 games in a row before falling to Catholic in the semis.
And Konneh was dazzling at his new position. He ranked second in the league in saves (105), had a reed-thin 0.645 goals against average and posted 14 shutouts. He would later become the SPC Goalkeeper of the Year for 2019, helping the Spiders go deeper in the playoffs than they ever had.
My little brother's keeper
Konneh was truly dedicated to his craft. And his family.
Trott, who was named the SPC Player of the Year, remembers how close Konneh was to his little brother, which makes his death even sadder.
"It breaks my heart, still, and I can't stop thinking about it," Trott began. "He had to bring his little brother to practice with him one day because his parents were working. His little brother was clinging onto his legs so hard. It was the day before a playoff game, and we were practicing on the football field. His brother is maybe 3 or so, and if Emmanuel got more than 10 feet away from him, he would cry. We had to tell him, 'Emmanuel, stop practicing and go sit down with him. Just be there with him.'
"He always wanted to be Emmanuel," Trott continued. "You could tell he wants to grow up and be Emmanuel. The thought of that practice just won't leave my head right now. I just feel so bad for his family and his brother. It was insane how attached they were."
Besides soccer, Konneh loved himself some basketball. He was a huge LeBron James fan, Trott said, and Carson and Cameron would have fun talking about the NBA star during car rides.
And although he wasn't as celebrated as a basketball player, Konneh affected the Spider hoops family just as much as he did the soccer team.
He played on the JV basketball team during his junior season when the Concord program was led by Jason Stowe, but he only played sparingly. The JV coach that year was Barrett Krueger, who took over last season after Stowe stepped down.
Krueger also became a mentor to Konneh. And like most everyone he encountered, Konneh made an enduring impact on Krueger.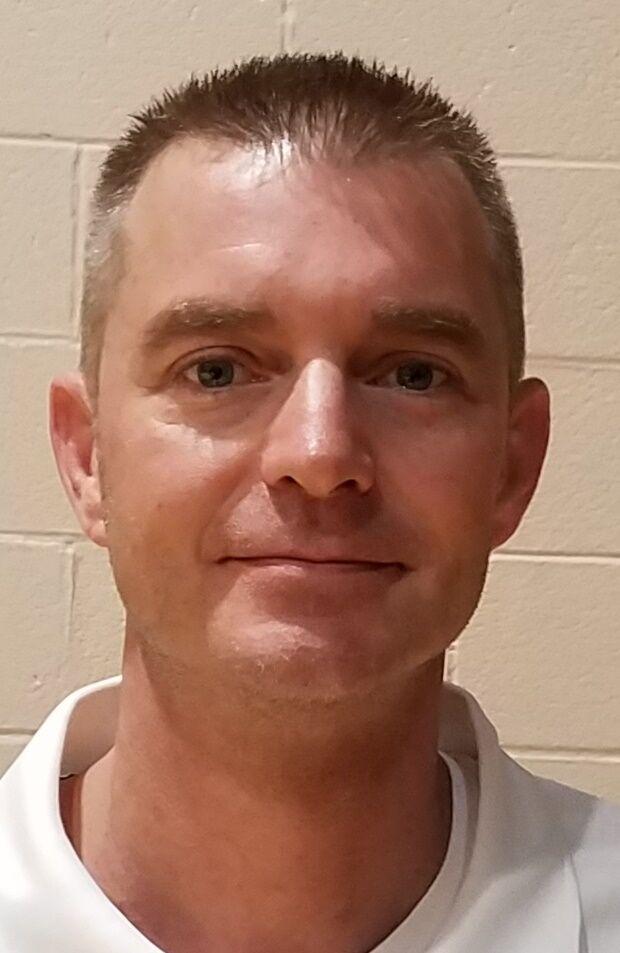 "There isn't any better," Concord basketball coach Barrett Krueger said of Konneh. "Me and my wife (Natasha) are trying to have children. If I ever had a son, and you just look at (Konneh) – just the way he is, the way he goes about life -- that's what I would love my son to be. There's not a bad bone in his body. Everybody adored him."
Konneh was a backup forward for the Spiders varsity basketball squad last season, and his main jobs were rebounding and playing tough defense in small spurts. He embraced it. His teammates respected that, and his coach loved it.
"He might not have been a polished player or anything, but, man, he played so hard!" Krueger said. "I just loved it, and the other kids just gravitated to him. As a coach, you want guys like that, guys people gravitate to and respect. Your team's overall persona and perspective just comes together. It was just a great experience that our boys got to interact with a young man like him, who was always smiling and upbeat and grateful for everything he ever got. He was so infectious."
As he did for soccer, Konneh also was dedicated enough to walk to basketball practice – again, whatever it took to turn his dreams into reality.
"One Saturday morning practice, he came in dripping with sweat, and you just didn't think about it," Krueger recalled. "He didn't complain. He was just in there going hard in a two-hour practice. That's just the type of kid he is, a very hard worker. But I put an end to that. We organized rides for him with parents and players."
Given the nickname "Bamba" by his basketball teammates because of his striking resemblance to Mo Bamba of the NBA's Orlando Magic, Konneh had an impact throughout the athletics department.
"In the weight room, (Spiders football coach Marty) Paxton and I call them 'Bamba Squats,' because he does them the right way," Krueger said with a laugh. "The way he did them was just perfect.
"It just leaves a hole in your heart that he's gone. He was just generally nice and kind, and he never let himself get down that low. It was just the way he treated people. He goes about it the right way. He was just a really good person to have around. He was very uplifting."
The days since Konneh's passing have been trying for everyone. But they've been especially tough for his best friend in the school, fellow soccer player Christian Kushmaul.
The two were always together at school. But after graduating from Concord, Konneh went away to play soccer at Carolina University, a tiny Christian school in Winston-Salem, and Kushmaul stayed home to attend Rowan-Cabarrus Community College to prepare to move on to a four-year school in a few years.
But Konneh and Kushmaul still talked frequently. In fact, they had a conversation on SnapChat the day Konneh died.
"We talked (Sunday), a few hours before everything happened," Kushmaul shared. "I didn't know he was going to the quarry, but we talked that day. I started (college on Monday), and he asked me if I was ready. I was out running errands, and he was back home spending time with his little brother. He said he would be going back up to school that day and that I would have to come down there to see him and we could have some lunch or something.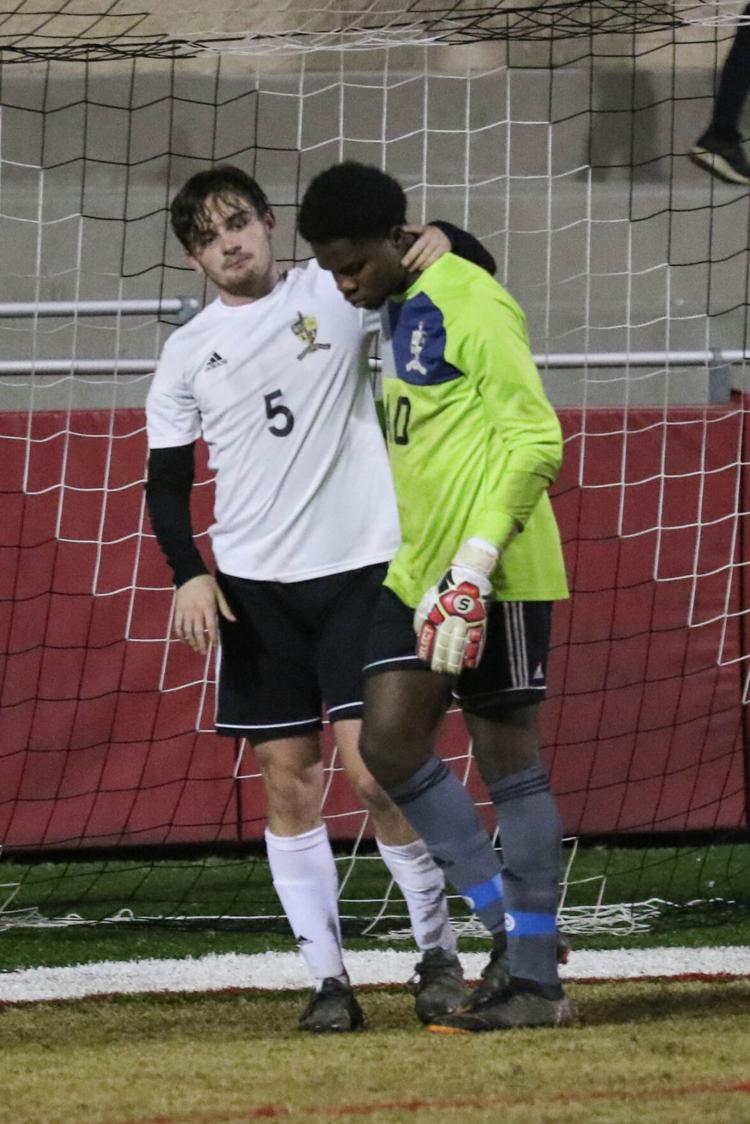 "And then just a few hours later, to get the call that he was gone …"
Kushmaul said he learned of Konneh's death after receiving a phone call from one of the friends he'd gone to the quarry with that day.
"One of the kids there, when it happened, he called me right away," Kushmaul said. "Right when everything went down, he contacted me to try to help get in contact with Emmanuel's family. I didn't have their number, but I knew where they lived.
"I didn't really understand him, because the kid who called me was really broken up about it. He was hurt. I really didn't know what to say to him, and I just broke down. It was the worst news I've ever heard in my life."
Added Kushmaul, "I really haven't accepted it yet. I'm just kind of waiting for it all to go away, like a dream. (Sunday) was pretty hard. I didn't sleep very much, but when I woke up (Monday), it really all just hit me then that he's really gone."
The reality of Konneh's death has been difficult for all who spent time with him.
It would've been an unspeakable tragedy had anyone lost their life that day. But losing Konneh in those swirling waters just seems so … unfair. It's like our community has been robbed.
Losing someone with so much life, with such an infectious personality, with so much promise – a beacon of light for young folks and adults alike – just doesn't seem right.
"We were talking (Sunday) night about how when somebody dies, coaches are always saying, 'The kid was like no other' and 'This was the perfect kid,'" said Tinsley, the Spiders' soccer coach. "I usually look at them because I know what that kid was about. But when you looked at Emmanuel, everybody agrees. We don't have to prove to anybody that he wasn't that All-American kid. He checked all the boxes for what you were hoping a young man would grow up to be.
"We all had a lot of hope for him. That's part of the pain we feel right now, is that that hope stopped. And we've had to transform it into the hope that the time he gave us will be lessons for a lifetime. He's given a part of himself to all of us, because he gave so willingly. He really did. All of us are better because we were involved with him."
His voice cracking, Tinsley took a deep breath.
"We're very much a family, and I'm worried about my boys," Tinsley said of his players. "Everybody I've talked to, we're gutted. My players have called me one by one, and they all just keep telling me all the gifts that Emmanuel gave us. There was a peace that he brought us. Every one of us loves him as a brother. It's incredible. We didn't save him; he saved us. That's something. And I think he'll continue to save us. I honestly think he had a purpose."
As I look back on that cold November night on Charlotte Catholic's frozen field, I, too, know the impact Konneh had on this community – and a grizzled sports writer who's seen his share of tragedy on and off the fields of play.
I only have one thing that I personally know Konneh got wrong in his life. Instead of you being glad to meet me, it was truly my pleasure meeting you, Emmanuel.
Thank you for waiting so patiently that night.
Thank you for being such a gentleman after fighting so hard all night on the soccer pitch.
I know what all these people mean when they say you were a unique, selfless, engaging young man who simply wanted the best for himself and his family but was equally invested in what was best for those around you.
Thank you for what you gave Concord, your little part of America, in just three years. Thank you for what you gave people who didn't even know you but were encouraged by your smile and kindness on a rough day. Thank you for using your 19 years to leave a legacy of joy that some people three or four times your age never accomplish.
Thank you for being you, a gift to so many.
Be the first to know
Get local news delivered to your inbox!