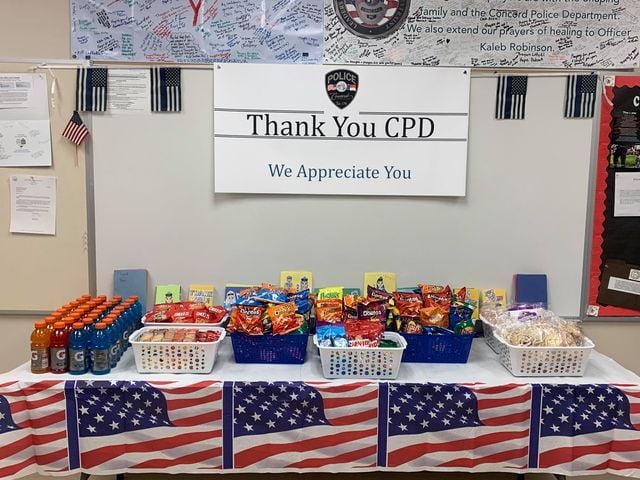 A local school teacher made Police Week special this year for Concord officers. 
Brittany Dorsey, a fifth-grade teacher at Beverly Hills Elementary School, took over a local Police Week appreciation effort two years ago. Her mission has been to show officers in the community just how much they're supported.
"I just wanted for them to keep getting recognized," Dorsey said. "After everything they have been going through, and losing Officer Shuping, they have it rough, and I want them to understand what it means to be recognized."
Dorsey, married to Concord Officer Ron Dorsey, knows what the department has been going through in the past few months. That was why the flower arrangement from Flowers by Oralene in honor of fallen Officer Jason Shuping was so special. The arrangement included blue and white flowers in a wreath with Shuping's unit number.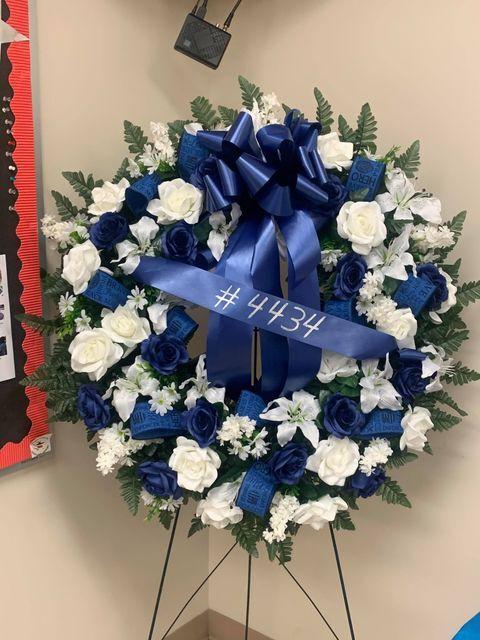 One of Dorsey's goals once she took over Police Week was to make it bigger. In the past, officers usually received a gift card. But she wanted to make it personal. 
This year, with help from some local restaurants, there were enough donated meals for 40 to 50 officers to receive lunch and dinner. The meals were donated by Bebo's Charcoal & Beef; Charros Mexican; SoGo Japanese; Jersey Mike's Subs; and Nona's Pizza. Haylee Shuping, wife of the late Concord Officer Shuping also donated a meal from Smoke Pitt. In addition, Dorsey set up a kickoff breakfast with three dozen doughnuts from The Donut House.
Last year, Dorsey created a goodie-basket giveaway for Police Week and gave away five baskets per police district. There was also a basket giveaway eligible for all officers donated by the Cabarrus Brewery. But this year, through multiple donations from local businesses, there were two meal cards from Johnny Rodger's, $100 for Stars & Strikes, $35 for Jocko's Mini Golf, 26 Acres Brewery items, CPD mug and Back the Blue keychain.
Every business that Dorsey approached offered to donate something. Stars & Strikes originally offered to donate a $100 gift card, but after learning about the five giveaway baskets, they bumped their donation up to five $100 cards. 
"There hasn't been a single business to turn me down," she said. "Everyone just wants to give something." 
More people in the community also got involved when she helped four churches and other community members adopt all 180 Concord officers for Police Week. The four churches, Connect Christian Church, SoJo Church, Epworth Church and He's Alive Church, adopted 78 of the officers. All 180 officers received a gift card and thank you card from the community.
Next year, Dorsey hopes to increase the appreciation for officers and get more meals donated. 
"My goal is to continue to show our men and women in blue how much they are needed and valued," she said. 
But she is also setting another goal. She wants to start the initiative for Firefighter Week, which comes just before Police Week, in Concord as well. 
Dorsey has been a fire safety coach at her school for five years. In that time, her safety group has placed second and third in competitions. Through her safety work, she knows the importance of educating the public and the work firefighters put in for that initiative. She hopes next year to make Firefighter Week just as special as Police Week.
"They do so much for us," Dorsey said about first responders. "We need to give back to them, too."