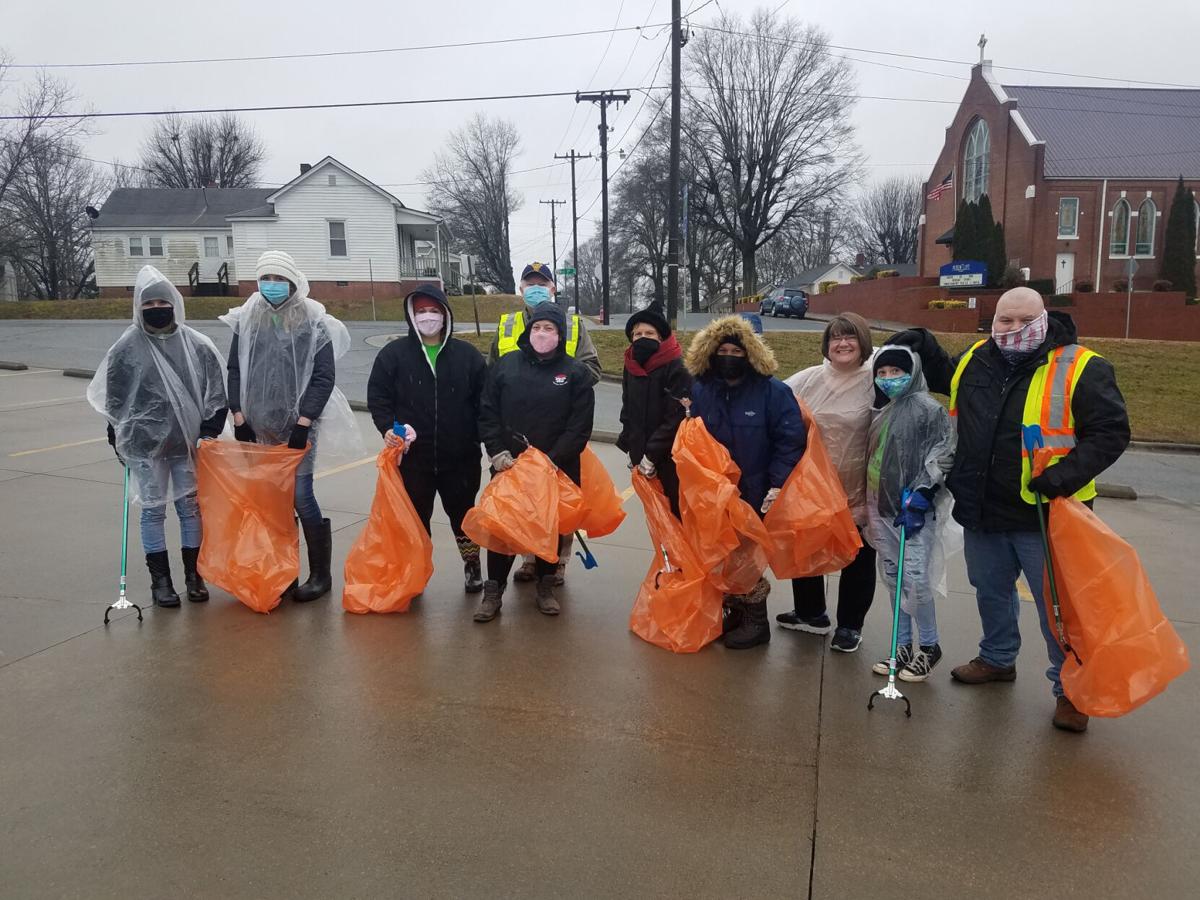 Between these dang computers, the weather and the continuing pandemic it's a wonder anybody can get anything done. Many of you are in the same boat as me. "I feel your pain," as Bill Clinton once said.
E.L.K. didn't let hindrances stop its work. Of course, E.L.K. is the anti-litter group we told you about a few weeks ago – Eliminating Litter in Kannapolis. The group held its first clean-up event led by Rita Bliven.
"We had 12 amazing volunteers show up and clean up litter in the 38 degree rainy weather," Bliven said. "We gathered and bagged 12 bags of litter. We plan to do much more but Saturday was a great start considering the conditions. I am so thankful for everyone who showed up and worked hard, and for the adopt-a-street program."
The group worked on West 8th Street and got about half of the street cleaned. They're going back later to finish.
There are 14 streets in Kannapolis that still need groups to adopt them. Another clean-up event is planned for Earth Day, April 22.
"In the meantime I'm calling churches and businesses to educate them about the adopt-a-street program. Hopefully the remaining 14 streets will be adopted soon," Bliven said.
Keep up the great work E.L.K. and other groups that are battling the insidious littering problem. There are also opportunities for adopt-a-street/road in Concord and Cabarrus County too. Those opportunities are beyond the 14 streets mentioned here.
A new ABC Store in Concord. The Concord ABC Board is moving forward with a new store at Willow Oaks Crossing (the Publix shopping center) at 195 George Liles Parkway. The site plan was submitted for review in January.
There are survey flags all over the out parcel, which is at the corner of George Liles and Weddington Road, beside NTB- National Tire and Battery.
This is a replacement store. The current ABC Store in that area is in the Food Lion shopping center at the corner of Poplar Tent and George Liles.
Angry side note here: we walk and run along the greenway and sidewalks over at Willow Oaks. You have to be careful. Most of the cars ignore the stop signs. It seems they believe it means "STomp On gas Pedal."
Strong Cabarrus buying power. The folks at SmartAsset.com (website with lots of mortgage, real estate and financial data) have completed their 7th Annual Buying Power Survey. Cabarrus County ranked third best in North Carolina, behind only Wake and Union counties.
Two of the biggest factors in the study are cost of living and median income. Those are determined through U.S. Census, U.S. Department of Labor and a number of other sources.
Wake topped the list with a cost of living of $46,205 with a median income of $80,591. Union was a close second with a cost of living at $46,688 and income at $80,033.
I'm guessing those rich people down in Waxhaw, Marvin and along the southeast Mecklenburg County line jack up the income for Union County.
A side note here: I watched a YouTube video earlier this week about the "Top 10 Redneck Towns in North Carolina." Monroe was in there (and it was not a flattering review). The top "redneck" town was Asheboro. Some of the others included were Smithfield, Statesville, Lumberton and Hendersonville. Some of the criteria for the redneck video were gun shops, bait shops and trailer parks per capita. Somehow I don't think as much science went into the redneck survey.
Meanwhile back to the SmartAsset.com survey – the North Carolina average cost of living is $35,755 and the median income is $54,602. Here are the ranking for a couple of other nearby counties: #8 Mecklenburg, $41,401 (cost) and $66,641 (income); #17 Stanly, $35,389 (cost) and $52,623 (income); and #23 Rowan, $34,235 (cost) and $49,842 (income).
What doesn't Harrisburg have sit-down restaurants? We've been asked that several times and I know leaders in Harrisburg have been asked that over and over. I had our reporter Victoria Young ask Mayor Steve Sciascia about it.
"Nobody works in Harrisburg," the mayor said. "We don't have jobs in Harrisburg that you could support a lifestyle and live here. You can't. So if there is no day-time traffic, you are not going to get a restaurant that requires daytime traffic, and those are the sit down restaurants...Harrisburg by itself, with our current pass-throughs on (NC) 49, daytime traffic kills us. Those restaurants need daytime traffic. They have to have the lunch crowds. They could probably get the dinner crowds to some extent but at the end of the day, we don't have enough people."
Sciascia said on the Charlotte side of town over near I-485 and Rocky River Road some mixed-use space is coming and that might generate the daytime traffic needed.
Strange happening at the Plemmons house. About 3:55 a.m. Tuesday morning, Kim got up to go to the bathroom – not that strange. I got too and that is no usual either. But I kept hearing water running. "Surely Jordan is not taking a shower in the middle of the night," I told him.
When I popped into the hallway I could see that she wasn't in the bathroom. I check the toilet tank, the washing machine and the hot water heater. Nothing was running, but could still hear the water running. I felt the walls in the laundry room, hoping a pipe in the wall hadn't burst.
I put my shoes on, got a flashlight and headed outside with the intent of cut the water off at the cutoff. I thought let me check the outside spigots first.
The one in front of the house was off, but when I got to the back porch I could hear rushing water. The spigot is under the deck so I to open a hatch in the floor. It was wedged shut so I had to get a hammer and screwdriver to pop it open.
Sure enough the spigot was running. I turned if off and that took care of the problem.
How did that spigot get turned on? No one could crawl under the deck and the hatch was swollen from the rain and no one had opened it.
I was freaked out. I guess watch too much "Ancient Aliens" and "Unexplained Happenings."
I've come up with a couple possibilities: a raccoon might have messed with it or maybe the heavy thunder that shook the house earlier might have caused the valve to open or maybe it was just vibration in the line over time. Cue the spooky music.
More mini-storage coming. I guess everybody has as much junk to store as I do. A "Mini Storage Depot" sign recently went up on property on Concord Parkway just north of the Backin' Up Classics Museum and the old go-cart track.
I saw some nice looking buildings on the company website, but it general mini-storage is pretty ugly. Let's hope for the nice looking kind.