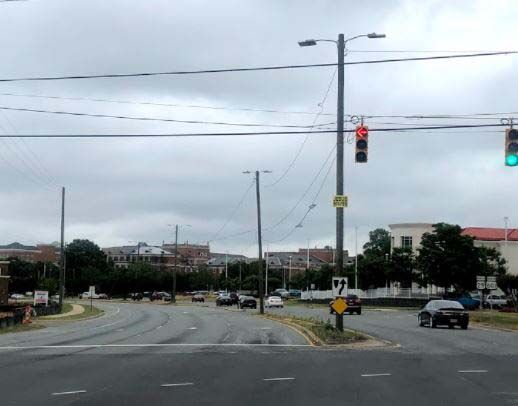 Friday Five: NCDOT answers and a few rants
Today we get some of the answers to questions you have been asking – and we'll have a couple of rants.
Answers to some our most asked NCDOT questions. Here are questions I posed to Jen Thompson, communications officer for the N.C. Department of Transportation, and her answers:
Q. When will the flyover at Concord Mills Mall be complete? It appears no work has been done for the past few weeks – is there a reason for that?
A. We anticipate the project will be complete by the end of the year. Work has been performed regularly within the past few weeks; however it may not be visible progress to the public.
Q. When will the Mooresville Road/N.C. 3 section from Kannapolis to Kannapolis Parkway reopen? We had been told it would be closed for four months, but it has been over a year now. Is there a reason for that?
A. We anticipate the reopening of N.C. 3 to happen in late summer. The delays stem from relocating utilities due to conflicts with drainage systems and other utilities. The road was closed earlier than anticipated to rectify issues with an existing box culvert.
Q. There is a small section of Concord Parkway/U.S. 29 at the intersection of Church Street in front of Atrium Health Cabarrus that has not been improved. Will work be done there or is it going to remain unimproved? It looks strange to have that short section untouched.
A. It will remain unimproved. The I-85 project limits end just west of the Church Street intersection. We don't have any improvements currently scheduled here but we will continue to monitor conditions in the area.
Q. On Copperfield Boulevard at I-85, we are hearing lots of complaints about not being able to safely turn left to go back toward the interstate and Dale Earnhardt Boulevard from Cracker Barrel and the Hampton Inn. Is anything thing being done to improve this situation?
A. A new road, Vinehaven Drive Extension, was built and is now open to alleviate this issue. Drivers can use the new traffic signal at Copperfield Boulevard and Vinehaven Drive to safely make this movement.
Q. There is a shopping center/office complex at the corner of Branchview/Concord Lake/N.C. 3 beside the I-85 bridge that was closed. The buildings were not torn down. Will they be sold and reoccupied or are there plans to tear them down? You turn into that section off Executive Park Drive.
A. Yes, there are plans to sell this property once the I-85 project is complete.
We have several other road and highway questions and will continue to ask them.
Guest rant about objective case first person pronouns. One of our loyal readers took except to my grammar during my rant about loaf of bread last week.
"There is something that affects me like fingernails on a chalkboard whenever I hear or read it," wrote retired Cabarrus educator Cheryl Milam, Ph.D. "That is the incorrect use of 'I' instead of 'me.' For example, 'A bread guy in Publix told Kim and I . . . ' should be 'Kim and me.' An easy way to remember the correct way is to take out the other person and ask yourself 'told I or told me?' The same holds true after prepositions like 'for you and ME' or 'around you and ME.' That doesn't work for 'between.' Just remember, it's always 'between you and ME.' I could bore you with an explanation of objective case pronouns needed after transitive verbs and prepositions, but like my husband, you would probably just roll your eyes."
Thanks for the explanation Dr. Milam. One day we'll get you to explain "If I was a teddy bear…" in the old hit song by Donna Fargo from the early 70s. Apparently Barbara Fairchild also sang the song.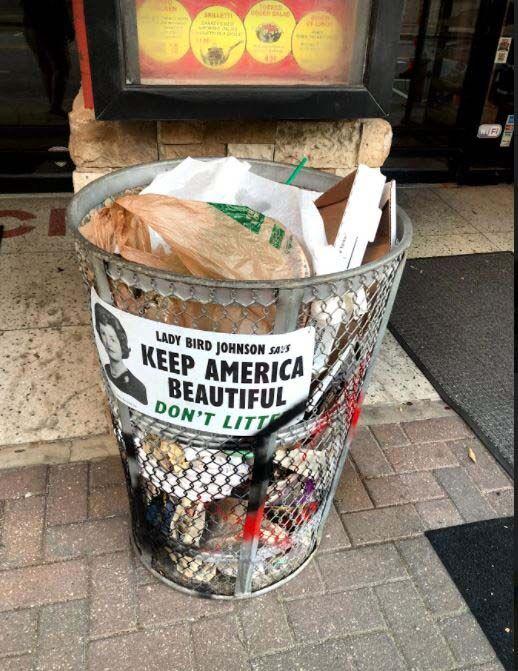 Downtown Concord needs more trash cans. Every time I go downtown, I see napkins and ice cream cups rolling down the sidewalks like tumbleweeds in the old West. (A simile in honor of Dr. Milam's rant) A confession here: the primary reason I go downtown is for ice cream at the Cabarrus Creamery.
Kim and I (subjective, so I is right) went there Monday but unfortunately the Creamery is closed on Monday.
Lots of other people had been over the weekend. All the trashcans were overflowing. Creamery debris is not the only trash there. There are drink cups, pizza boxes and other trash too.
It seems the trashcans are always full when I go downtown. It is usually on the weekend or a holiday. I think the City of Concord needs to consider having more trash cans or have them emptied more often.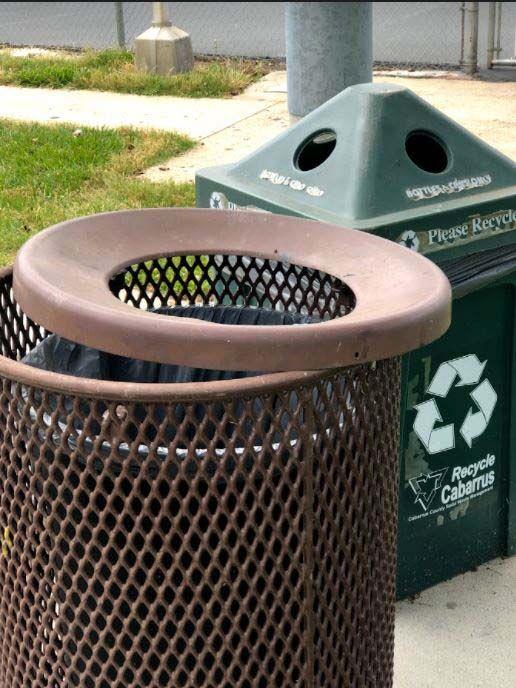 You can lead a horse to water but you can't make him drink. The old English proverb also applies to litter and recycling.
Kim and I also went to Frank Liske Park Monday. We picked up a few pieces of litter while we were there. Then I looked into the trash can. It was full of water and soda bottle – empty plastic recyclable bottles.
Sometimes there are no other options if you don't want to carry the bottle around with you. That's not the case at Frank Liske Park. At the tennis courts where we were, there are three sets of trash cans with a large recycling can beside each.
Why or why would you choose to throw a plastic bottle in the trash when you are standing at the recycle can too?!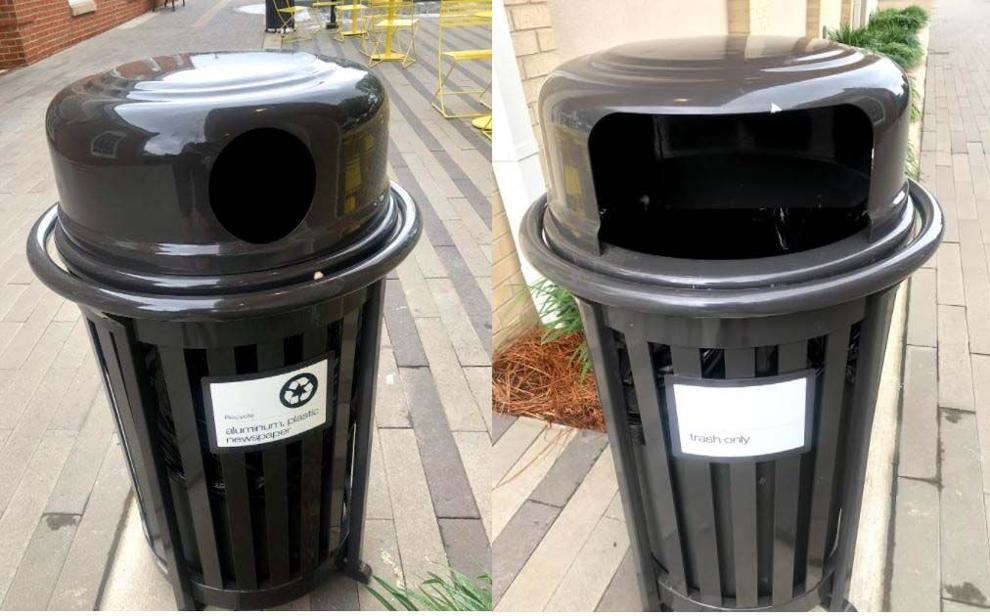 Puzzling concept in recycling in Kannapolis. For several months I have waited to see if Kannapolis changed this but I guess it's time to go public. The "trash only" on one side and recycling on the other cans on West Avenue all drop the items into the same bag.
A couple of months ago, my daughter Jordan pointed this out to me. I took the lid off and sure enough there was one bag and one container. I had assumed it was separate bags or containers.
At the time I asked one of the workers about it and he said he would report it.
I assumed the city would take care of it. But nothing ever happened.
I went up there Thursday morning and checked each of cans. It's still the same.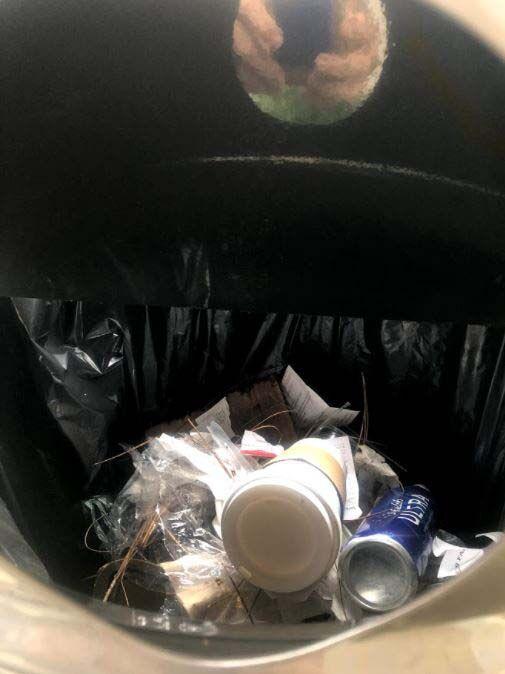 Does Kannapolis sort the recyclable items out later? I doubt it, but maybe they do. That's a nasty job.
It's shocking to me after all the effort Kannapolis is putting into downtown that they would cut this corner. And they are doing a great job downtown by the way.
Stay tuned. Maybe the pandemic has shorted them on the right kind of trash/recycle cans.
Getting extra newspapers. Right now I don't have a good answer for you. As most of you know we don't have an office and I don't have access to extra copies of the paper. It's almost a daily request I get. The best I can tell you is: hit the newspaper boxes, Food Lion or one of the convenience stories. Hopefully we will resolve this issue soon.