We've got good news, and we've got bad news.
By the way, thank you to all who called and emailed asking if I was OK after the Friday Five had a two-week absence. Last week's flooding and the elections the week before ate up a lot of time and space.
No. 1
First, some bad news. Sears Roebuck at Carolina Mall is closing. It's sad, but not unexpected. The store has been grinding to a slow death for a couple of years.
I blame them for starting the slide (not really) when they took out the candy and peanuts counter. That was always my favorite part of the store. I remember as a small child going to Sears Roebuck in Asheville, up off Coxe Avenue downtown. It was a family outing.
Me and Luke got our first baseball gloves from Sears. I think Santa Claus got our first rifles there — single-shot .22s. We shot up a lot of squirrels and targets with them. Although I think me, Luke and my dad, "Wiley Bird," got more out of the walk in the woods than the actual hunting.
No. 2
A quarter-pound of blanched peanuts. Daddy always got us peanuts when we went to Sears. Most of the time it was blanched peanuts, but occasionally we got Spanish redskins. Before the haters start, let me say redskins have red skins — the name has nothing to do with indigenous people or the bad football team in our nation's capital.
On a side note, have you seen how the mad the Cherokees have been lately? A fiery comment from the tribal leadership trashed the Lumbees' effort for tribal recognition. Before that, they were upset with the Catawbas for starting a casino in King's Mountain. I'm sure they might be afraid it will cut into their casino business — and heaven forbid the poor folks in Lumberton were to get some help.
Somehow I got sidetracked. Sears Auto Center was open before anything else when Carolina Mall was built. It's going to leave a big hole. Even after the peanuts and candy were gone, we could still take Dayne and Jordan to climb on the big lawn tractors — good memories.
No. 3
A fresh new store opens at the mall. The newest store is Urban Market Concord. We walked through last weekend. I thought it might be like Black Lion, that used to be at Concord Mills and over in Huntersville. It wasn't exactly that.
"They had some cute stuff — some really cute earrings, but I think they are aimed at a younger audience than us," said Kim "K-doc" Plemmons.
In case you are wondering, our family calls Dr. Kimberly Ann Banks Plemmons "K-doc" because she completed her Doctor of Nursing Practice a couple of weeks ago at Grand Canyon University — go 'Lopes.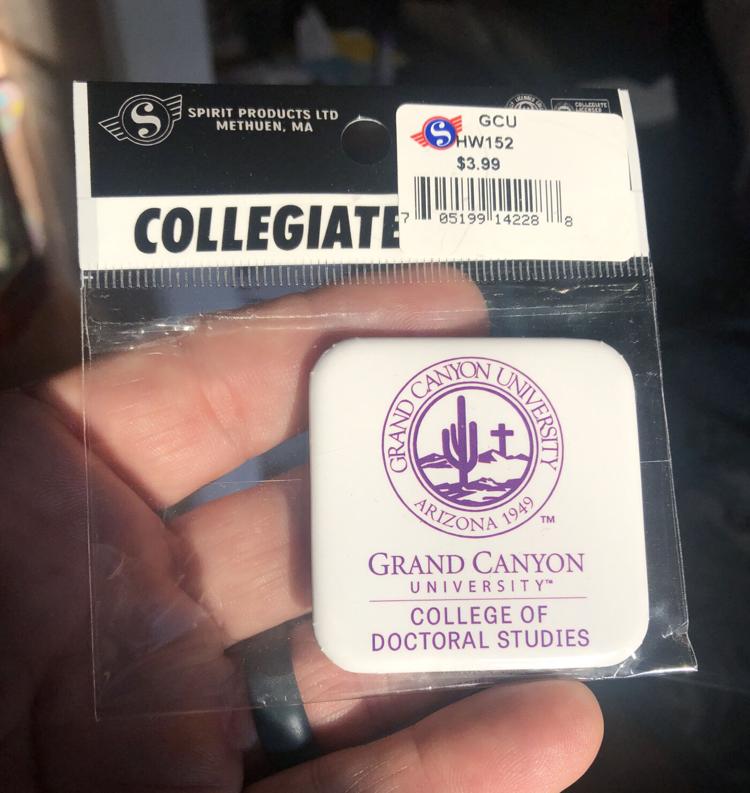 The Urban Market had women's clothing, pocketbooks, jewelry and other stuff. The only real thing I was interested in was their "local" honey. It was from Albemarle, so it was definitely better than the store-bought sugar-water-fed bee honey from hundreds of miles away. However, I must say they were quite proud of their Albemarle honey, based on the asking price.
Check out the Urban Market, you might not think it is as expensive as I did — remember, I've worked in the newspaper and radio business most of my life, and there are no cheaper people than newspaper or local radio people.
No. 4
Smithfield's Chicken 'N Bar-B-Q is not coming to town. Last year, we reported the restaurant was coming to Kannapolis at 450 Sportsman Drive (with a Concord mailing address — Rick Flowe and I both agree the address stuff is really stupid — thank you U.S.P.S.). A new for-sale sign has gone up.
Kannapolis Planning Director Zac Gordon said it was a corporate decision, but not to fear, there is a new barbecue place coming to downtown Kannapolis and lots of other businesses. And don't forget Culver's over on Dale Earnhardt Boulevard. I haven't, but I still haven't tried their ice cream. Don't worry, I will.
No. 5
Some quick hitters. I'm in a baseball mood. We broadcast a baseball showcase over in Charlotte the past three weeks, spotlighting several high school players. Mount Pleasant's Will Gray and Ryan Tyson were among the all-stars from all around the Charlotte region.
• All the erosion control along Poplar Tent Road is for a big water line that is being built. Man, it's going to tear up those people's yards. We thought it might be N.C. Department of Transportation widening the road, but we're told there's no funding for that until 2024.
• There will be no Barbecue, Bingo and Brew fundraiser this year for the Conflict Resolution Center of Cabarrus County. It is another victim of COVID-19. You simply can't have a packed house at Red Hill Brewing like the event normally draws.
Instead, CRCCC (the folks who have Teen Court and other programs) are having a virtual run. Donations and sponsorships are also being accepted. I am a member of the CRCCC board. So far, I'm a little disappointed with the response we've had. If the sign-up site is correct, there are only eight participants. I hope that's not right because my family makes up three of those spots.
• You've heard me complain about the holes in the bridge over Irish Buffalo Creek on Concord Parkway. NCDOT has repaired those holes. Thank goodness.
• Robinson Church Road is closing today (Friday, Nov. 20). A portion of the road in Harrisburg will close after 9 a.m. to repair damage from last week's heavy rains.
The closure will let NCDOT crews safely assess what will be needed to fix the shoulder and pipe under the roadway, then set a timeframe to complete repairs.
A detour has been established along Robinson Church Road, Peach Orchard Road, Lower Rocky River Road, Hickory Ridge Road and Rocky River Road, returning to Robinson Church Road.
I've got more to tell you, but I'm running out of time and space. Stay safe, and wear your mask. I'm sticking primarily with my Batman theme.
Get local news delivered to your inbox!
Subscribe to our Daily Headlines newsletter.