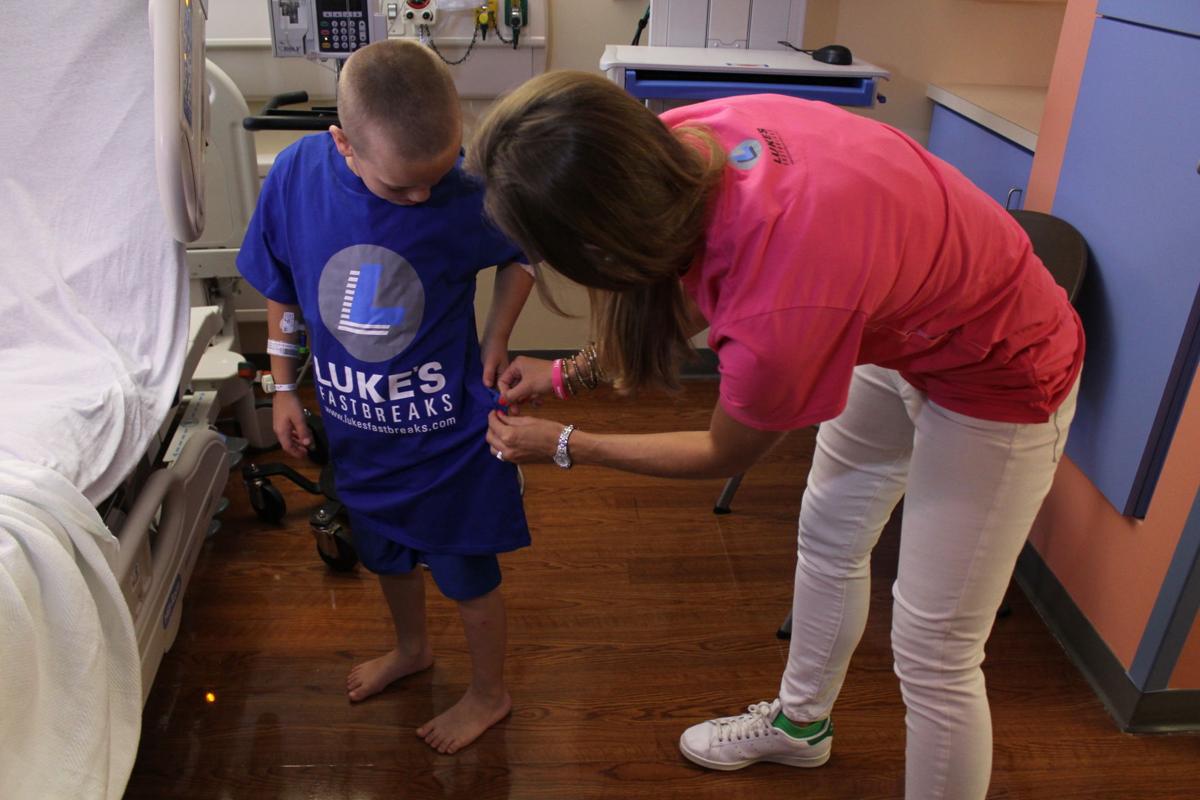 A little camera shy, 9-year-old Lloyd Wetter tugged the overlong T-shirt over his head, smoothing the seams running up the side with his arm not stuck with an IV.
Britton Lynn gently pulled apart one of the seams' snaps, showing Lloyd how another IV could easily slip in and out.
"What do you think?" she asked.
"It's comfy," he chirped, leaning spread-eagled back on his hospital bed.
Lloyd numbered one of half a dozen kids in the Jeff Gordon Children's Hospital at Carolinas HealthCare System NorthEast on Monday, Aug. 8, to receive a special shirt from Luke's FastBreaks, an organization started by another little boy in Texas who grew fed up with the depressing hospital gowns during his cancer treatment.
Just 9 years old at the time and fighting Hodgkin's lymphoma, Luke Lange told his mother he hated wearing the loose- and ill-fitting hospital gowns, claiming they made him feel even more sick.
"His mom was like, 'Well, I've heard enough complaining,' so they went home and cut up a bunch of his T-shirts," Lynn said. "They took it to alterations, and they had them put in snap tape on both sides. He wore it to is treatment the next day at the hospital, and every other kid was like, 'I want one, too.' So now, fast forward two years, he's well, and his parents were like we need to start an organization and get these in the hands of every kid that has cancer."
Now at 11 years old, Luke has raised more than $1 million for child cancer research and distributed about 5,000 shirts through his organization Luke's FastBreaks.
The nonprofit took Luke and his mom's idea to the next level. The family designed shirts with snap tape sewn into both sides.
"We make them long enough so if they do want to wear them like the hospital gowns," Lynn said. "But a lot of kids like to scrunch it up like this to make it like a normal T-shirt. The snap tape starts at the bottom and goes all the way down here so they can access the port and stuff that's normally on this area. It helps them feel more normal wearing these shirts."
And that feeling of normalcy can go a long way to a child spending day in and day out at the hospital. Lynn told of a little girl in Texas who loved her Luke's FastBreaks shirt so much she began wearing it to school, proud to be a cancer fighter and sharing her story with the other kids.
"It just shows that these shirts mean so much to the kids," Lynn said. "It's not just a regular T-shirt. It makes them feel so good about themselves, and to her it helps her feel proud. A lot of the fight for children is making them feel good about themselves, so a lot of these shirts are happy colors to make them put a smile on and forget, hopefully for a little bit, that they're in the hospital."
The staff at Jeff Gordon Children's Hospital certainly seemed thrilled with the donation. Nurses curiously inspected the snap tape, and Angel Overcash, special events coordinator for the children's hospital, said she knew the kids themselves would love their new T-shirts.
"We're very excited to have them because we do have a lot of children here that do have to have infusions or IVs, and these are the perfect shirts to be able to provide them with comfort," she said. "That's one of the environments, atmospheres we want to provide is comfort for our children who have to sit in here overnight through our out-patient center that also provides infusions for our children.
"We all know our lovely gowns that we supply our children fly open in the back, so we want to provide them with as much comfort as we possibly can, and this shirt provides them with front to back coverage but also easy access to our nurses to give them the medication that they need."
But T-shirts isn't all Luke's FastBreaks does. The group also focuses on the brothers and sisters, bringing bracelets and cookies decorated with happy emojis for all the kids in the room.
"There are siblings, and a lot of times at hospital visits they're forgotten, at least by organizations that come in," Lynn said. "They always have something for the kids, but the siblings are here, too. Sitting in the hospital room is just as hard because you're there with them and all that attention is going to that patient, so we want to help the whole family."
About five or six children at the hospital received shirts, and both they and their parents seemed thrilled with the gift.
"You would think a kid with cancer, that their mom would be worrying about what's actually going on in their life," William Wetter, Lloyd's father, said. "It's amazing that a 9-year-old could take the time to say, 'Hey, what can I do to make it better?' That's pretty good. And to actually see him beat it—that's good."
For 9-year-old Bryson Stacy, just pulling the shirt on already made him feel better.
"Those are really cool," Bryson's mom, Candy Baynard, said. "I think it's super neat. I was so nervous coming in here, so all this stuff makes it so I can breathe. He was much more comfortable. This is really cool that you all do this. The hospital gowns are crazy."
Luke's FastBreaks began in Texas and has already made donations in Louisiana and North Carolina. Later this fall, Lynn said the group should be in New York, Seattle and California. But the hospitals here, she said, were important.
"These hospitals were some of the best that we've heard, so we kind of wanted to get into North Carolina," she said. "Plus Luke is a Jeff Gordon fan, so that helped; he's really into racing. It's crazy that one little kid, something as horrible as pediatric cancer could do so much for the community. A lot of people think that, yes, medicine is so important in helping children that are in the hospital.
"But the mental fight is just as important. You've got to keep them excited. You've got to keep them happy. When they're stuck inside a room and every other kid is outside playing, it's very, very difficult, so anything to keep their mind off and distract them can help boost those levels, which is so important to help keep their immune system up and just to help it be a little less traumatic."
Be the first to know
Get local news delivered to your inbox!