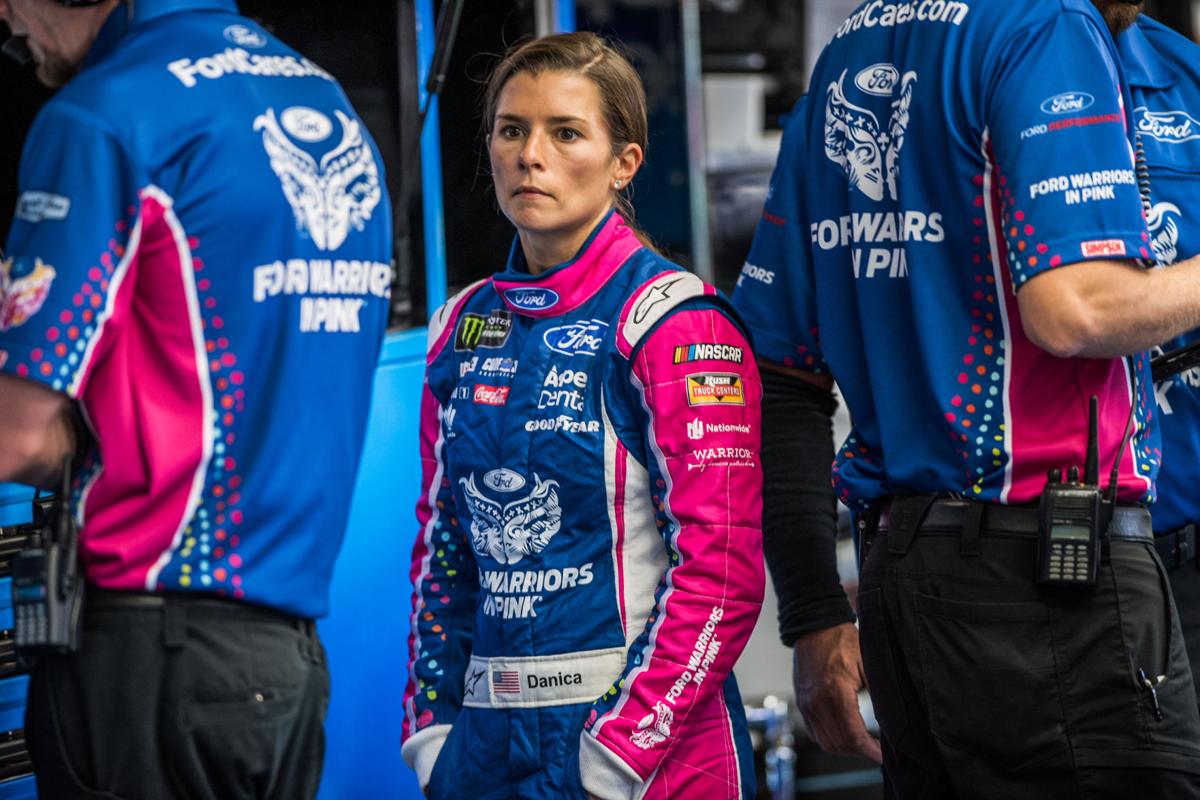 CONCORD, N.C. – This weekend will spell the end for a lot of things at Charlotte Motor Speedway. It will be the final running of the oval track at the Bank of America 500, it will be Dale Earnhardt Jr.'s final race at Charlotte, and it could be the same for Matt Kenseth, who currently does not have a ride lined up for 2018.
However, one of the most intriguing final storylines could be that of Danica Patrick, who has not had her contract with Stewart-Haas Racing renewed and is currently carless for next season.
Patrick has said she has no intention of retiring from the sport yet, but that decision appears as though it may not be up to her.
At the age of 35 and still without a single win in her NASCAR career, Patrick isn't exactly a great investment for a team looking to find its next star. The advertising upside for her has always been high, but even that is starting to decline as her career progresses without significant improvement.
Despite all of this, Danica is still one of the sport's more recognizable names, and this alone may help her at least get a part-time ride next season. But if we never see her in a stock car at Charlotte again, it's time to examine the impact she actually had on the sport she is trying so desperately to remain a part of.
In the mid 2000s, Patrick burst onto the scene of the Indy Car Series and quickly became a pop culture icon due, in large part, to her status as a woman in the male-dominated series and the modeling she did with her top sponsor, GoDaddy.com.
In her seven years as an open-wheel driver, she experienced some success, typically finishing in the top half of the field but only winning a single race. Near the end of her Indy Car career, she began splitting her time with the Xfinity Series, where she also experienced solid but not great results.
In 2012, Patrick made the jump to what is now the Monster Energy Cup Series, NASCAR's top division, as she aimed to prove she could compete with what many in this country believe to be the world's best drivers.
Simply put, things did not go well for her.
In her six years in the sport, Patrick's average finish was 24th, a statistic which has held steady over the course of her career. In 183 races, she also never finished in the top five while managing only seven top 10 finishes.
Patrick's image as a driver has been one that was mired in engine issues, early race wrecks and the inability to ever truly compete with the sport's best drivers.
Some fans probably were happy to see her failures, whether they held prejudice against women in the sport or against drivers who come over from open-wheel formats, but I believe most wanted to see her succeed. Because of this, Patrick has become one of the most scrutinized mediocre NASCAR drivers of all time, which is undeniably due to her gender.
It is true that some of the sport's purists are not fans of drivers from other series coming over and expecting the same success in NASCAR they had in their previous league. However, many of them who did almost exactly what Patrick has done have not received nearly the attention or criticism.
Juan Pablo Montoya, who won an Indianapolis 500 and raced seven years full-time in NASCAR, finished in an average position of 20th during his career and won just two races. Montoya received some criticism when he did not succeed early on, but he was quickly allowed to fade from the fans' thoughts, a luxury not allowed to Patrick.
So if the transition from Indy Car is not the root of the continued criticism, then maybe it is her name-brand recognition. Before she ever got to NASCAR, Patrick was a celebrity and appeared in Super Bowl commercials that had the nation buzzing.
As a result, Patrick has received criticism that she only held a ride for as long as she did because of the brand she had created and not because of her prowess as a driver. Once again, though, there are similar drivers who did not garner this type of scrutiny.
Perhaps the best example is Paul Menard, the son of John Menard Jr., a billionaire and former Indy Car owner. Paul Menard is currently in his 11th full-time Monster Energy Cup Series, and his results are incredibly similar to those of Patrick's.
However, Menard and his average finish of 21st have been allowed to race for more than a decade in relative obscurity, thanks in large part to the continued sponsorship of his father's company.
Menard is currently not scheduled to race in 2018 after not being signed to a new deal by Richard Childress, a fact which has flown fairly under the radar. In a sport where even the best drivers (remember back to Kenseth) can be forced out if they don't find a sponsor or team, Patrick was often viewed as a driver who did not deserve what she had, a double standard rarely applied to Menard.
Ultimately, there's no logical explanation for the continued media attention around Patrick other than her gender, and it probably won't be going away any time soon.
So where is her place in the sport in which she broke the gender barrier?
Her participation alone makes her a pioneer in one of the most male-dominated and conservative sports in the world. Her impact on it cannot be fully known yet, either. In 10 years, multiple women who grew up watching Patrick on the track may be driving stock cars themselves thanks to her inspiration.
But at the same time, maybe they won't. Whether it's this year, next year or five years down the line, Patrick's retirement may signal another long drought for women in the sport.