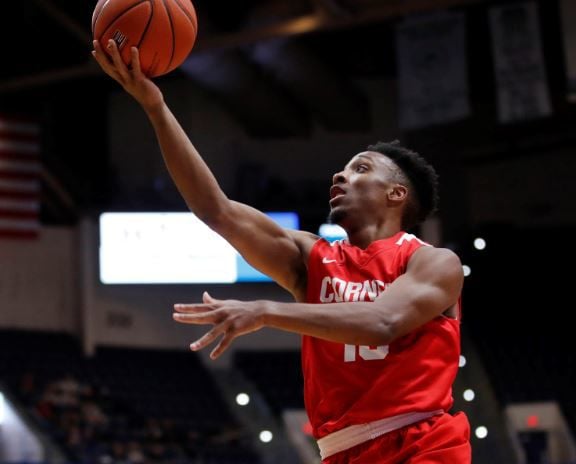 CONCORD – Thursday night was pretty quiet for Matt Morgan as he hung around his Cabarrus County home with his family.
The Cox Mill High School alum and recent Cornell University graduate's name wasn't among the 60 called during the NBA draft that night, but Morgan still took joy watching some of his close friends' dreams come true as they walked across the stage and shook hands with league commissioner Adam Silver.
By Friday afternoon, though, Morgan could be happy about having his own NBA opportunity.
The day after the draft, Morgan agreed to a deal that will allow him to play summer league with the newly crowned NBA champions, the Toronto Raptors.
The Raptors begin play in the Las Vegas Summer League on July 5 in the Thomas and Mack Center and Cox Pavilion.
While Morgan knows being on the summer league team is not a guarantee of landing a spot on Toronto's training camp or regular-season roster, he said he was thrilled to be in this position.
"My initial emotions were like a relief knowing that I'm going to play summer league with the NBA champions," Morgan told the Independent Tribune. "It was a really good feeling for me and my family, knowing that it's another goal accomplished and another step toward a dream of mine. And being able to do it with that organization is definitely a big step, and I'm looking forward to what comes next."
Before graduating this spring, Morgan had twice declared for early entry into the NBA draft but ultimately decided to return to Cornell after his sophomore and junior. It was a productive move, as Morgan ended up as Cornell's career scoring leader (2,333 points) and in second place on the Ivy League's all-time scoring list.
When this year's NBA draft rolled around, many teams knew who Morgan was, and at least one mock draft had him projected as a second-round pick. Morgan was pleased to see players with whom he'd developed friendships over the years get picked – North Carolina's Coby White and Nassir Little, and Tennessee's Grant Williams, among many others – but he was never personally contacted throughout the night.
The next day, however, was much different.
Several teams reached out to Morgan's agent, Andy Bountogianis of Klutch Sports, with the list of interested squads including the Charlotte Hornets, Indiana Pacers, Dallas Mavericks, Milwaukee Bucks, Oklahoma City Thunder, Cleveland Cavaliers and the Raptors.
"My agent and I decided Toronto was the most interested in me, and they extended an invitation, so we just felt that was the best situation for me," Morgan said.
Between now and reporting for summer league duty, Morgan will continue working out in the area.
"I'm just going to continue to work out, get a lot of shots up but stay rested," he said. "I've got to avoid injuries. I'm just going to stay in the gym and hang out with my family."
Then, it will be time for Morgan to go prove himself again. It's something he had to do after graduating from Cox Mill in 2015 and heading to Cornell, where he had a career average of 20.5 points per game and trails only Pro Basketball Hall of Famer Bill Bradley in Ivy League scoring history.
Morgan believes he'll be ready – in every way -- when he reports to Vegas with the Raptors.
"You've got to take advantage of the opportunity, whether it's a few minutes in a game or more than that," he said. "When you've got a chance to make an impact, you've got to use that time and play to the best of your abilities, do what you're supposed to do, do what's asked of you.
"But at the same time," Morgan said, "I've got to go out and be who I am and do what I know how to do best, and that's be a professional off the court. I feel like it's a job interview from the time that you get there to the time summer league ends."
Get in the game with our Prep Sports Newsletter
Sent weekly directly to your inbox!