CONCORD – It's only been six years, but it had seemed like an eternity since the Concord High football team last won a conference championship.
The program that had captured state championships in 2004 and 2006 and returned to play in state title games in 2012 and 2013 had fallen on hard times recently, and, generally speaking, the 2021 preseason provided no more buzz than the previous five.
But the Cream of Cabarrus fifth-ranked Spiders' effort in Friday's South Piedmont 3A championship showdown with visiting West Rowan epitomized what it has taken over the last five seasons to get Concord back to the mountaintop.
From whistle to whistle and on both sides of the ball, every time it looked like West Rowan was making a move to put itself in better position to claim victory, Concord responded with exactly the right countermove to improve its own chances. The Spiders' 21-13 triumph was a true example of the same perseverance the program has shown since coach Marty Paxton took over in 2018.
"We've been through everything. This group is battle-tested," said Caius Hartsell, a senior offensive lineman and team captain. "We rowed this boat. We've had four wins over the past three years, but it's all paid off. We've shown what we're capable of … This group of seniors has stuck in here and shown what hard work and commitment is."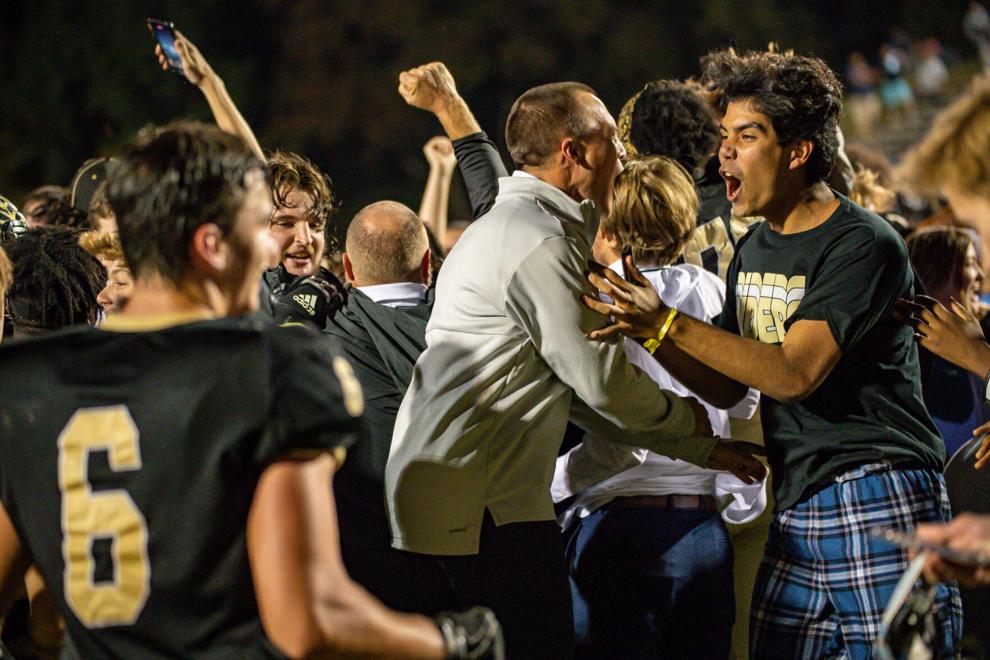 Concord's first response to adversity Friday started with the opening kickoff when the Spiders' return team let West Rowan kicker Elijah Martinez's pooch kick be recovered by a Falcons teammate. With the help of an 18-yard pass play on a fourth-and-10 play and a Concord face mask penalty, West Rowan's table was set with a first-and-3 situation at the Spiders' 6-yard line.
But Concord linebacker Keyon Phillips stopped running back Cayleb Brawley for no gain on first down, and lineman Tre Williams did the same thing on second down. With the help of a Falcons muffed shotgun snap and Tristen Pitman's resulting sack on the next play, West Rowan settled for a 33-yard field goal and an early 3-0 lead.
"My mindset was just taking it to them," said Williams, a junior whose throw-down of Brawley on that second-down play was a team intensity-builder. "We did our jobs and played our parts. We did what we were supposed to."
Concord (6-2 overall, 6-0 conference) replied to the West Rowan (5-3, 4-1) score by doubling the Falcons' points. The Spiders converted two third downs on a 65-yard touchdown drive, including a 40-yard run by senior Kadin Presutti, that was completed by Antonio Jackson's 1-yard plunge.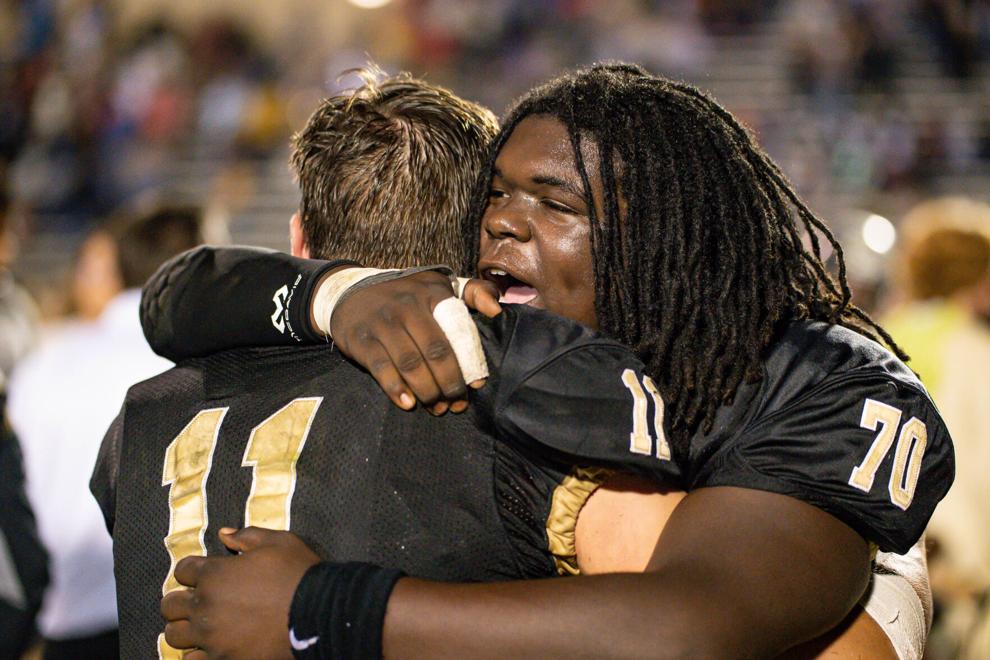 The next time Concord got the ball – the result of a sliding Presutti interception at the West Rowan 43 – the Spiders scored again by gaining separate first downs on fourth- and third-down conversions. Quarterback Zack Jenkins scored on a 2-yard run by slicing right, stopping, and following lineman Bryant Cruz across the goal line.
Later in the second quarter, Concord's defense once again bent, to the point of a hairline fracture, but didn't break. On second-and-goal at the Spiders' 1, West Rowan running back Akin Robinson was pushed back 3 yards by Williams and fellow lineman Jameson Hackett. Robinson lost 4 yards on third down when he was whipped down by linebacker Keveus Phillips.
The result? Another short West Rowan field goal, and Concord hung on to a 14-6 lead going to halftime.
The Spiders continued with their clutch reactions in the second half. They provided more distance to their lead when Presuitti got a couple steps behind the West Rowan defense, hauled in Jenkins' perfect throw, and galloped an additional 60 yards for a 75-yard catch-and-run score.
"I was talking to my (offensive) coach, and I was saying, 'Once I get into open field, nobody's catching me,'" said Presutti. "I said 'Coach, put it out there, give me a chance.' He did it. I realized I beat my man. Our quarterback, Zack Jenkins, threw a great ball, and I just took off running."
Presutti came up with another interception on West Rowan's ensuing possession. The Falcons gained first downs on two third-down plays, but when they were faced with a similar scenario at the Concord 31, Presutti stepped in front of a Noah Loeblein pass in the Spiders' end zone for a touchback.
While trying to kill time early in the fourth quarter, Concord converted a fourth-down play just inside West Rowan territory. The possession eventually ended with a Falcons interception, but the drive chewed up over seven minutes at a time when that was the Spiders' main objective.
West Rowan cut Concord's lead to 21-13 later in the fourth quarter and got one last chance to tie the score when it got the ball back at its own 30 with three minutes, 29 seconds remaining. The Falcons would enter the red zone with the help of two 16-yard completions by Loeblein, including one that came on a fourth-down play.
Admittedly, Concord coach Marty Paxton was thinking ahead. Having endured three losing seasons but now enjoying the wave of a five-game winning streak, the possibility of having to go to overtime to capture the conference championship had entered the fourth-year coach's mind.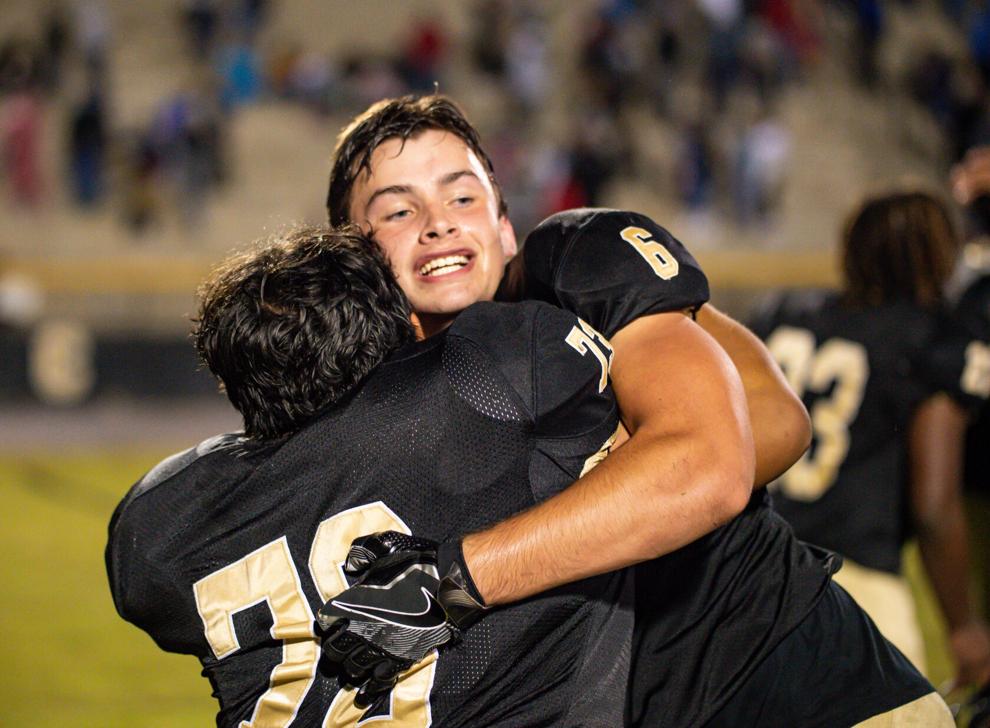 The Falcons set up for a fourth-and-2 at Concord's 15-yard line with 44 seconds left on the clock. The Spiders needed one more perfectly timed play.
Loeblein quickly looked for a receiver over the middle. But Phillips, who didn't have to step in any direction once the ball was in the air, was directly in the way and batted the ball down.
Just like Presutti's, Phillips' overall play against West Rowan was representative of Concord's style Friday and over the course of the season. The Spiders don't have any superstars, but they have a lot of players contribute and in multiple ways.
Phillips' couple of key red-zone defensive plays complemented 29 hard-running yards he gained out of the offensive backfield in the second half. He was one of four Concord ball carriers who gained at least 25 yards against the Falcons.
On defense, seven Spiders had at least four tackles, including freshman linebacker Alex Petroff, who also booted three extra points and handled Concord's kickoffs.
Clutching the game ball after celebrating with his team, Paxton reflected his players' long journey.
"These guys know they wanted to rebound and win a conference championship, to prove everyone wrong," Paxton said. "And we've done that. It's very gratifying for how these guys have worked for four years, not just one, because this isn't a one-year deal. But to win the game and to beat a very good football team, it's unreal."
Paxton, who had won a conference championship as Hickory Ridge's head coach in 2012, shared he was going to comfort in securely placing the game ball beside his bed as he slept off the euphoria of the Spiders' accomplishment.