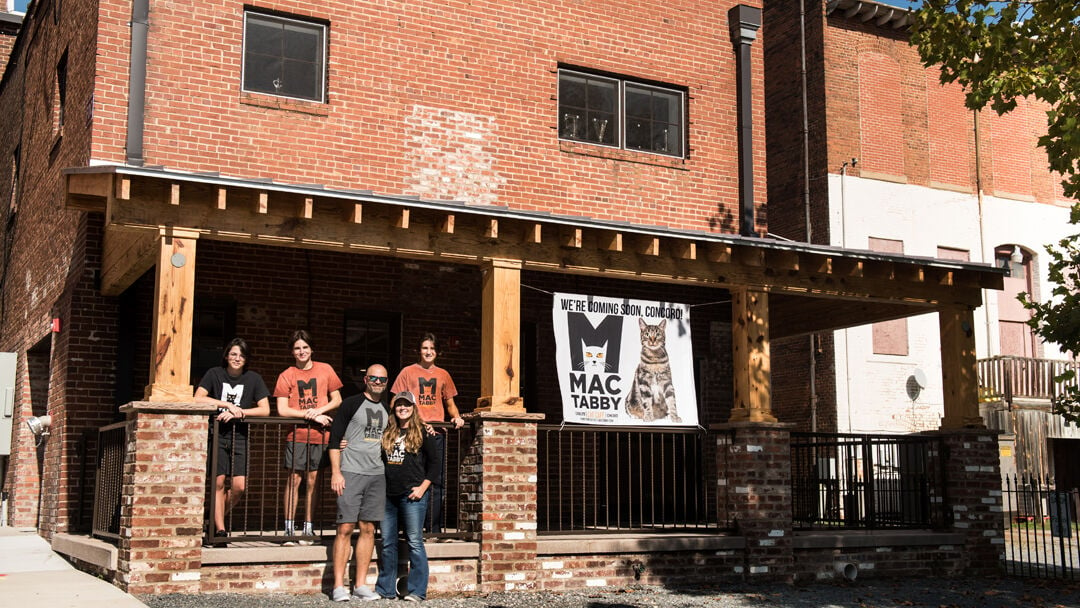 CONCORD – A new café is coming to Downtown Concord for any feline friends in the area. The Mac Tabby Cat Café is opening a second location on Market Street offering coffee and cat cuddles.
The Mac Tabby Cat Café opened in the NoDa district in Charlotte in 2017 after owner Lori Konawalik after left her wedding photography business of 10 years. She and her husband used Kickstarter to open a small café in the outskirts of NoDa to see if the business model would stick. Since then, they have moved into a downtown NoDa building and are opening a second location in Concord within the next two months.
Konawalik said the business embodies everything she hoped to accomplish.
"I knew I wanted to impact the cat community because sometimes it is a little bit overlooked as far as interacting with cats and adoptions," she said. "I knew I could make more of an impact than what we were already doing, which was fostering from our home."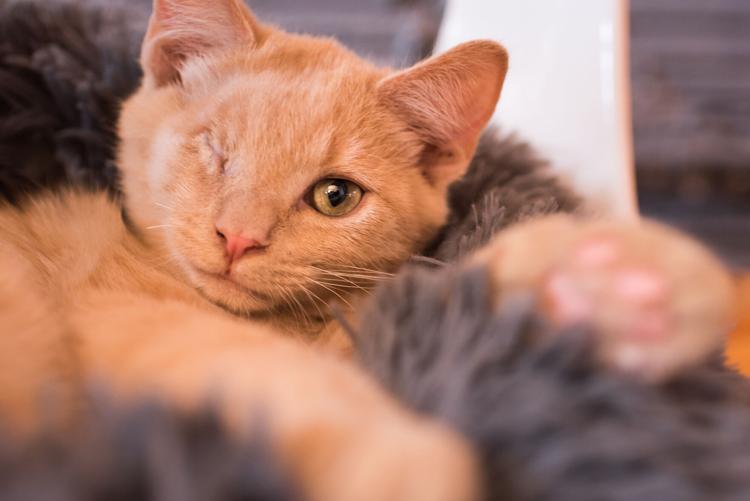 Konawalik described the business as two-in-one: the café and the cat lounge.
People often have two misconceptions about the café, Konawalik said. People think they bring their cat to the café or think they are instantly greeted with cats when they open the door. Konawalik sad neither is true.
The café and cat lounge area are separate. People can either sit in the café area to enjoy wine, beer, coffee or a smoothie, or they can also reserve a thirty minute or an hour ling time-slot for the cat lounge – an $8 or $12 fee respectively.
"It's like a swanky coffee shop with cats roaming all around you," Konawalik said.
The café partners with Catering to Cats and Dogs to keep 12 cats at the café's cat lounge at all times. As cats are adopted out, the rescue sends what are affectionately known as "unicorn" cats over. The cats usually range from four months to five years old.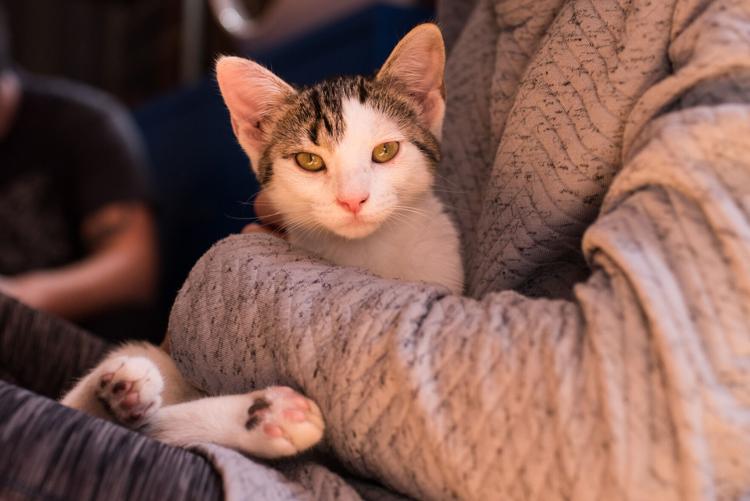 "Our rescue calls these cats "unicorn" cats because they are pretty amazing to be in a space where there are different people every hour, there is music, there are doors opening and closing," Konawalik said. "There is a lot happening. Not every cat would be a good candidate for the cat café."
When Konawalik decided to expand the business, she already had Concord in the back of her mind as their second home.
"Every time I thought about a second location, which was always the plan after we opened our first one, I always had this feeling that Downtown Concord was right for us," Konawalik said. "I feel the energy there. I feel that there is a lot of possibility there, the people are good there. I just always felt like we belong there."
Before they settled on the market street location, they did view other spots. But after meeting the people and other businesses in Concord, Konawalik said they knew it was the right place.
"I feel like it is a little bit underrated and when people see it and experience it, walk down the roads, they will be able to see what we see," she said. "We're excited to bring a whole new group to the Downtown Concord area. We love it there."
As Konawalik was starting the process to sign for the Market Street location, she and her broker found out about the LMG mixed-use project that is coming to downtown and learned that one of the apartment buildings will be across the street from the café. Konawalik said it was quite the welcome surprise.
"Having people right across the street from your business is a good feeling," Konawalik said. "We come from NoDa, and it is kind of the same thing. Our building there was built in 1927, and right across the street there are brand new condos. So aesthetically, it is such a nice thing to see the old versus the new and see people go between both. And I think that same kind of feeling is going to happen in Downtown Concord."
The old mixed with the new is an aesthetic Konawalik plans to incorporate with the Concord café. They are restoring 9 windows that were previously in buildings on Union Street to use as part of the wall separating the café and cat lounge.
They are also creating the serving bar out of 118-year old rafters from a barn in Cabarrus County.
"We are trying to keep the integrity of the space," Konawalik said. "We love the history of it. We think the energy of the old pieces bring back into the newness of what it is becoming and we want to honor Concord."
Konawalik said there has always been risk in opening the business and in every move. She admits that the pandemic adds even more risk, but she feels that the positive and controlled environment that the café offers is a service people are craving.
"We felt like it is a weird time, but we decided to go for it. And we cannot wait to provide that for a whole other demographic of people," Konawalik said. "We feel lucky to be able to provide that space right in Concord."
Get local news delivered to your inbox!
Subscribe to our Daily Headlines newsletter.