The Concord Mills Mall area is getting new businesses, including a major tenant in the mall and another breakfast restaurant outside the mall.
No. 1
The breakfast war is heating up. Greensboro-based Biscuitville is opening a new restaurant on Derita Road across from the entrance to Concord Mills Mall.
An unusual groundbreaking was held Wednesday — the building was well underway behind the patch of dirt used for the ceremony. Nothing is normal during a pandemic.
The folks out that way must really like breakfast. Biscuitville joins Maple Street Biscuit Company, First Watch and Famous Toastery, which are all within a block. That's not counting McDonald's a couple doors down, and QT and Circle K, which also sell biscuits.
Thompson Thrift Retail Group is developing the property and sold the .72-acre site to Biscuitville. The group also developed the corner of Derita and Christenbury, which is anchored by Kohl's.
The parcel is the second of four lots to be developed within TTRG's 7.45-acre Shops on Derita, a retail development at Derita Road and Carolina Lily Lane. TTRG developed an 11,000-square-foot multi-tenant building last year that features Supercuts, Smoothie King, Chicago's Pizza with a Twist and Cinnaholic. An additional 2,400-square-foot space remains available for lease in that building.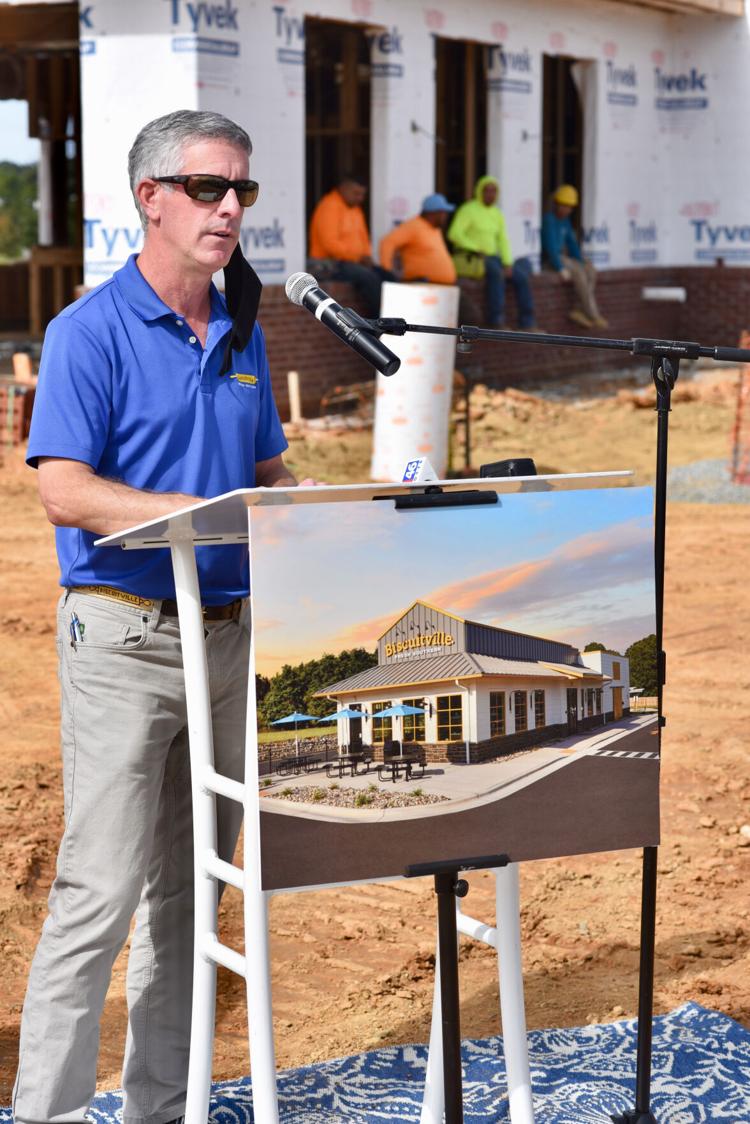 Biscuitville invited the mayor, other elected officials and leaders of several nonprofit groups to the groundbreaking. Gift cards and biscuit donations were part of the celebration.
No. 2
Fresh and local. Maurice Jennings, a former flour broker, started two Mountain Fresh Bread and Milk restaurants in Burlington in 1967. A year later, he started Pizzavilles. It wasn't until 1975 that he opened a Biscuitville in Danville, Virginia.
Since then, the family-owned company has grown steadily. The company had reached 50 restaurants by 2007.
The company likes to use local suppliers and will get its eggs from Pride of the Morning in Monroe and tea and coffee from S&D Coffee & Tea in Concord.
The closest Biscuitville to this location is on Jake Alexander Boulevard in Salisbury. Hours are 5 a.m. to 2 p.m. The new location is expected to open later this year.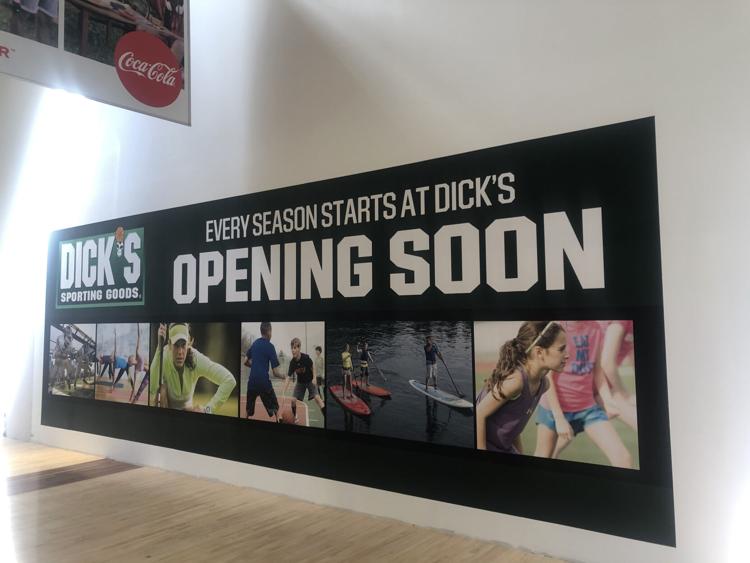 No. 3
New businesses in Concord Mills Mall. Dick's Sporting Goods is coming to the old TJMAXX location inside the mall. The discount retailer moved out of the large space several months ago and opened in the old Toys'R'Us building across Concord Mills Boulevard.
I don't have any other information about the Dick's project, which is near Best Buy and Bass Pro Shops. The "coming soon" sign was posted outside the space recently.
Across the hall from Dick's, near the Bass Pro Shops entrance, the mall has a new jewelry store coming. The sign says Vivian Jewelers is opening in late fall.
Pop Cult also is now open at the mall. It's near the Sea Life Aquarium. The store caters to gamers and a younger market.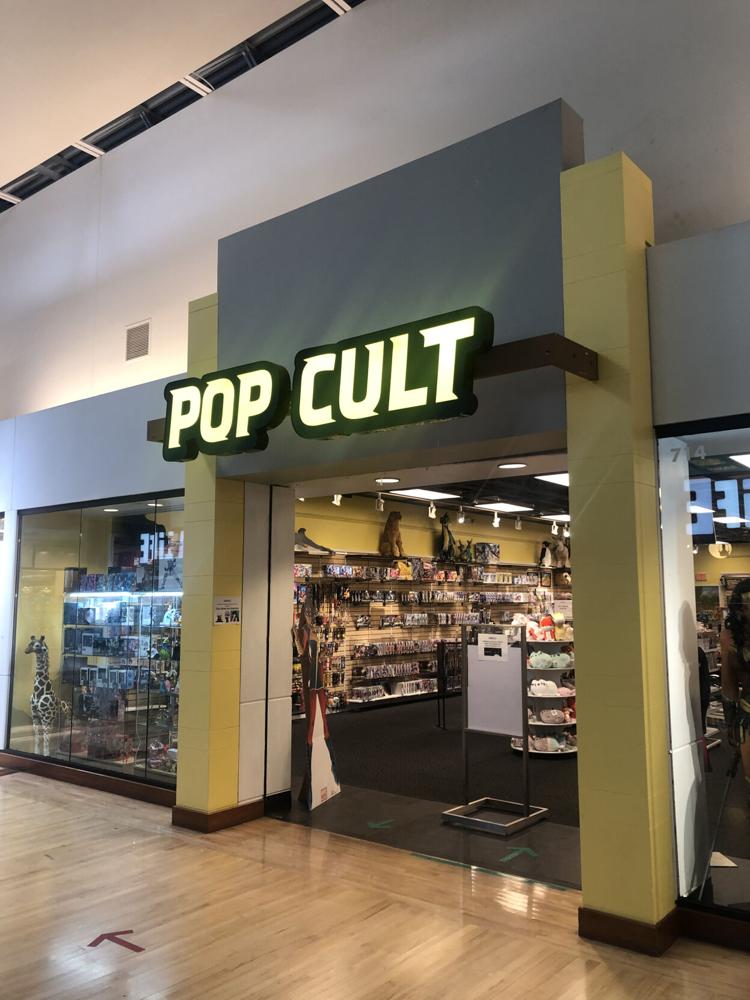 Meanwhile, New York & Company Outlet closed this week. It is now one of a handful of empty spaces at the mall.
No. 4
Possible reasons for NCDOT issues. Roads, traffic and the N.C. Department of Transportation are the topics most often mentioned for the Friday Five from readers. One reader is a long-time NCDOT employee. He shared with us some of his thoughts on why NCDOT has financial issues and why projects take so long.
"Most of our offices and workplaces over the last 10 years have permanently lost about 25-30% of our open positions through attrition as people left for other employment or retired," the NCDOT veteran said. "Most offices and workplaces are currently at a 55-70% vacancy rate of the open positions left and have been for a few years, with 90% of employees five or less years from retirement."
To make up for the shortfall in workers, NCDOT is leaning heavily on private contractors.
"The CEI (Contract Engineering and Inspection) companies are paid by the hour for providing technicians," he said. "The private technician generally makes 120-140% of what the same state employee would make, plus the firm providing them is paid 110-150% of the hourly rate for overhead. This results in more than double the cost of a state employee."
It's easy to see how there can be financial shortfalls. Couple that with hurricanes and severe weather and the pandemic, and NCDOT is at the edge of potentially greater issues.
Our DOT friend said that if you see an NCDOT employee working, know that he/she is truly doing more with less.
No. 5
The R-word and other things we need to relearn. I can relate to frustration expressed by members of the board of education. They face an impossible task. It's easy to be frustrated and angry. It's not an excuse for using the R-word and calling other board members names.
The R-word is one of many things in our language that has changed over the years. I would remind you that The Arc of Union/Cabarrus only a few years ago was The Association of R-word Citizens. Folks my age have to adjust. Society today is unforgiving. The Arc posted this, in part, on Facebook after Monday's school board controversy:
"We believe the use of the word 'retarded' by a Cabarrus County School Board member during last night's school board meeting is unacceptable. It is imperative that all of us create more inclusive attitudes and communities for all people, including those with intellectual disabilities, for whom this derogatory language has been used to mock and ridicule for decades. Even though the use of the r-word in this instance was not used to describe a particular person, it is hurtful to our community, just the same."
When we're angry or frustrated, we need to think twice about what we do or say. It's hard. I'm fortunate that the R-word has never been something I have used. I mainly keep my angry words to the four-letter variety — and working from home, I have found fewer circulation complaints, and I have cut way down on my cussing.
Get local news delivered to your inbox!
Subscribe to our Daily Headlines newsletter.