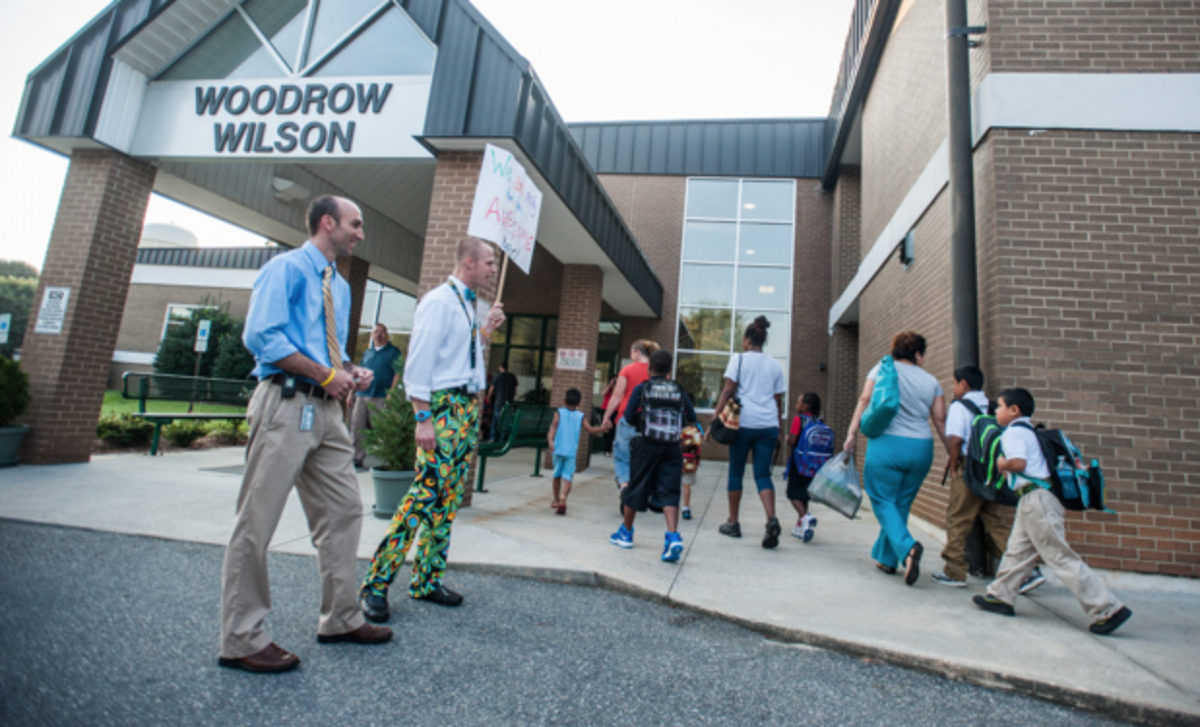 KANNAPOLIS — Brock Morgan, an incoming junior at A.L. Brown High School, has started a petition to change the name of Woodrow Wilson Elementary School to Martin Luther King Jr. Elementary School.
In the petition, which is hosted at Change.org and titled "Eroding White Supremacy in Kannapolis," Morgan states: "We must continuously remove white supremacy from our society, Woodrow Wilson was a racist man and removing his name from all Kannapolis institutions should be mandatory."
A further explanation on the thinking appears on Morgan's Instagram account.
"Woodrow Wilson is quoted saying 'Segregation is not humiliating, but a benefit, and ought to be regarded by you gentlemen,'" it reads, in part. "The former President is also on record saying: 'There are no government positions for Negroes in the South. A Negro's (place) is in the corn field.'"
It continues: "In conclusion, I firmly believe that changing the name of one of Kannapolis City Schools most prominent and longstanding institutions is 100% necessary to the continuation of the removal of white supremacy in our society."
Morgan was inspired by the Black Lives Matter movement to push for the change. The petition passed its initial goal for 500 signatures Thursday and is now aiming for 1,000.
Kannapolis City Schools Superintendent Chip Buckwell has seen the petition and did not rule out making a change.
"I think these are important issues in a very important time in our history today," he said. "I think these are things that we've got to take a look at, we've got to listen and try to figure out what way forward there is."
The decision to change the name is not Buckwell's but the Board of Education's.
However, he does not rule out the possibility.
"I think a lot of things are on the table that may not have been on the table 10 years ago, 20 years ago, or even five months ago," Buckwell said. "So I think all reasonable people ought to be reasonable and we ought to talk about things that are important like this."
Wilson's legacy is a complicated one. He is lauded for many of the progressive policies he put into place during his two terms as president, however, he has met criticism as well.
John M. Cooper is an American historian whose 2009 biography of Woodrow Wilson was a finalist for the Pulitzer Prize. His relatives are also from the Kannapolis and China Grove area.
He said one of the biggest raps against Wilson's presidency was the effort by several in his administration to introduce segregation into the federal workplace.
One of the members of his cabinet who tried to initiate this plan was the former editor and publisher of the Raleigh News and Observer Josephus Daniels.
"Wilson came in and several of his cabinet members were southerners and said, 'Mr. President, there's a lot of agitation down our way — the South — about white women having to work under black bosses,'… and they said, 'We just think it would be better for race relations if we could just have separation, segregation, that would be harmonious,'" Cooper said in a phone interview Wednesday. "And Wilson's response was 'Well, if you think so, why don't you give it a try?'"
What ensued was one of the NAACP's first "showings of organizational muscle," according to Cooper. The National Association for the Advancement of Colored People was formed just three years before Wilson's first term in office. In response to these potential legislations, the NAACP formed many protests which put a halt to formal segregation in the federal workplace.
Unfortunately, segregation was still carried out informally and would not truly start to see any kind of change until Franklin Delano Roosevelt gradually implemented progress in his New Deal.
"In a number of federal departments, they started either…well, if they could, they'd actually fire black workers or, if they were protected by civil service rules, they would demote them and shove them aside," Cooper said. "So both the level and the number of black people working in the federal government in Washington froze. It would have shrunk except, along came World War I and there was a big expansion of the federal workforce."
He continued: "It was not a good thing. It simply wasn't."
Kannapolis is not the only city exploring the possibility of removing Wilson's name from public institutions. Monmouth University removed Wilson's name from a building this week while a high school in East Camden, NJ will no longer bear his name either.
Kannapolis has been actively working on racial equity in the district for the last several years. There has been a push to make text more equitable as well as KCS has taken a long look at its curriculum to find better ways to serve its students.
Superintendent Buckwell wants to do all he can to address important issues such as this one to do all the district can to reach everyone.
"We want our school district to reflect our children, our families, our community," he said. "It's important for all of the things that we do."
Be the first to know
Get local news delivered to your inbox!