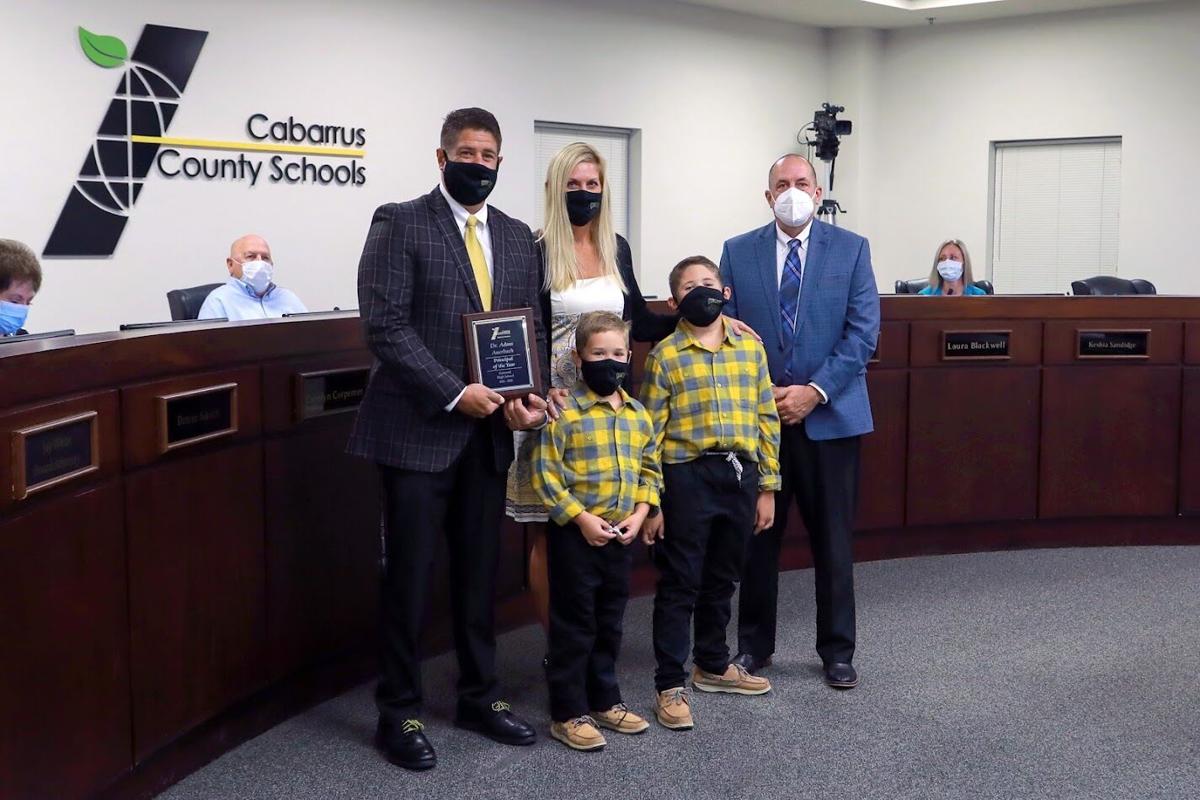 Cabarrus County Schools (CCS) announced that Adam Auerbach, principal of Concord High School, was selected as the 2021-22 Cabarrus County Schools Principal of the Year. 
Superintendent John Kopicki surprised Auerbach at school with the announcement recently. Auerbach's family, including his wife and two children, were there to congratulate him. 
CCS principals nominate among their peers, and a selection panel comprised of former CCS Principals of the Year select the winner based upon an interview and artifact presentation.
Despite knowing he was nominated, Auerbach said the announcement was still a surprise. This also wasn't the first time he was selected as the county's Principal of the Year. He also had the title for the 2014-15 school year. He was named 2015 Regional North Carolina Principal of the Year.
"Back then, my son was 2 years old, and my younger son wasn't even born yet," Auerbach said. "For them both to be able to come here and surprise me was just so neat."
Auerbach was also recognized at the Board of Education's meeting. While he waited for the presentation, Auerbach said he was remembering the first time he was given the award in front of the board. 
"I remember my son at the time just running around everywhere and we were trying to keep him in one place," he said.
When Auerbach received the award the first time, he was principal at Wolf Meadow Elementary School.  
He has been the principal of Concord High School since 2016. In addition to serving as principal, he began his career with Cabarrus County Schools in 2002 as a teacher at Cox Mill Elementary School.  Prior to his first position as a principal, he served as assistant principal at Weddington Hills Elementary and Cox Mill High Schools. During his teaching days, he also worked in Charlotte-Mecklenburg Schools.
He earned his bachelor's degree in elementary education from the University of Florida and holds an educational specialist certificate from Wingate University along with two master's degrees from the University of North Carolina at Charlotte. In 2011, he received his doctorate in educational leadership from Wingate University.
But he makes a point to keep his high school diploma at the center of all of the higher education that he has. In his office at Concord High, students can pop in and see that hung dead in the center of his master's degrees and doctorate is Auerbach's high school diploma. 
"Without that, I wouldn't have anything else," Auerbach explained. "I work in a high school, why wouldn't my high school diploma be hanging on a wall?" 
One of his favorite parts about working at Concord High is its students and staff and the backgrounds they bring to the school. He said having the benefit of people from multiple backgrounds enriches students' experiences more than  anything. 
"It is what the real world is like," he said. "Personally, the things that get me excited are being able to see that influence. Test scores are great, but they are not what we are here for. I am not going to see a kid in 20 years and say, 'Remember when you had a really good grade on that state test?' It is not going to happen."
AS a principal, he doesn't do much direct teaching with students these days, but that doesn't mean he isn't educating. His student pool has just changed. And watching his students succeed, no matter who they are, will always be the goal. 
"My teachers and my staff are kind of my students now," he explained. "To have staff members feel successful in what they do, whether that is in getting kids to the next level, athletics, championships, in the arts, scholarships to places, or helping students that are struggling in things. Seeing staff get excited about those things and feeling fulfilled — it is huge."
Auerbach will now compete with other principals across the state for North Carolina Principal of the Year. After the state selection process is completed, one principal will be selected as the 2022 Wells Fargo Principal of the Year.
Each regional Wells Fargo Principal of the Year receives a $1,000 cash award for his or her school and a $1,000 cash award for personal use. The 2022 Wells Fargo Principal of the Year receives $3,000 for his or her school and $3,000 for his or her personal use.
Regional award recipients will be selected by January 2022 and the state-level winner will be announced in the spring at a special awards event.