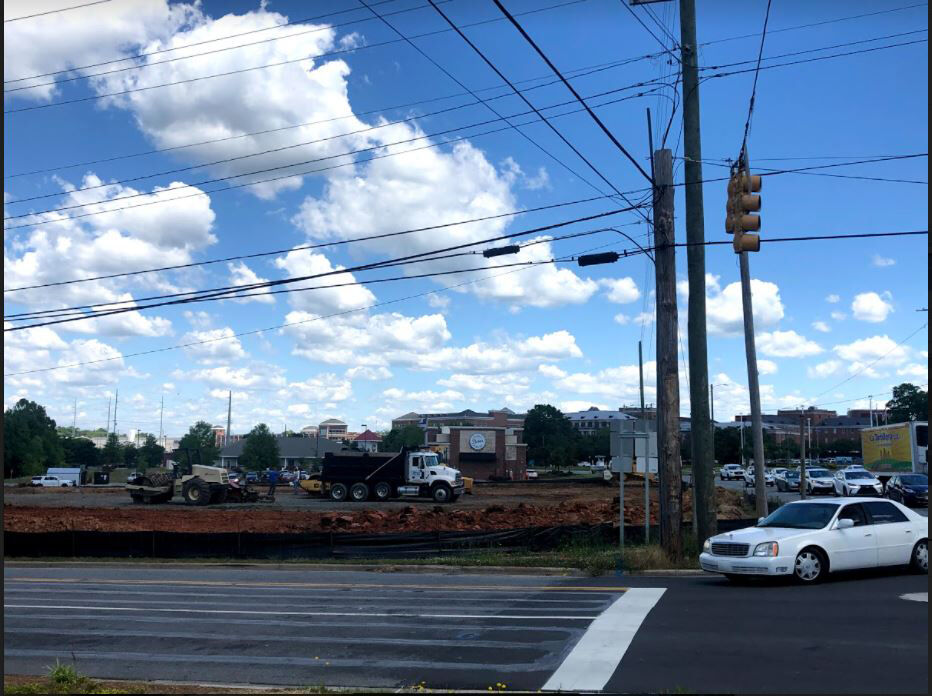 It's becoming clear that we have a complex economy that is both boom and bust. Look at how disruptive cyberattacks, weather and health are factors. Still new businesses continue to come. We're pretty lucky. Consider how little business is going to the eastern and western parts of the state.
Another bank in Concord. Chase Bank is building a new branch at the corner of Concord Parkway and Davidson Drive (Mr. C's, Bebo's Charcoal & Beef and Harris-Teeter are nearby). It will be in Colonial Square on the site where the old Concord ABC Store was located. The building was torn down in the past few weeks.
Thanks to one of our readers, Luis, for letting us know about this one.
City and county records show the structure will be 4804 square feet and the bank will have 21 parking spaces. It will be Chase's second location in Cabarrus County. The other recently opened in Harrisburg Square.
Help wanted, hours cut. Just about everywhere you go, you will notice hiring signs. I stopped into Bojangles' at Troutman Corners (Concord Parkway at Rock Hill Church Road) for a country ham biscuit Thursday morning and wanted in a short drive-thru line. Before you get to the pick-up window you see two hiring signs and a paper sign announcing shortened hours. They close at 3 p.m. each day.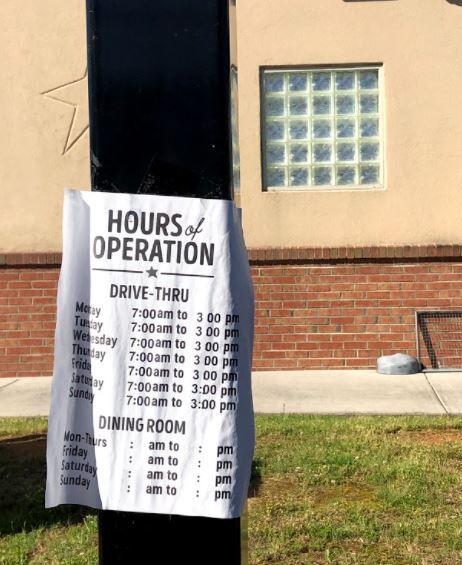 My guess is they can't hire enough workers to fill their shifts. The dining room, which closed for COVID-19, has not reopened – again my guess is not enough workers. You always hear about people who need a job, but do they need it bad enough to work at Bojangles' or Popeye's, which is under construction across the Concord Parkway.
Bojangles' also can't get the chicken for the Chicken Supremes. There had been a shortage of chicken wings everywhere.
COVID restrictions might be part of that, but it's likely lack of workers too.
According to the N.C. Commerce, the March unemployment rate across the state was 5.2 percent. The national rate was 6 percent. Compare that to the April, 2020's 14.7 percent (North Carolina) when the pandemic fully hit. The March, 2020 was 4.4 percent.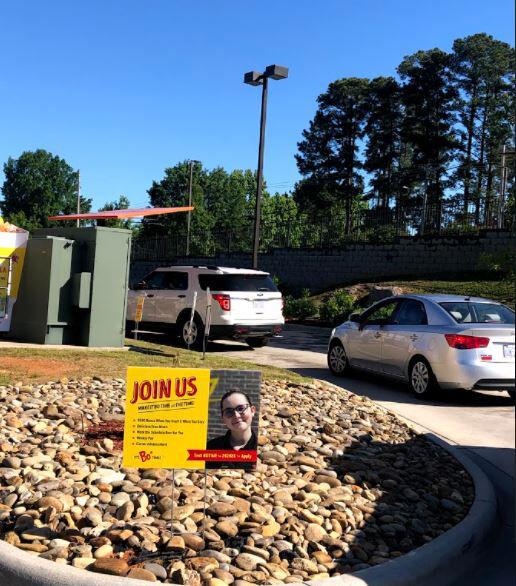 Amateur economic commentary (in other words, Mark's opinion). I've heard that once we get to the 4 or 5 percent unemployment rate, we are close to no unemployment. There will always be some people out of a job through business changes, firings and people simply who are looking for a better job. I know once when I was looking for a job, I couldn't find a job. I believe it was largely because I was overqualified for the jobs I was seeking.
In other words, I believe we are very close to full employment.
I don't believe we have many, if any businesses offering the current minimum wage of $7.25. Maybe there are some in the $8 or $9 an hour range, but I am sure they are struggling to find workers.
The full service restaurant business is a completely different animal. The minimum wage on tipped jobs is $2.13 per hour. With the limited seating and limited hours, I wouldn't work for that. Would you?
Walmart is advertising jobs for $14 to $19 a hour. A billboard on I-85 says Aldi is looking for warehouse workers in Rowan County for $18.50.
Why are we suddenly without workers? It's complicated. Businesses are competing against each other. The bottom-feeders are likely struggling to get workers and the people you can hire at $7.25 an hour likely will destroy the business through bad customer service and performance.
Some want to say the extra unemployment benefits are the cause. There is a degree of truth to that. But unemployment doesn't pay as much as the jobs that are being advertised.
I think immigration policy (both legal and illegal) is part of it. President Trump's get tough policy cut down on the number of workers, both legal and illegal. Previous administrations, including Bush I, Clinton, Bush II and Obama all seemed to have a "wink-wink, nod-nod" approach. They all allowed more low-wage illegal immigration and high-wage legal immigration. I believe many of those workers are no longer in the economy.
Our own uneducated workers are part of the problem. A lot of our children are not getting the education they need. I am not blaming teachers. Some of it is the system, but it ultimately comes down to parents and students. They must take responsibility. If their kids won't do their school work or pay attention, the parents have to step in. We're all paying the price for lack of responsibility.
A growing garbage mountain and road problems. Sam Morris from out in Carolando Estates, off Pitts School Road, shared some concerns with us. "Mount Trashmore" or as I call it "Mount Bruton" continues to climb higher and higher.
"When you think they can't go higher, they go back and start again going even higher. It's like a Tower of Babel," Morris said of the BFI Speedway Landfill.
It looks like they're dugging out dirt off Morehead Road to use. Or maybe for another mountain?
Mount Bruton is already one of the highest elevations in Cabarrus County.
Morris also pointed to a potential problem developing along Roberta Road. The new middle school is under construction and increased traffic will come with the school.
"There is no shoulder along Roberta Road. It's a two-foot ditch. It's dangerous and then we're going to add school buses," Morris said.
Morris also pointed out weeds and grass is growing up in the median from the Speedway all the way back to Concord on Concord Parkway.
I guess NCDOT ran out of money again or are they going to blame it on the pandemic?
A guess rant from Beth B. "My rant is people parking in the fire lanes in shopping centers. It is especially bad at Poplar Crossing at the Food Lion and ABC store. There are times when they are blocking the entrances and exits," Beth wrote.
I have seen it too. She's right.
"Most of the time, the driver or passenger is still sitting in the car, while there are plenty of parking spots available.
"I made the mistake of saying something to someone and she followed me home, pulling up next to me and cussing me out. Her passenger was still at the store too," Beth said.
Beth said a fireman was in Rosario's one day. He went outside and told a man he couldn't park in the fire lane and the man told him he was waiting on his pizza to be ready and he wouldn't be long. "Needless to say, the fireman made sure he moved immediately."
You're making me hungry Beth. I could go for a nice calzone from Rosario's.
The fight against litter continues. E.L.K (Eliminating Litter in Kannapolis) will hold a litter pick-up event Saturday from 10 a.m. to noon. Volunteers will be finishing the job along Lake Concord Road that they started in March.
Kannapolis Fire Station #3 is allowing parking (please don't block the fire trucks) on the right side of the building (side closest to Walmart). Supplies will be provided.
E.L.K volunteer Tari Comer made an anti-litter presentation and prevention ideas at the Kannapolis City Council meeting April 26.
I've got my second COVID shot now and I plan to start picking up more litter that I see. Since the pandemic hit, I've been a little leery about picking stuff other have thrown down.
Hope you have plenty of gas in your tank.