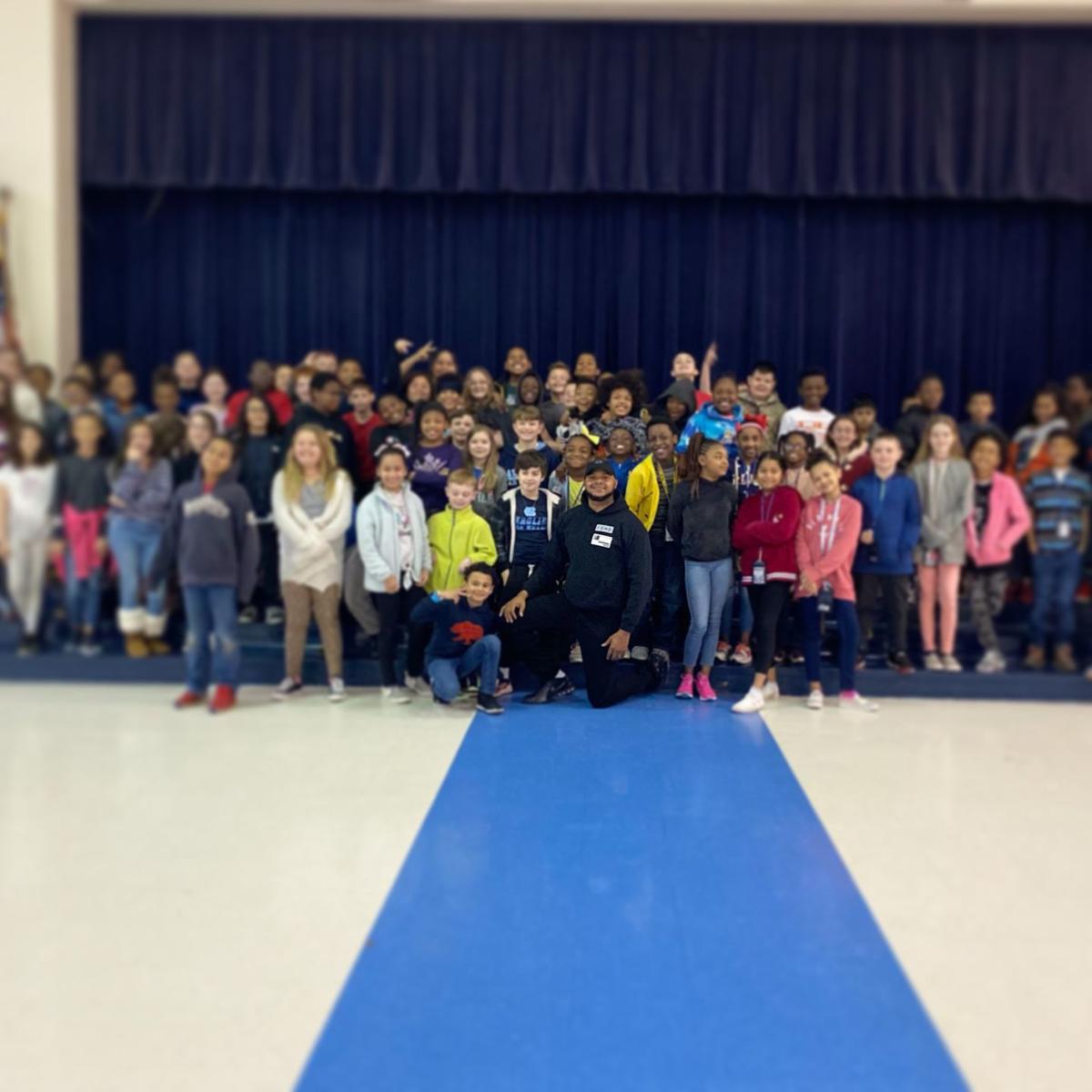 CONCORD — At a young age, hip-hop music provided an outlet for Devine Carama to express his feelings and emotions.
He was bullied when he was younger and growing up in Kentucky.
Carama used that fuel to become a leader, a voice to inspire children.
Coming from Lexington, Kentucky, Carama, a hip-hop artist, motivational speaker, educator and community activist, reaches out to children through a nonprofit youth mentoring program he founded in 2013 called Believing in Forever Inc.
Carama was in Concord on Monday, speaking at Winecoff Elementary School. Later in the day, he engaged with students at Collinswood Academy in Charlotte, and on Tuesday he was going to be at Jay M. Robinson Middle School in Charlotte.
His message to young people is about leadership and legacy.
"I think the biggest thing I want them to get out of the presentation is to be able to embrace their own uniqueness, and lead and grow in their own way," Carama said. "I think that sometimes, with social media, and even at the age, we get into trying to fit into certain circles, looking for acceptance, and I think young people kind of lose sight of their gifts and talents."
Hip-hop music is what inspired and molded Carama into being a positive influence in children's lives.
Carama said that a lot of today's mainstream hip-hop music is ruined by so many negative aspects.
His focus is to bring out the positive nature from what is supposed to be an artistic form of expression.
"I take pride in kind of being on the other side of that, being able to use the same popular art form amongst young people, but use it in a way that can push them toward leadership and making positive choices," Carama said.
Carama has worked and/or opened for such acts as J. Cole, LL Cool J, Black Eyed Peas, Canibus, Nappy Roots and De La Soul.
His music has been featured in popular music publications, including The Source, Vibe and Complex Magazine.
With all the work he has done, being an influential voice in the community is Carama's primary mission.
That's why he started Believing in Forever Inc., an organization focused on serving and encouraging young people.
Through Believing in Forever Inc., Carama takes pride in delivering uplifting messages to the up-and-coming generation.
He talks about the four B's of what it takes to be a good leader.
"It focuses on the four B's of leadership, which encourages the youth to be yourself, believe in something, be brave and then have a balanced approach, not just what you say when you are being a leader, but how you are saying it," Carama said.
"(It's) just talking about how your legacy will ultimately be made up of the choices that you make from your actions."
Carama is out there doing motivational work mainly because of his father, Ben Spaulding, who died of cancer nearly two years ago.
He also sees hip-hip artist and activist Common, a Chicago native, rap about important, deeper issues happening throughout the world.
"Seeing him kind of blow up with socially conscious music, it made me feel like it's OK to rap about positive things and deeper things, and more things with substance," Carama said. "It always inspired me."
Well before he got into motivational speaking, Carama played baseball in Burlington, for a minor league affiliate of the Cleveland Indians.
He teaches a course at the University of Kentucky called "Lyricism & Leadership: Hip-hop & Community Change.
Carama has won several community service awards, including the 2017 Lauren K. Weinberg Humanitarian Award, 2017 Coretta Scott "Spirit of Ivy" Award for community service and George H.W. Bush's "Point of Light" Volunteer Award.
"When I started my nonprofit in 2013, I started doing the motivational speaking, and I kind of incorporated hip-hop into an anti-bullying pro-youth leadership message," Carama said. "We do a lot of community service work, and then we are also mentoring."
Be the first to know
Get local news delivered to your inbox!