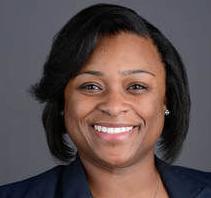 NOTE: There is a word in this story that many readers will find offensive, but it is included because it is critical to the story.
HARRISBURG — A Harrisburg Town Council member is speaking out against what she sees as insensitive statements being made by fellow council members.
Council member Diamond Staton-Williams said council members Ron Smith, Rodney Dellinger and Ian Patrick knowingly supported the appointment of a Unified Development Ordinance (UDO) committee member who used code words such as "ebony" during discussions about housing developments planned for the town. She also said they are part of a group in town known for wearing red shirts, voicing opinions on development and attending council meetings.
Smith, Dellinger and Patrick all deny being part of any "red shirt" group.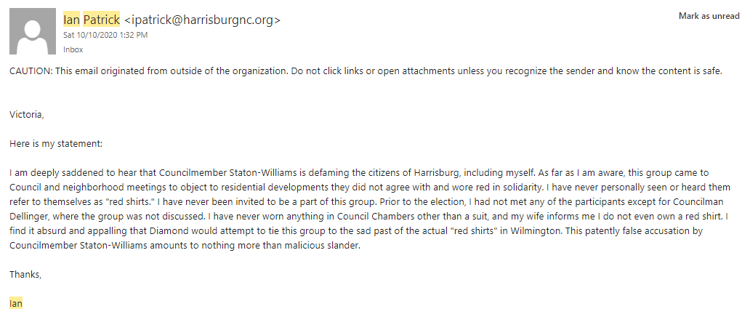 The group, which started in Harrisburg in 2018, has been named the "Red Shirts". This is a similar name to the Wilmington Red Shirts who intimidated, beat and killed African-Americans to stop them from registering to vote in the late nineteenth century. This later came to a head in the 1898 Wilmington insurrection.
The Stallings Property
The Harrisburg group had its start in 2018 when the Stallings Road Project rezoning and annexation, which later became the Harmony Acres development, went before the town council.
"At that time in 2018, we were voting on a development off Stallings Road. This development would be in between Stallings Farm and Flowers farm," Staton-Williams said. "The land was owned by Mrs. Stallings and her husband – her husband, who is an African-American. And of course, it's their right to sell the lands and they wanted to get the best price for it."
Neighbors to the property had been made aware of the potential development by a councilmember before the information had been made public.
Smith, who lived near the future development, took a preliminary project plan from a closed meeting with the developer and sent it to his neighborhood HOA in July 2017. When Smith was later censured by the town council, one of the reasons listed for the censure was distributing the plan. The censure resolution stated Smith's intent was to generate opposition to the project.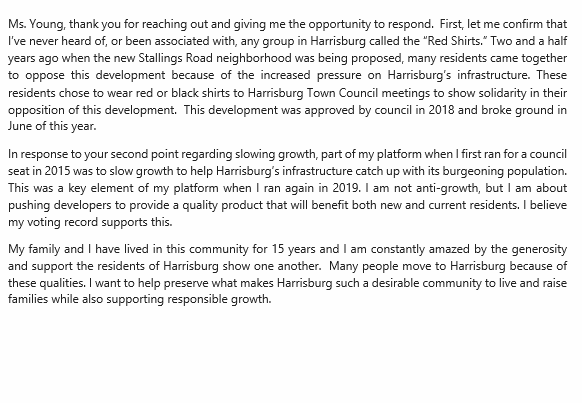 The racial slur
Neighbors started having email conversations with council members and staff discussing community concerns.
One email sent Tuesday, February 20, 2018 by current Harrisburg UDO Committee Member Michael Painter asked the planning and zoning director for information.
His email read: "I was just wanting to know more information about Ebony Acres and when the neighborhood meeting would occur with more information. I live in stallings farm and very concerned about the decision to allow high density homes in my area."
At the time of the email the developer had not picked nor released a name for the development. Staton-Williams said Ebony Acres was a racial term in reference to Stallings being married to an African-American man.
Painter did not respond to the Independent Tribune's requests for comment.
"From my understanding, that's when it was named Ebony Acres, by the email that was sent to the town by one of the residents in those communities. But what I have heard from others is that it was actually called Nigger Acres," Staton-Williams said. "I have personally heard it from personal connections and then I saw it had been changed to Ebony Acres once we got the email to the planning and zoning director at that time."
Painter was not on the UDO committee until 2020 when the council voted to approve his appointment. At the time of the email, he was just a resident. When he was appointed to the committee, Town Attorney Rich Koch questioned Painter about the email. Painter said, he thought it was the name of the development and stated it was not an intended racial slur.
Cabarrus Democratic Party Vice Chair Rebecca Herrick said she saw a lot of discussions on social media and in the neighborhoods about the Stallings Road project at the time. She also saw and heard people refer to it as Ebony Acres.
"It turned into a racial thing where because she is married to a black man, they were all calling it Ebony Acres, and people were saying it was going to be Section 8 housing, which was never true," she said. "So I tried to put information out saying it wasn't true."
The shirts
When the project was set to go before the town, Dellinger, who was not on council at the time, and Jennifer Teague were both residents of a neighborhood near the Stallings property and asked people to wear red to meetings.
Dellinger sent out an email and Teague posted to her Facebook group.
"We decided as a show of solidarity for anyone that shows up to these meetings to wear red," Teague said. "In fact, I think our post in this group was if you don't have red, wear black. It was really a show of solidarity for a group."
When asked if she was aware of the Wilmington Red Shirts connection, she said no.
"That was never an intention. We never used that word. It was wear red. Come support your neighbors," she said.
When the council voted October 2018 to approve the rezoning and annexation of the Stallings property, there were at least 50 people in the crowd wearing red, Staton-Williams said. Dellinger was one of them. The rezoning passed 4-3 and the annexation passed 5-2. Smith voted against the rezoning and annexation.
But after the vote, the red shirt idea wasn't dropped, Herrick said. In December of 2019, she received an anonymous package containing a red shirt and a note.
Herrick — who helped Staton-Williams campaign three years ago — said she and Smith openly disagreed about a parks and recreation referendum for the November 2019 ballot. She had also been vocal against Smith's re-election and Dellinger's 2019 campaign for council.
The note read: "Please accept this as your personal invitation to the Harrisburg Town Council Meeting on December 9, 2019, for the induction of the new members of the town council, or the 'clown show' as some are calling it. Your red shirt has been included for you to wear. Hope to see you there… The Red Shirts"
Herrick had called the town council a "clown show" in a social media post.
Those people
Before the Stalling Property vote, Staton-Williams said she and Dellinger had met to discuss his concerns.
When he ran for council in 2019, she started to have some concerns.
"I guess last year, during the campaign, some of the talking points from some of the candidates running gave me pause, typically around housing and ensuring a specific demographic was taken care of," she said.
She stated that once Dellinger was on council, she was concerned over the way he referenced people.
"While on council, especially during our budget meetings this year especially — being an African American you pick up on when certain terms are used — so he kept saying we don't want those people. Those people. Who are those people? So I sent him a text message in the beginning of May and asked him," she said.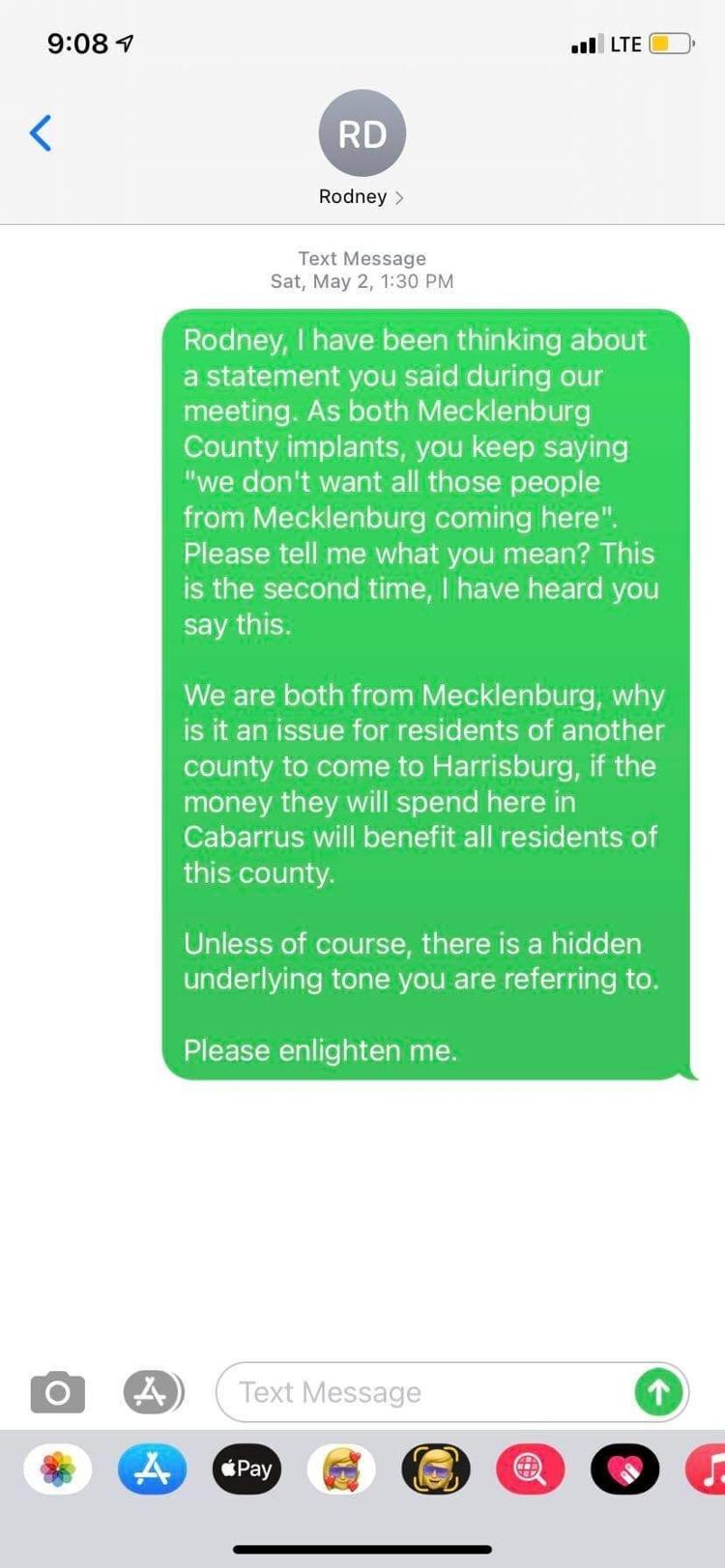 She said he made the reference in a budget meeting where council discussed canceling the Fourth of July fireworks show.
He did not respond to the text massage but did send a voicemail.
He said "all those people" was in reference to the town's border to Mecklenburg County. He said social distancing would be hard if people came across the county line and stated she must have misheard him.
The June emails
In June, a complaint was filed against Staton-Williams by Smith stating she was in violation of the council's Code of Conduct due to her responses to emails where council members discussed a town statement on George Floyd's death.
That complaint has not been resolved.
In an email, Patrick stated he took issue with the phrase "social and racial injustices that exist in our country". He said terms like systemic racism could do harm to the Black community and cited Coleman Hughes, Larry Elder, Richard J. Herrnstein and Charles Murray for his response.
Herrnstein and Murray were authors of "The Bell Curve." The Southern Poverty Law Center accused Murray of stating Black and other minorities are disadvantaged because they are genetically inferior — things "The Bell Curve" has also been accused of. Hughes, a black columnist, has openly taken issue with the Black Lives Matter movement.
Smith stated he did not agree with the statement citing concerns over how Floyd was represented, stating that, at the time of death, Floyd had fentanyl and methamphetamine in his system.
Dellinger stated he did not approve or disprove the statement.
Smith and Patrick also declined to approve Cabarrus County's statement on Floyd's death. Dellinger never made a statement of approval or disproval.
None of the council members responded to the Independent Tribune's questions about those emails.
The point
Staton-Williams said that after what happened, specifically in June, it has been hard to trust Smith, Dellinger and Patrick.
"Everything the three of them do, I'm always going to be suspicious of. I'm always going to be cautious," she said. "And for a council and for a municipality to work well, those are things that shouldn't occur, especially when you have people talking about 'those people'," she said. "And usually when you have people talking about those people, it is about race, and I am a person of that race."
She said that while she did point out the connection between the group in Harrisburg wearing red shirts and the Wilmington Red Shirts, she does not believe everyone who wore a red shirt is racist.
"To people who truly did not know about Wilmington, did not know about the insurrection and how white citizens killed black people for power and land, you should absolutely step away from that as a supporter of that. You should step away," she said. "It is fine to have differing opinions about lot sizes. It is fine to have differing opinions about materials used on homes. There is a way to express your feelings and not be caught into something that is, at the root of it, racial or racist and rooted in supremacy ideology."
She said she feels a responsibility to let residents know, considering what has happened in the country this year.
"Seeing what is happening elsewhere, I have known about this Ebony Acres email since 2018 and that's my cross to bear. I should have made it an issue then," she said. "After the budget meeting and that 'those people' comment and constantly hearing little snippets of disdain for other races, I need to raise my hand. I need to wave my flag. I need to bring everybody's attention and make sure that people understand this is not right."
Get local news delivered to your inbox!
Subscribe to our Daily Headlines newsletter.