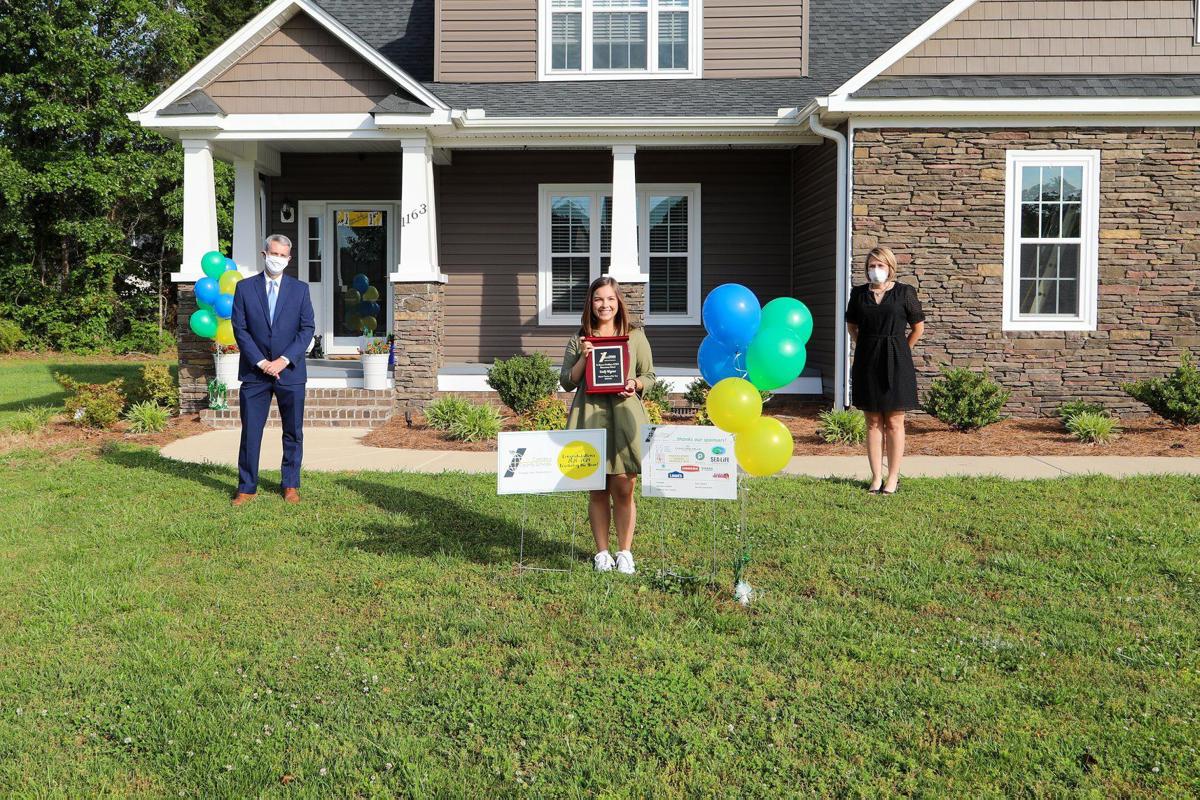 CONCORD — Emily Wagoner was named the Cabarrus County Schools Teacher of the Year in a surprise ceremony Friday on her front lawn.
Wagoner, a third-grade teacher at R. Brown McAllister Elementary, was the youngest of five nominees for the award alongside Rachel Harkey of the Mary Frances Wall Center, D'Aulan McCord of Central Cabarrus High School, Kate Clardy at Concord Middle School and Steven Stevens at Hickory Ridge Middle School.
Superintendent Chris Lowder and school officials surprised the 28-year-old with the award at her house Friday afternoon.
"It was quite a shock just considering the high regard that the other candidates have in the community," Wagoner said Monday. "I didn't really expect to win, but I was super humbled and excited to represent my staff in our district as Teacher of the Year for Cabarrus."
This is Wagoner's first year at R. Brown McAllister, but despite her newness on campus she has taken a leadership role on the staff.
She is currently a grade-level chair, but also spends time as a Professional Learning Community facilitator, a peer mentor to a first-year teacher and is a member on the school improvement team.
That is in addition to working to provide students with after-school tutoring and serving on the teaching learning team which allows her to be trained with Cabarrus County and bring development back to the school.
She spent the previous four years at Winecoff Elementary where she was again a grade-level chair in addition to being a MCSS facilitator and a PBIS co-chair.
"Wagoner is both a leader within her classroom and throughout R. Brown McAllister STEM Elementary School," Principal Jessica Blanchard said in a release on the district website. "Her focus on excellence and attitude of high standards are contagious to all that are around her. There is no limit to her giving as her eagerness for student success is shown in everything that she does. She makes learning fun and exciting. 
"She believes in her students and celebrates their successes. She pushes them to their full potential and would literally move mountains for them. She is dedicated, hardworking, passionate and humble. Her commitment to her students is truly outstanding. R. Brown McAllister STEM Elementary School is a better place because Emily Wagoner as a part of it."
Wagoner has been the Teacher of the Year school nominee twice before winning this year.
She also recently graduated from the Cabarrus County Teacher Leaders Cohort and earned a full scholarship in a paid internship program between CCS and UNC Charlotte.
She will be starting her masters in school administration in the fall and will be in the classroom next year as a full-time grad student before moving on to do an assistant principal internship in Cabarrus County.
Then after graduating she will come back as a full-time assistant principal.
"The title of CCS Teacher of the Year is such an honor and it's exciting to be able to represent our district well on UNC Charlotte's Campus," she said. "I hope this title will give me the opportunity to connect with those in the community who are seeking to join the teaching profession so I can advocate that Cabarrus County is the clear choice for future educators. 
"I'm mostly excited to continue to learn and grow to become the most skilled educator and leader that I can be for the students and family at my future school. Whether serving in the classroom or as a future administrator I will never forget the opportunities given to me at the start of my career through Cabarrus County."
She will also be serve as a teacher liaison to the CCS Board of Education — an honor bestowed upon the district's Teacher of the Year.
"I am excited to act as a teacher liaison as we transition back into the unknown of next school year," she said. "I hope to advocate alongside students, families, and staff members as we navigate our new normal and work to ensure all students continue to receive a quality education. I am looking to give a teacher's perspective on how we can best help educators, students, and families make a streamline transition back into the classroom regardless of what capacity we may be serving students. 
"I am also excited to use this platform to continue exploring and advocating for the need for reforming teacher assessment and accountability measures in the state of North Carolina."
This has been an odd semester for everyone in Cabarrus County. Schools shut down as educational buildings in March due to Governor Roy Cooper's decree and the COVID-19 pandemic across the state and teachers like Wagoner have been turned into online professors reaching students from afar. 
How schools will eventually transition back to learning on campus remains foggy, but Wagoner can't wait to get back to seeing her students and teaching. 
"I miss teaching, I miss my classroom, I miss seeing the kids and I'm just ready to get back to work and be there in person and adapt to whatever changes are going to come next year," she said. "This experience has made me realize how valuable people are and our relationships and just to know not to take things for granted.
"I'm really excited to get back to school, hopefully next year."
State Superintendent Mark Johnson said in a statement last month schools are anticipating having classes on campus at the start of the new academic year, but he also said online learning could continue to be part of education at the beginning.
Wagoner was highly complementary of the students and parents she has been working with during this tough time from her home.
She also acknowledges she couldn't do what she does without them and she couldn't have been named Teacher of the Year without everyone who has helped her.
"I just want to thank everybody who has invested and supported me in my career," she said. "I would not have made it this far without the mentors who have been there for me and helped me along the way."
Be the first to know
Get local news delivered to your inbox!